The French classic luxury brand Louis Vuitton has continued making innovation in digital marketing in China. Social media has become the key focus in this endeavor.
On 23rd June, Louis Vuitton published an article titled with "You decide the best Louis Vuitton bag" on its WeChat official account. It seemed to be ordinary article, but came with an "unconventional" arrangement. Unlike usual, this article was created by Chinese fashion blogger, gogoboi. Louis Vuitton became the first luxury brand in China to invite a fashion blogger to take over its WeChat official account.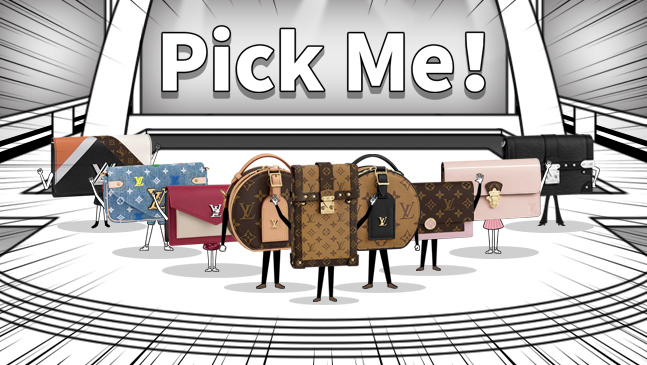 In the month before, Louis Vuitton also created its official account on Red, a popular "content + social" platform for young people in China, which was the first for luxury brands. So far, the official account has created 21 posts, with 31,000 followers and 29,000 likes and saves.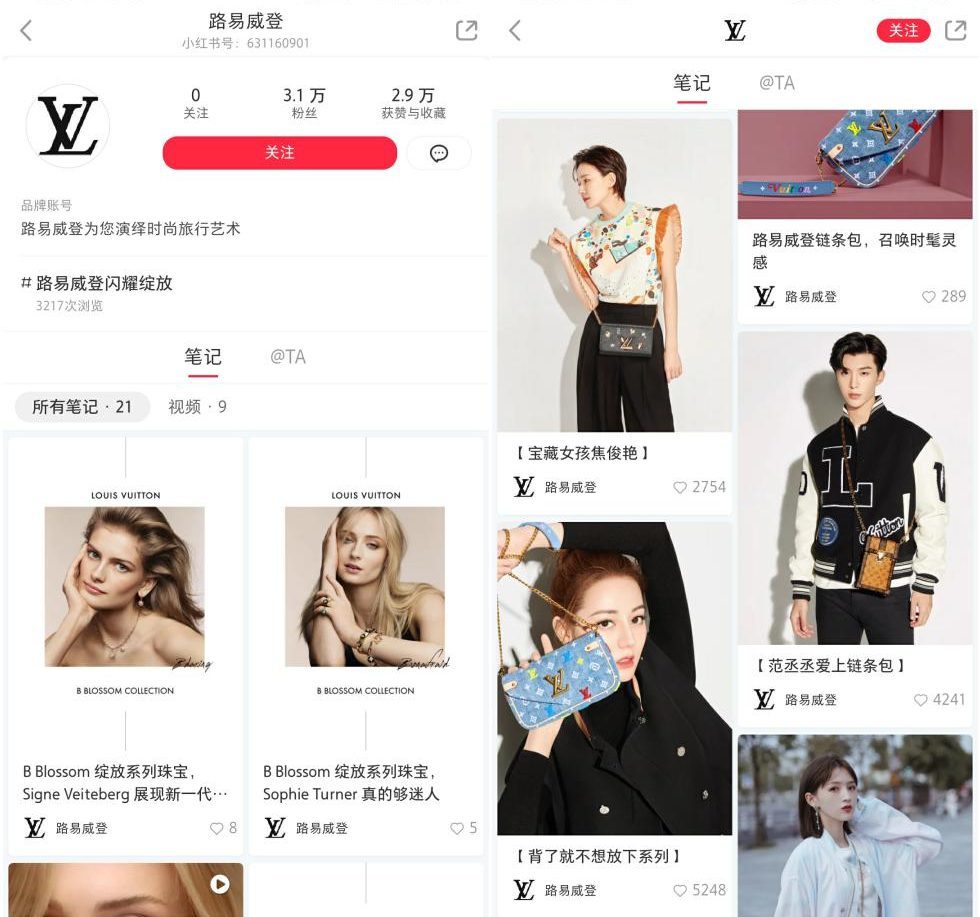 Above: Louis Vuitton's Red Account
According to the "China Luxury Report 2019 " released by McKinsey, the young generation represented by "post-80s" and "post-90s" contributed 56% and 23% of China's total luxury consumption, respectively. The consumption characteristics of this group have been deeply influenced by digitization. For example, social and shopping happen at the same time online. Traditional search-based shopping has transformed into recommend-based shopping. Demand has to be immediately satisfied. These changes inevitably drive luxury brands to have new exploration in digital innovation.
In recent years, Louis Vuitton has continued its digital innovation in the China market. In 2017, Louis Vuitton opened self-operated e-commerce in 12 cities in China for the first time. In 2018, the brand provided purchasing and delivery services to all cities in China, and launched WeChat boutique and WeChat Mini-Program pop-up store. The brand also diverted traffic by cooperating with local social platforms and advertised on Red to attract young consumers.
But in luxury brands' digital marketing, is it all about attracting young people's attention? What is the cause in Louis Vuitton's recent moves in digital marketing? Will diversified digital marketing approaches over-expose luxury brands? How to find the balance between marketing innovation and maintaining the brand value?
 "Ups" in Content Innovation & Social Conversion
Up in Content: Meaningful and Interesting Expression
Instead of traditional ostentatious words and advertising blockbuster, in the article gogoboi chose to cooperate with a famous illustrator, and created a comic story about three celebrity "mentors" (Chengcheng Fan, Dilireba and Junyan Jiao) leading three style teams of nine WOC bags competing in a talent show. These WOC bags were anthropomorphized and performed the popular free-style rap. Content was playful and lively.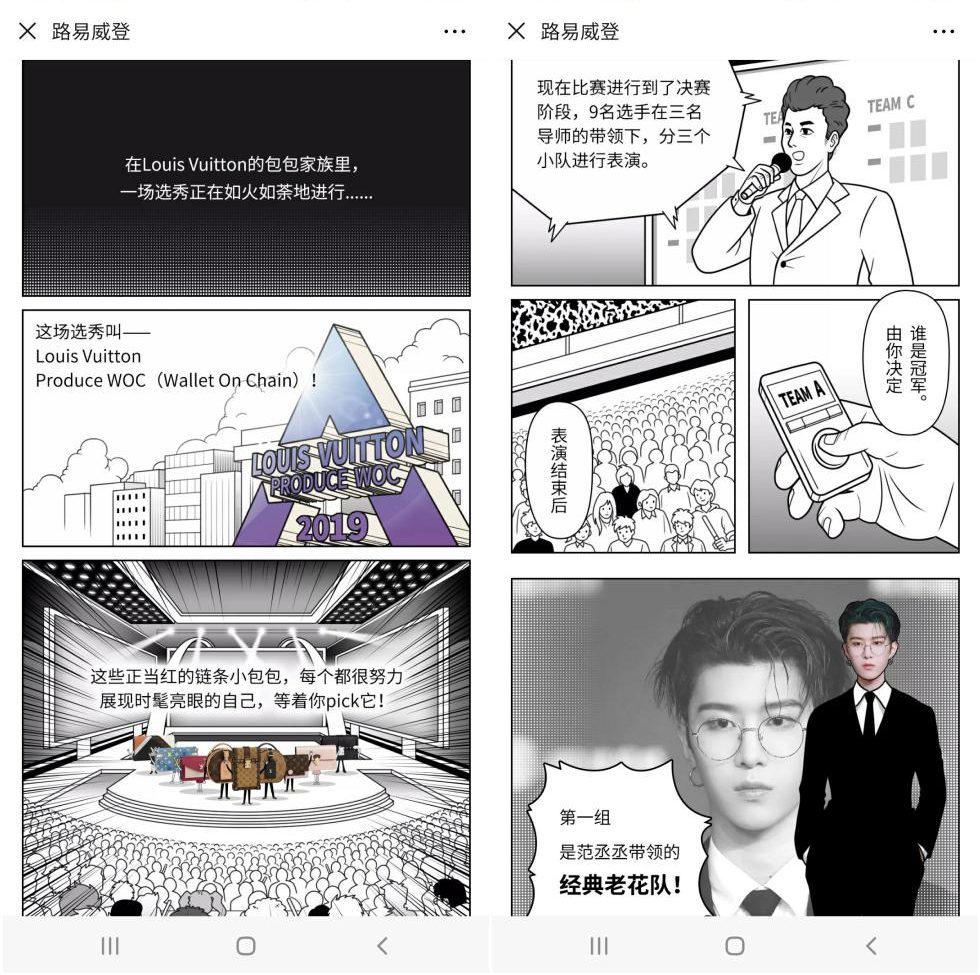 Above: Louis Vuitton's WeChat Official Account Article
Similarly, Louis Vuitton published the article on RED with simple writing and emoji stickers. Celebrities and fashion KOLs were also invited to provide recommendation articles. Louis Vuitton revealed to Luxe.Co that there would be more "social content" tailored to the social habits of young Chinese audience in the future, in order to create resonance with followers and increase their loyalty and stickiness to the brand.
To promote Louis Vuitton's "VOLEZ, VOGUEZ, VOYAGEZ" exhibition in December 2018, Louis Vuitton and gogoboi collaborated on a H5 game "To steal Louis Vuitton bags with me". The interactive game became quickly a big hit on social communication. More than 300,000 readers clicked on the link to participate in the game in the first two days.
Interestingly, to speak with the young generation's logic and diversified expression has become an important feature of Louis Vuitton's recent digital innovation.
Up in Goal: Enhance Social Conversion
Luxury brands' digital innovation has transformed far beyond just "changing a way to tell stories". The booming of China's e-commerce and social media has given them a broader space for exploration.
With extensive young female audience, RED created unexpectedly a best-seller for Louis Vuitton. It was a NOÉ storage bag (LV M43445). After it was released in China at the end of 2018, RED followers have developed many creative usages of the bag and named it "Fortune Bag". They posted their DIYs of this bag on RED. For example, some added a wide should strap on this "Fortune Bag", which became a shoulder bag and cross-body bag with extensive capacity. Some added a scarf or D-ring and the "Fortune Bag" became a small bucket bag.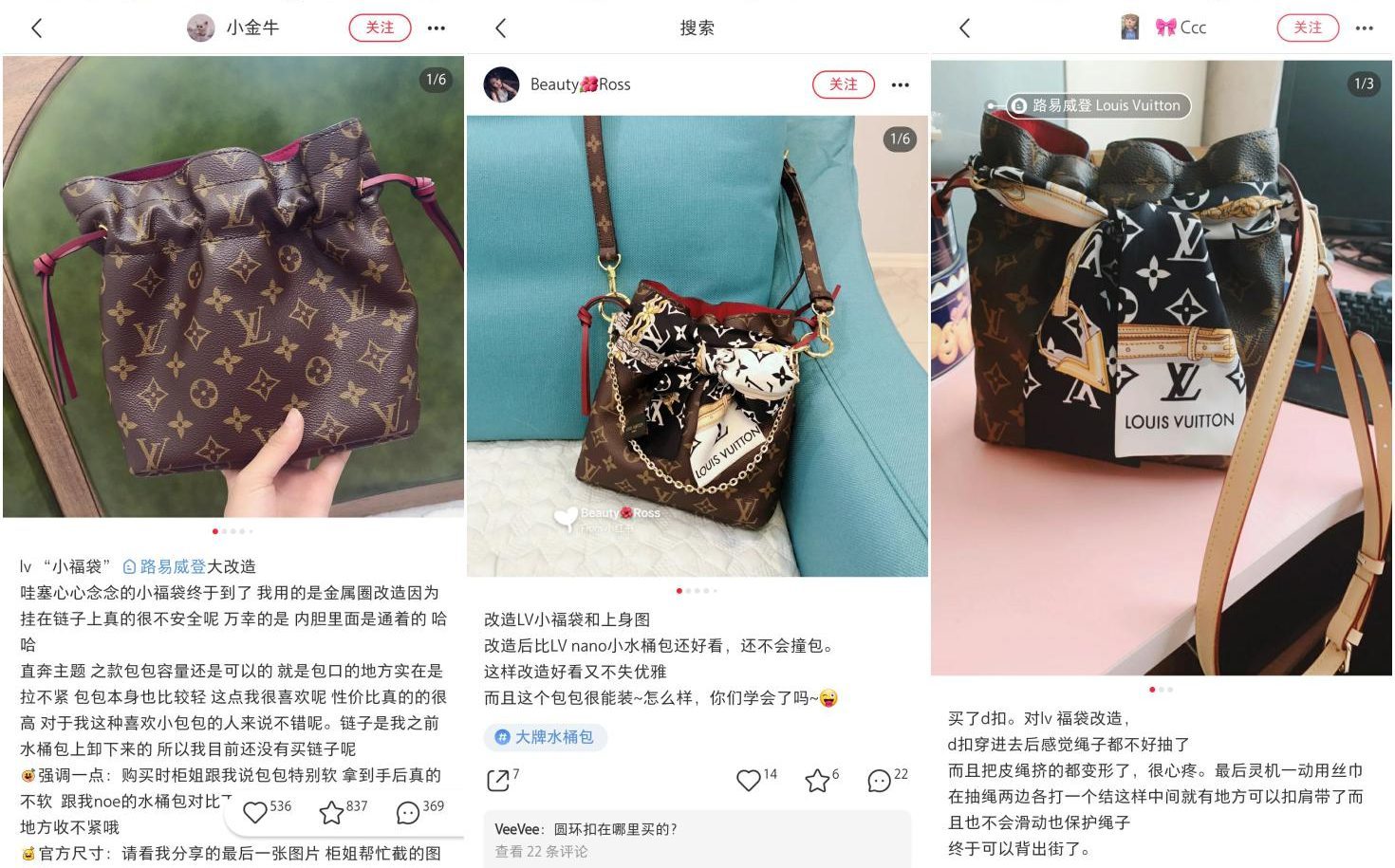 Above: Users shared their DIYs of NOÉ bags
The entry-luxury price and various ways of DIY experience made this "Fortune Bag" a best-seller. Its price has also increased from 4,350 yuan at the time of launching to 4,500 yuan and then 6,200 yuan. After the VAT reduction policy introduced in April, its price dropped slightly to 6,000 yuan.
That's right, the boundary between content distribution and marketing has blurred. The collaboration between Louis Vuitton and gogoboi also demonstrated an upgraded appeal for "social conversion" in luxury brands' digital marketing innovation.
In Paris Fashion Week AW2015, Louis Vuitton invited gogoboi to take charge of its Weibo for content cooperation. Four years later, the cooperation between them is beyond "attracting attention".
In recent years, Louis Vuitton has carried out many milestone explorations in its self-operated e-commerce in China. In the past four years, gogoboi became the first Chinese fashion blogger to open a multi-brand selection boutique on its WeChat official account. The boutique "Buda Selected" has been in operation for two years. With gogoboi's extensive followers and experience, the boutique turns traffic into sales.
At the end of the article " You decide the best Louis Vuitton bag", there was a Mini-Program link to the pop-up store of Louis Vuitton WOC bags. This not only satisfied the seamless needs (from content, social to immediate purchase) for young people, but also tested directly the conversion from traffic to sales.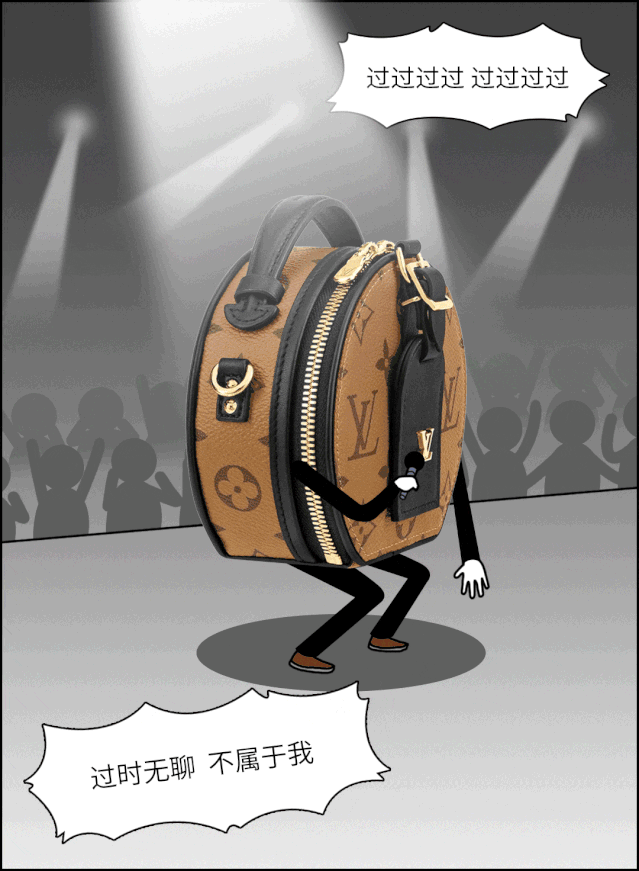 Innovation & Observance
Digital marketing innovation can definitely help luxury brands gain more attention from young people and reach more potential customers. However, "appropriate exposure, maintaining brand value and brand scarcity" is always the golden rule in the luxury industry. In digital marketing, how to balance is a key issue for luxury brands.
Mr. Antonio Belloni, GM of LVMH Group, said that in response to the young consumers and extensive online consumption in the China luxury market, LVMH Group would integrate its strategy in terms of maintaining the brand image and making marketing strategies considering the characteristics of Chinese customers.
Rigorous Product Selection and Moderate Exposure
Through both official RED post and the collaboration with gogoboi, Louis Vuitton has promoted  WOC  bag series. First of all, the chain bag is a seasonal popular in spring and summer. The price is between 10,000 and 20,000 yuan, which is also more suitable for young consumers. The rigorous product selection in digital marketing assured the moderate exposure for classic and high-end products.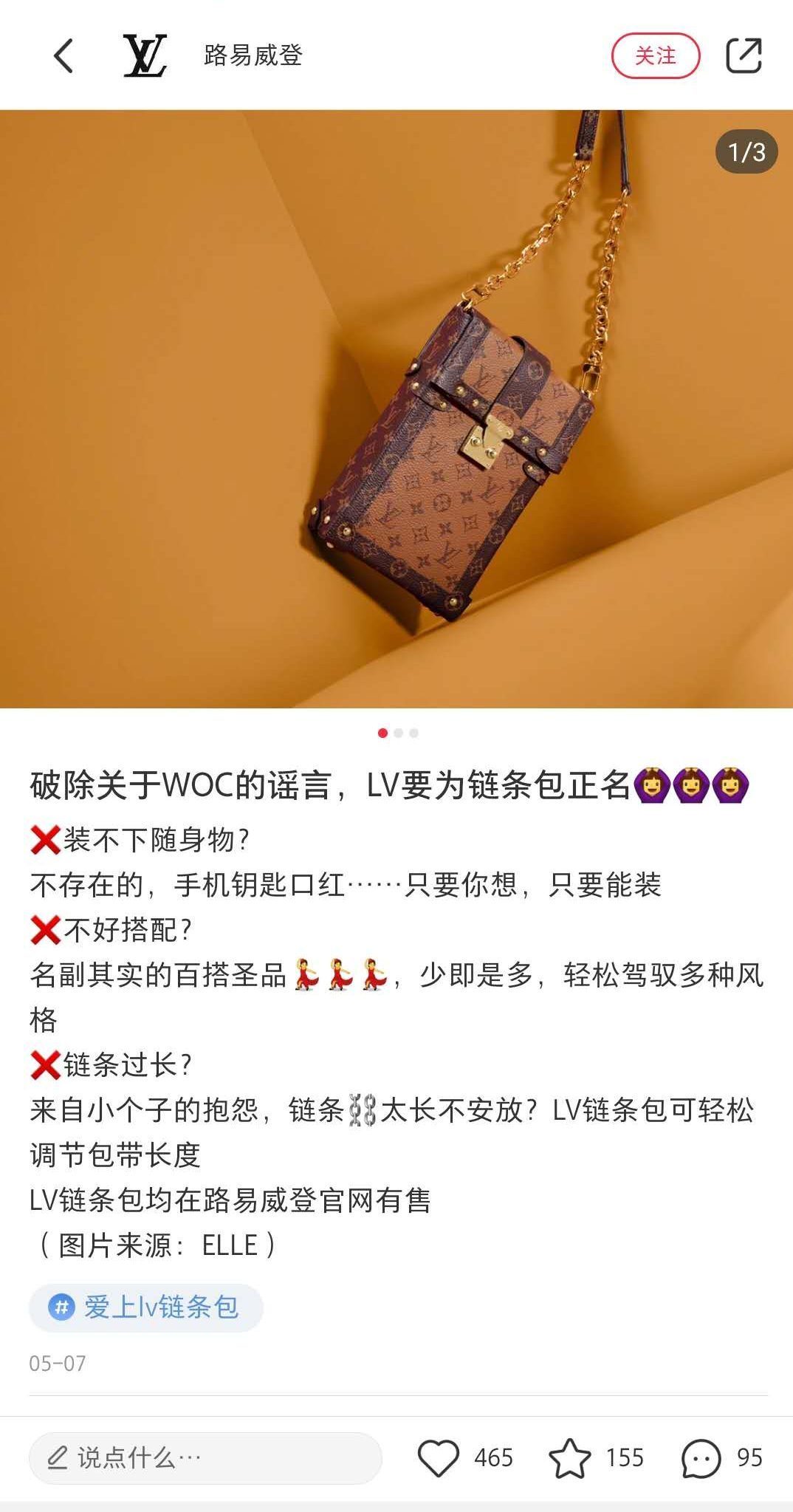 Above: Louis Vuitton's RED official account
In terms of marketing, Louis Vuitton has continued luxury brands' low-key and introverted approach. Louis Vuitton has not amplified its publicity in either RED account or its collaboration with fashion KOLs.
In its collaboration with gogoboi, only at the end of the post, readers can find the credit to gogoboi. More publicity was done on gogoboi's official account and then the traffic was diverted to Louis Vuitton's official account.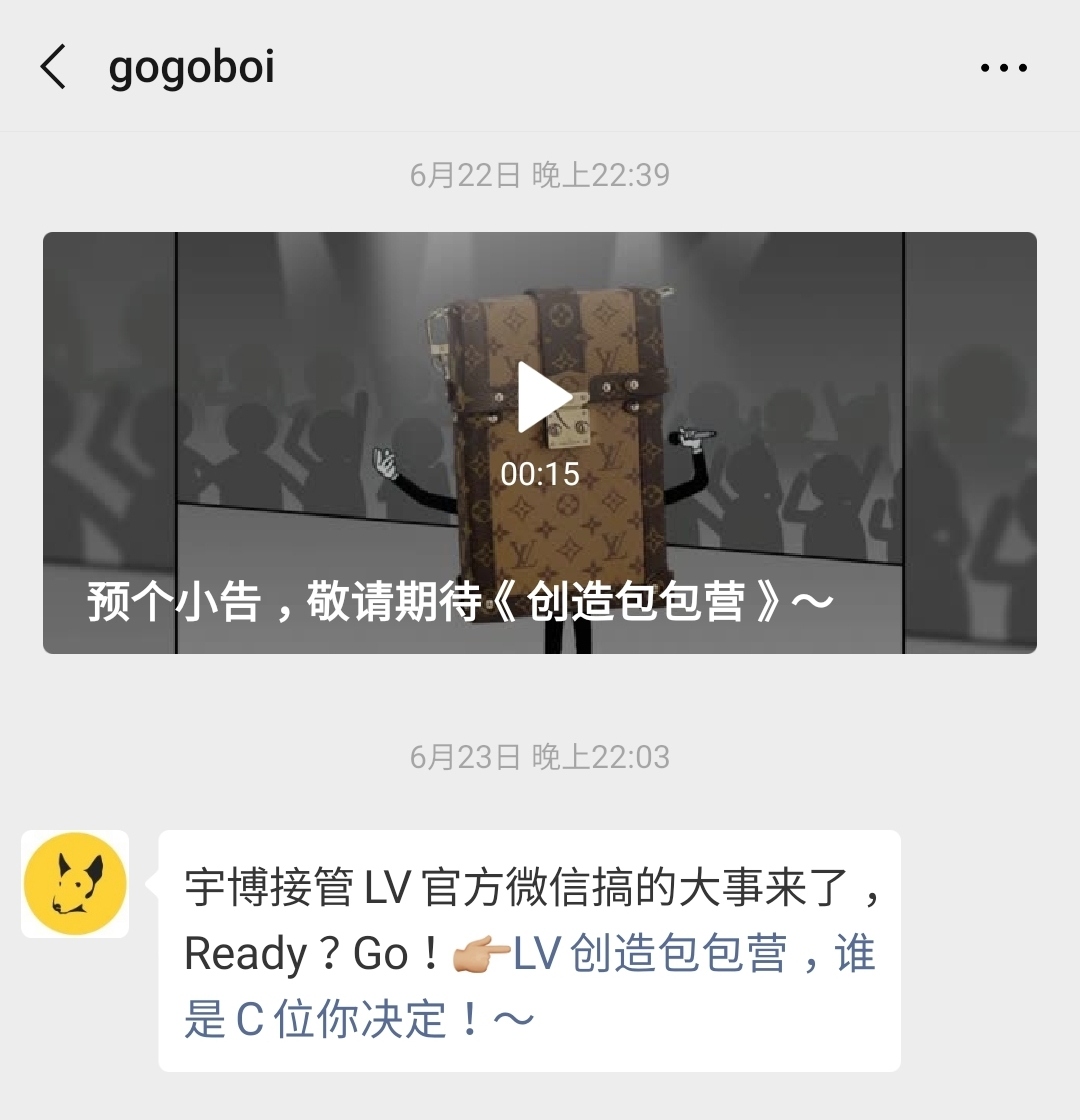 For example, Prior to Louis Vuitton's RED account, the brand has made many preparations. In early April, RED celebrities and KOLs have participated in the campaign "Fall in love with WOC". Screen opening ads, information flow ads and hot research ads were also arranged. However, Louis Vuitton has never made an official announcement of its RED account.
Of course, modest publicity is not only a way to protect luxury brands' image, but also a kind of test on new marketing strategies.
Strict Distribution Channels
Louis Vuitton has had diversified and innovative digital marketing approaches. But the brand has always adhered to strict distribution channels in e-commerce.
At present, Louis Vuitton's official online sales channels in China are only official websites, official WeChat boutiques and Mini-Program pop-up stores. The purchase on WeChat boutique is also directly diverted to the official website. Although e-commerce is in full swing in China, Louis Vuitton has never had any third-party cooperation with leading B2C e-commerce or vertical luxury e-commerce platforms.
For luxury brands, strict control and clear distribution network settings are important to protect market price, maintain brand image and combat counterfeit products.
Previously gogoboi also collaborated with some other luxury brands. Some new products were released on his "Buda Selected". In this collaboration, Louis Vuitton insisted on its own sole channel for product distribution. Nine WOC bags were only sold through the official Mini-Program pop-up store. Gogoboi was invited to provide content and divert traffic.
Protecting Brands' Dream Value: "Virtual" Makes "Real" More Precious
Observers in the luxury goods industry believe that luxury brands' digital marketing and online sales may increase the penetration of brands too quickly, thus diluting brands' dream value. How did Louis Vuitton maintain the brand's dream value in marketing innovation and convey the underlying DNA (cultural connotation, historical precipitation and spiritual heritage) in a modern approach?
This is the era of media. As people are more and more accustomed to the virtual world, the real experience is even more precious. Mr. Michael Burke, global CEO of Louis Vuitton, said that the deeper the digitization, the more important the physical world became.
In recent years, in addition to innovating in digital marketing in the China market, Louis Vuitton has also organized a variety of offline exhibitions to convey brand stories. For example, the "Louis Vuitton Travel Book" art exhibition was held in Shanghai in June 2018. The "Louis Vuitton Time Capsule" exhibition is currently held in Chengdu.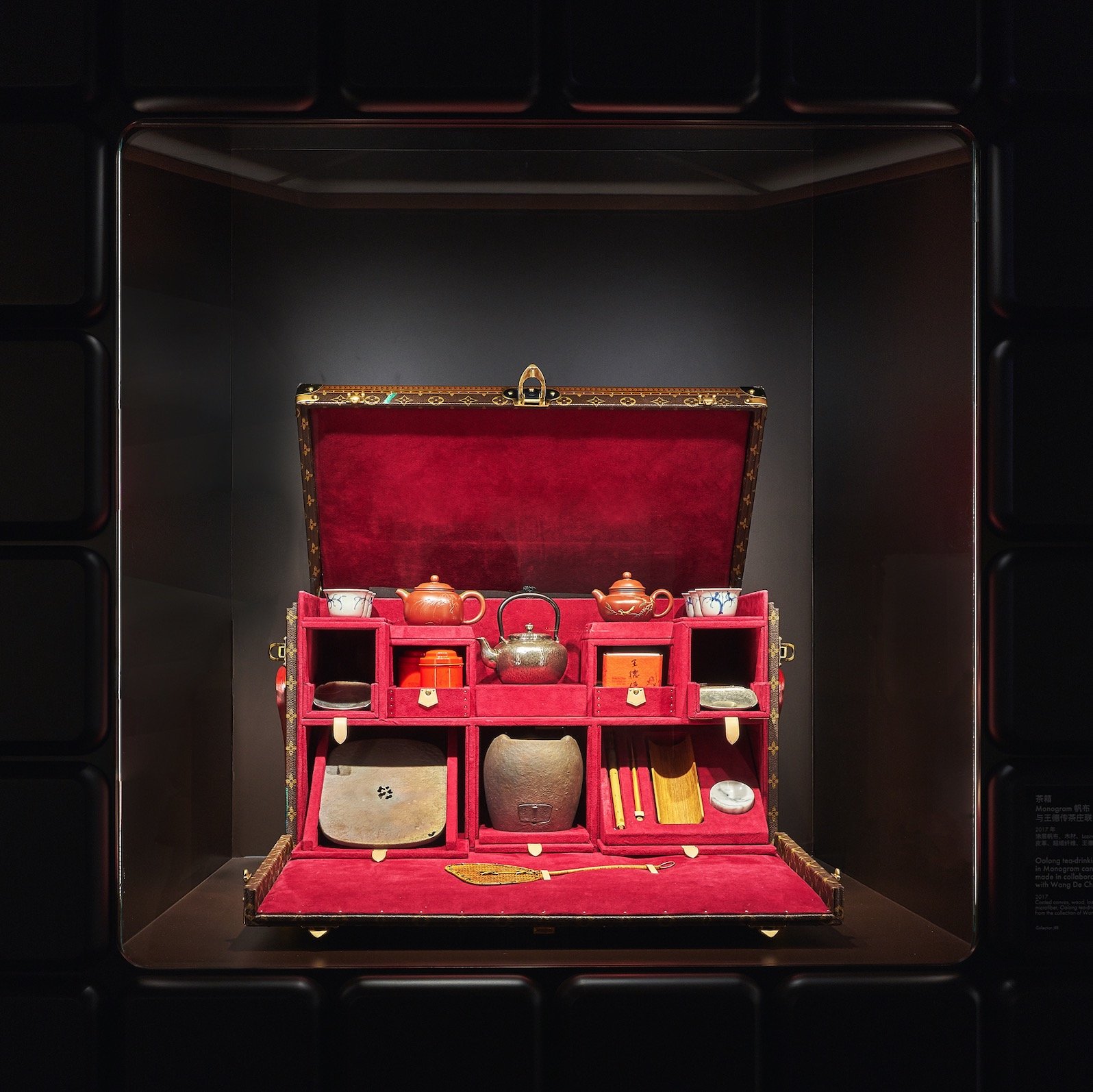 From November 2018 to February 2019, Louis Vuitton held the "VOLEZ, VOGUEZ, VOYAGEZ" exhibition in Shanghai, which was the fifth stop of its global tour after Paris, Tokyo, Seoul and New York from 2015 to 2017. Louis Vuitton conveyed the brand history, spirit and culture with nearly a thousand exhibits, showing the iteration of the brand's bag design in the way of different travel methods (yachts, cars, aviation, and trains) and life scenes.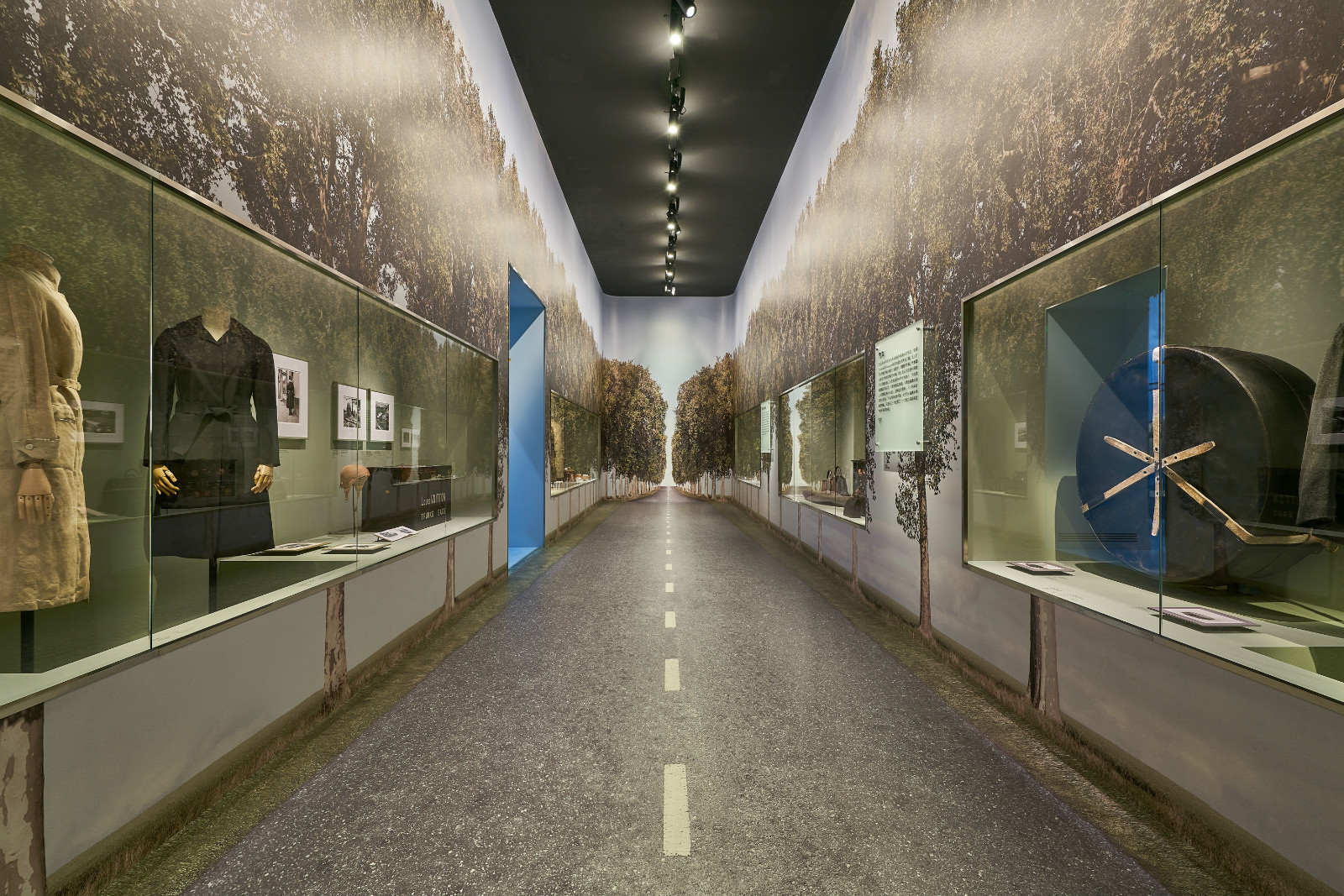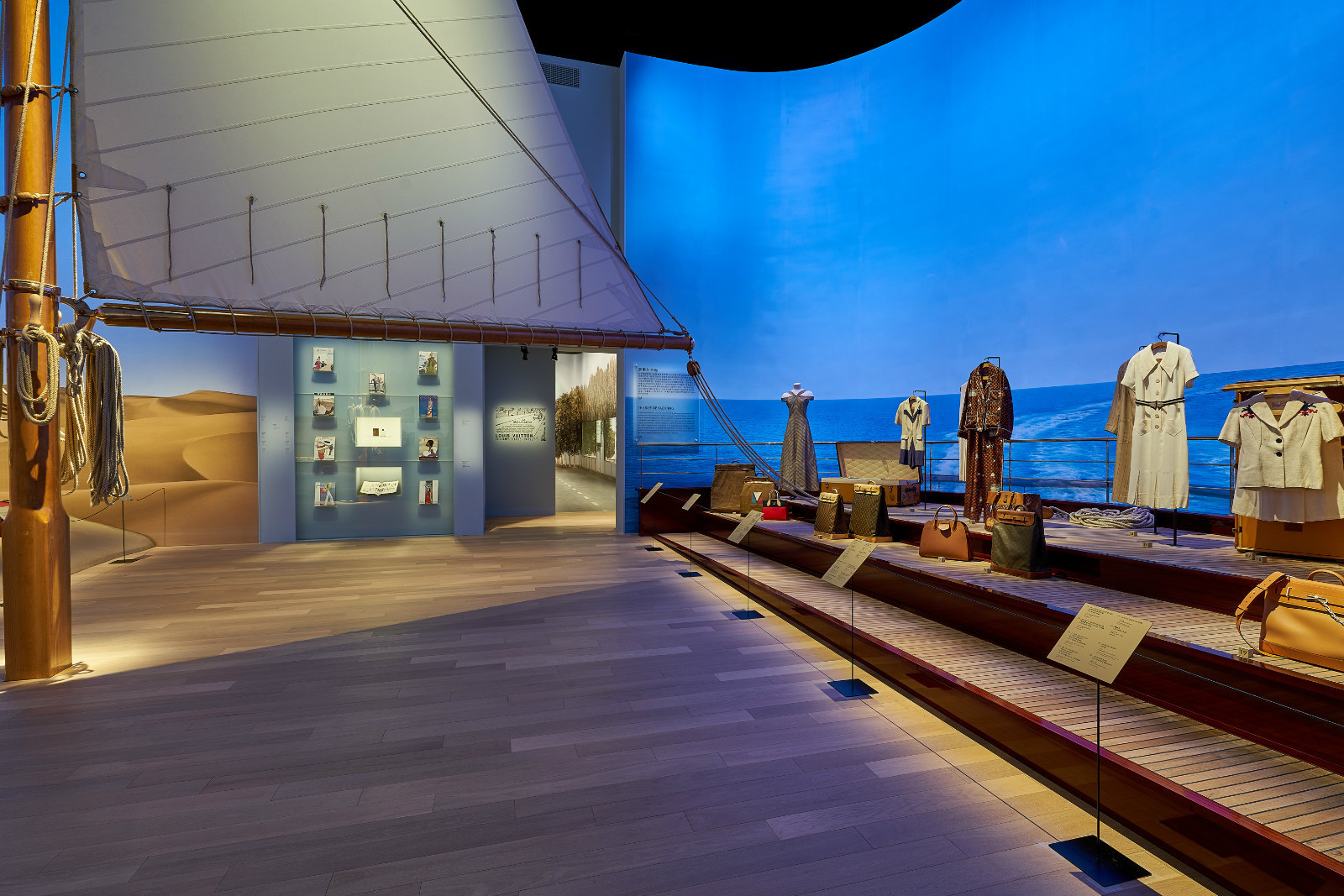 The "VOLEZ, VOGUEZ, VOYAGEZ" exhibition is not only the most important annual event of Louis Vuitton in China in 2018, but also the largest luxury brand exhibition in China in recent years. The 78-day exhibition attracted a total of 270,000 visitors to experience closely the culture and spirit of Louis Vuitton. It is an effective way to attract followers.
In this exhibition, Louis Vuitton also applied a number of digital marketing methods for localized promotion. For example, Louis Vuitton collaborated with Mobike, Dianping.com, Ctrip and other platforms to attract traffic to the exhibition. Also, the brand linked its WeChat mini-program with the promotion of the exhibition, integrated virtual and reality, and provided sharing, navigation, interaction and personalized customization functions.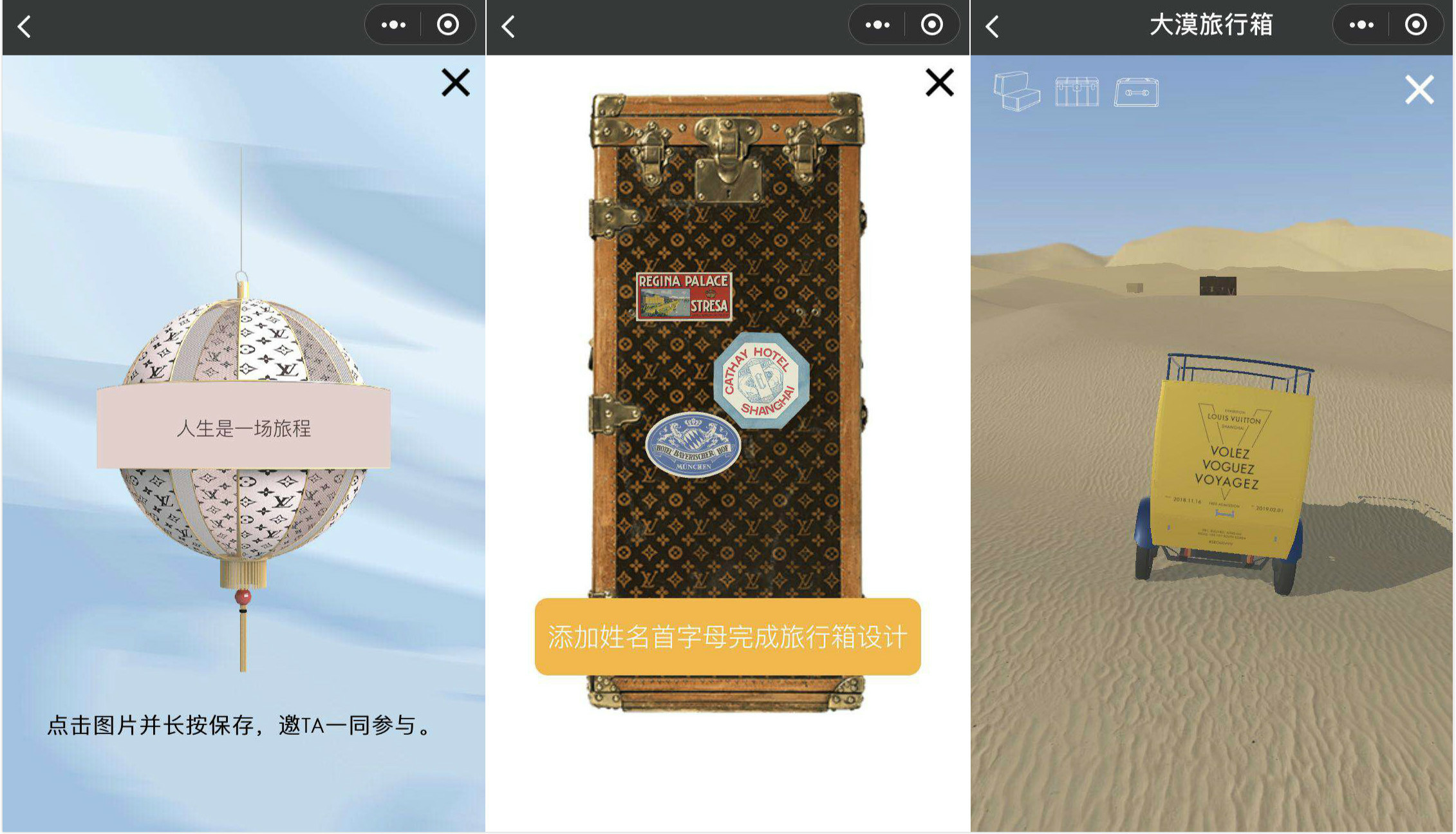 Above: Louis Vuitton's WeChat Mini-Program for the "VOLEZ, VOGUEZ, VOYAGEZ" exhibition
Mr. Burke said that for a century, Louis Vuitton had been at the forefront of creativity and innovation. The brand would continue to draw inspiration from the past to create today's fashion trends.
At Louis Vuitton's womenswear fashion show for Early Spring 2020, the brand launched a "Canvas from the Future" bag with a flexible screen and a flexible sensor. At the Viva Technology Summit in Paris in May, the LVMH Group announced that it would launch the first global blockchain certification platform, Aura, which could trace the source and other ID information of luxury goods. Louis Vuitton will be the first-round brand to apply this technology.
In the future, there will be much more room for imagination in terms of Louis Vuitton digital innovation. From 2012 to 2018, more than half of the growth in global luxury sales had come from China. Louis Vuitton has to continue its digital marketing exploration in the China market to balance between heritage and innovation, and to attract young consumers in this promising and complex market.
---
Photos | Louis Vuitton, Louis Vuitton on Red
Chinese Reporter | Junyang Wang
English Editor: Aviva Li
---
Marketing and Business Cooperation, please email to contact@hualizhi.com