In the fashion consumption industry, most brands have promoted their products by creating dreams. However Dove, which has 62 years of history, has always adhered to the concept of "simple and real beauty".  All advertising and campaign of Dove insist on using only real-life women figures and styles without Photoshop.
In the current social era full of Photoshop and KOLs, especially in China, keeping real is difficult to capture attention and attract traffic flow.
Facing multiple challenges, will Dove continue to adhere to the brand's initial value or adjust to the market? How will Dove continue conveying the brand's value? With non-sales-oriented consumer insights, how will Dove further optimize their performance in the Chinese market?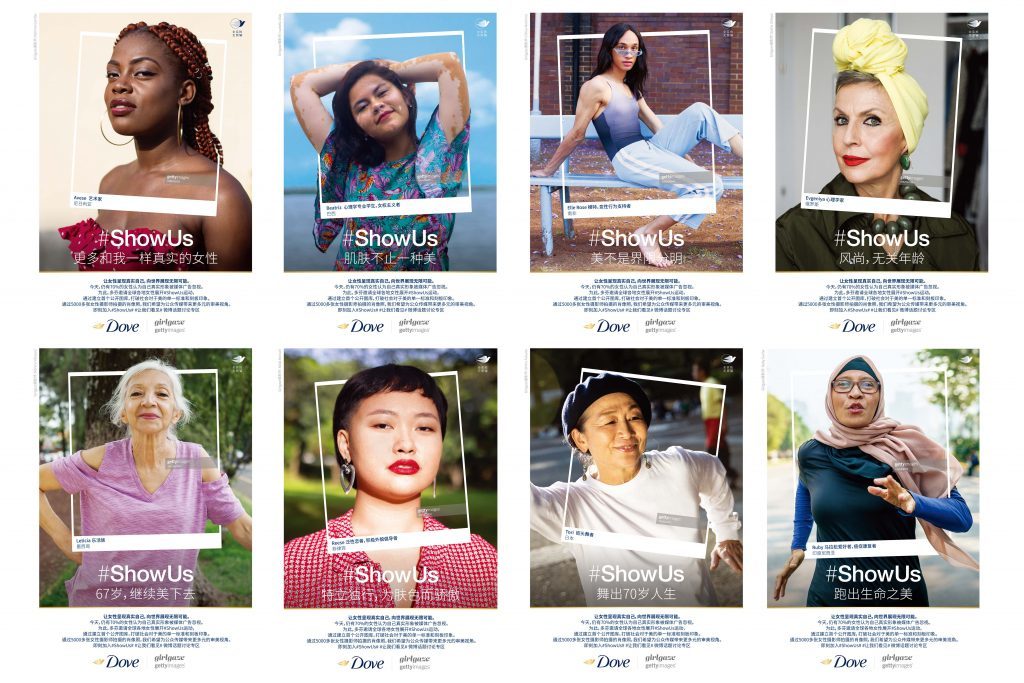 Consumer Insights from Behavior to Social Culture
Perhaps few people know that Dove is a classic brand with a history of 62 years. In 1957, Dove's Beauty Bar soap was launched in the US market. At that time, alkaline-based cleaning products took over the market. Dove first introduced a gentle face soap with moisturizing cream, and established a trusting relationship with consumers.
Dove's first phase development might be benefited from its insights into solving users' problem from the product side. In the next 50 years, Dove has extended the brand's life cycle successfully, relying upon its in-depth consumer insights.
In the spring of 2004, Unilever cooperated with Harvard University and the London School of Economics to conduct a survey of more than 3,200 women in more than 10 countries, and created "The Real Truth about Beauty: A Global Report". It revealed the conflict between "the authentic individual beauty" and "portrayals of female beauty in popular culture " through psychological investigation and research.
At that time, almost all the beauty brands applied "aspirational marketing" approach using perfect, or even sexy, female images in advertisements. Dove, on the opposite, launched "Real Beauty" campaign. The campaign aimed to find women who represented a diverse group of people. Dove featured those women with diverse background in ages, sizes, cultures, ethnic groups, hairstyles and so on, who have never worked as models or had cosmetic surgery. With its all-in approach and consumer insights in women's psychology and social culture, Dove led a strong social movement in the following years.
In the field of consumer goods, brands usually carried out research on consumer behavior, habits and problems, and then promote their product features. However, Dove's "Real Beauty" campaign avoided the promotion of product features and functions completely.
The unique marketing approach made Dove stand out from other beauty campaigns successfully and evoked the resonance from global female consumers to the brand concept. At that time, it even elevated the product sales by 40%.
The "Real Beauty" campaign started in Norther American and Germany in 2004, and gradually expanded to all major markets around the world. In the process, the positive feedback from consumers helped Dove finding the universal insights of female consumers. The brand concept of "simple and real beauty" has continued till today.
New Marketing Challenges in the Age of Social Media
Fifteen years have passed since the "Real Beauty" campaign in 2004.
Today, media has been diversified and fragmented. It is extremely difficult for brands to  drivel global marketing campaign through one or two large-scale advertisements. Dove has produced several touching video advertisements, which become the benchmark of the advertising industry. For example in 2013, Dove launched "Real Beauty Sketches" videos and revealed the real beauty of women.
However, it is undeniable that in the noisy social era, Dove's "simple" value is easily overwhelmed by confusing voices.
Till today, Dove is still "stubborn" and insists on inviting only real women in its advertisements. Even the makeup, scripts and recording background are as close as possible to the ordinary life. Such "real" is hard to capture attention and traffic flow in the era full of beauty filters and KOLs.
Shall Dove continue to adhere to its  initial value, or have to adjust to the market? How will Dove continue conveying the brand's value? Many brands with histories are facing these challenges.
In April 2019, Unilever launched a #ShowUs# image library project in its headquarter in London, It showed Dove's persistence of the brand value, and adaptation to the current media environment.
Meanwhile, this project is part of Unilever's commitment to the UN's Unstereotype Alliance, which aims to reduce the stereotypes that hinder human and social development in today's world, leveraging on the power of advertising and media.
Collaborated with Getty Images (one of the world's leading image creators and distributors), and Girlgaze (a internet platform that includes 200,000 women's images and cross-gender creators around the world), Dove took photos of 5000 female from 39 countries. They have different skin colors and occupations. Some may even have physical defects. However, they are very confident. Many woman will be moved after seeing these images and even ask themselves, "Can I show the true self confidently?"
Dove's Global Vice President Sophie Galvani told Luxe.Co in London that Dove's initial value has never changed. Through this project, they hope that "beauty" will be more inclusive. Every woman can participate and interpret beauty. Inside Dove's community, they even gave the project a gracious female nickname "Djuna".
As early as 2017, on the 60th anniversary of Dove, the brand invited the legendary photographer Mario Testino to take photos for 32 ordinary women aged from 11 to 71, from 15 countries and regions including Brazil, India, China and the Philippines.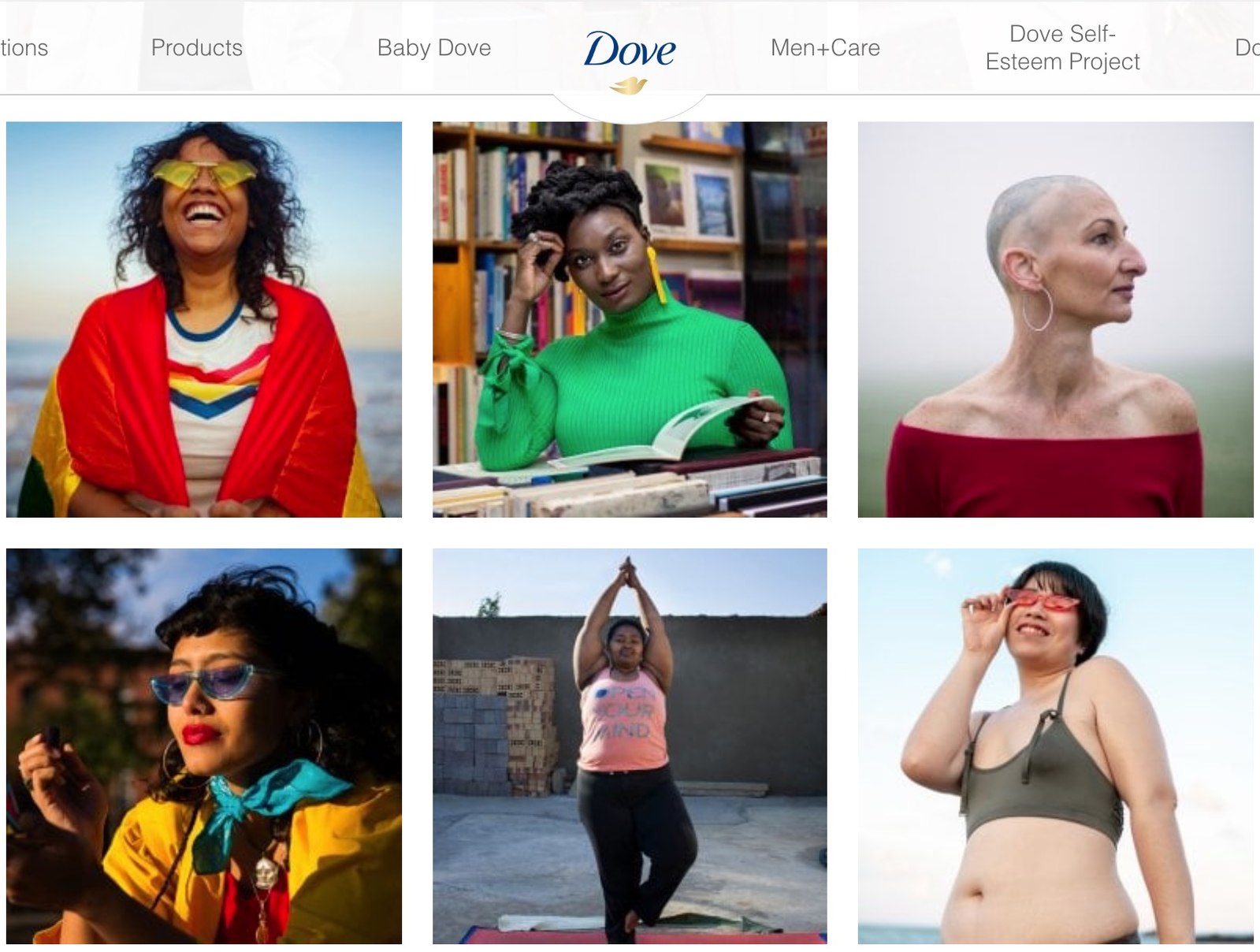 Now the real female photos in #ShowUs# image library project have been available on Getty Images to all media and advertisers. People can view and obtain permission to use these photos at GettyImages.com/ShowUs.
There is a detail that is worthy to be mentioned. These photos are all tagged by these women themselves, rather than obeying the stereotype of others. It aims to show the importance of women's perceptive of themselves. The project also invites more women to add photos of their own to the image gallery.
The awakening of women's self-awareness is taking place globally. According to the data from Getty Images over the past year, the public's perception of women's diversity has increased. For example, the search volume for "real people" increased by 192%, "diversified women" increased by 168%, "strong women" increased by 187%, and "female leaders" increased by 202%.
In the age of social media, information dissemination is mainly based on pictures and videos. The visual presentation of women's beauty has not escaped from the narrow aesthetics value inherent in the mainstream of the society. Especially in China,  photos with beauty filters and similar face are prevalent, which have a negative influence on many young women. In "ShowUs" weibo' comments, people wrote "They are great", "I am really afraid of…" and so on. This  reflects that in a single-aesthetic society, women are eager to express themselves, but lack of self-confidence.
Dove's Challenge in China
China is a populous country. Many brands have special functions of consumer insights, focusing on consumer behavior and collecting consumer data, especially the new generation consumers. But how to analyze and utilize these findings is a puzzle for many brands:
Is it to guide product development and to refine operation to promote sales?
Is it to help carry out marketing to establish industry influence?
Is it for mining and reinforcing brand value and asset?
For Dove, undoubtedly, in-depth consumer insights has long been one of the core assets of Dove, which is the third point above. But the first two points are the real challenges that the brand faces in the Chinese market.
The brand entered China in 2002. Due to the huge difference in culture and development stages between Western Countries and China, Dove's localization was quite difficult in the fast-paced retail environment and media context in China.
Through interviews with 500 adult women and 300 young girls in 31 regions of China, Dove released "The Beauty and Confidence of Women: Dove China Report" in 2016.
In the attempt to reach out to the young group, Dove also launched the "Dove Girls" campaign in China. This campaign received positive feedback, although it could not be compared with the extreme global success of Dove's campaign in 2004.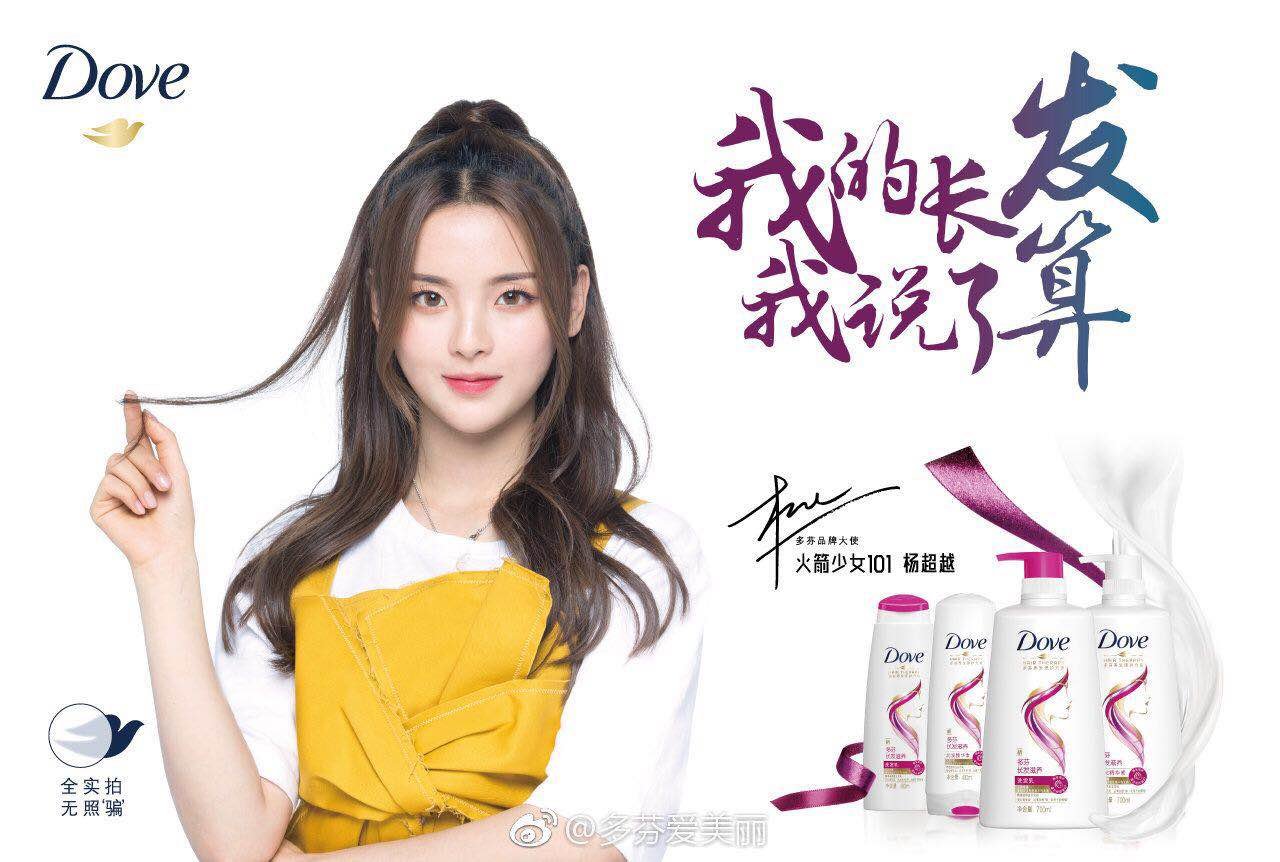 Sophie Galvani expressed that herself and Dove, as a brand, had been insisting on two things. One is to support the education of young women. The other is to constantly break the stereotype of female beauty in different regions.
Last year, Dove introduced to China the charity project "Self-Esteem Development Plan", targeting girls aged 10-13 years old in more than 180 schools in China. This kind of charity projects could be traced back to the end of 2004, when Dove established the Dove Self-Esteem Fund to support girls and adult women to build confidence in society around the world.
At the same time, we could also see Dove's localization and adaptation in the Chinese market. For example, the famous debater in "U can U BiBi" and the chief brand officer of MEWE Media, Chen Qiu, was invited by Dove as the chief confidence officer of Dove, and held several campus speeches. Meanwhile, Dove invited the Chinese girl group 101 to help on product promotion and launched new products globally through TMall Black Box.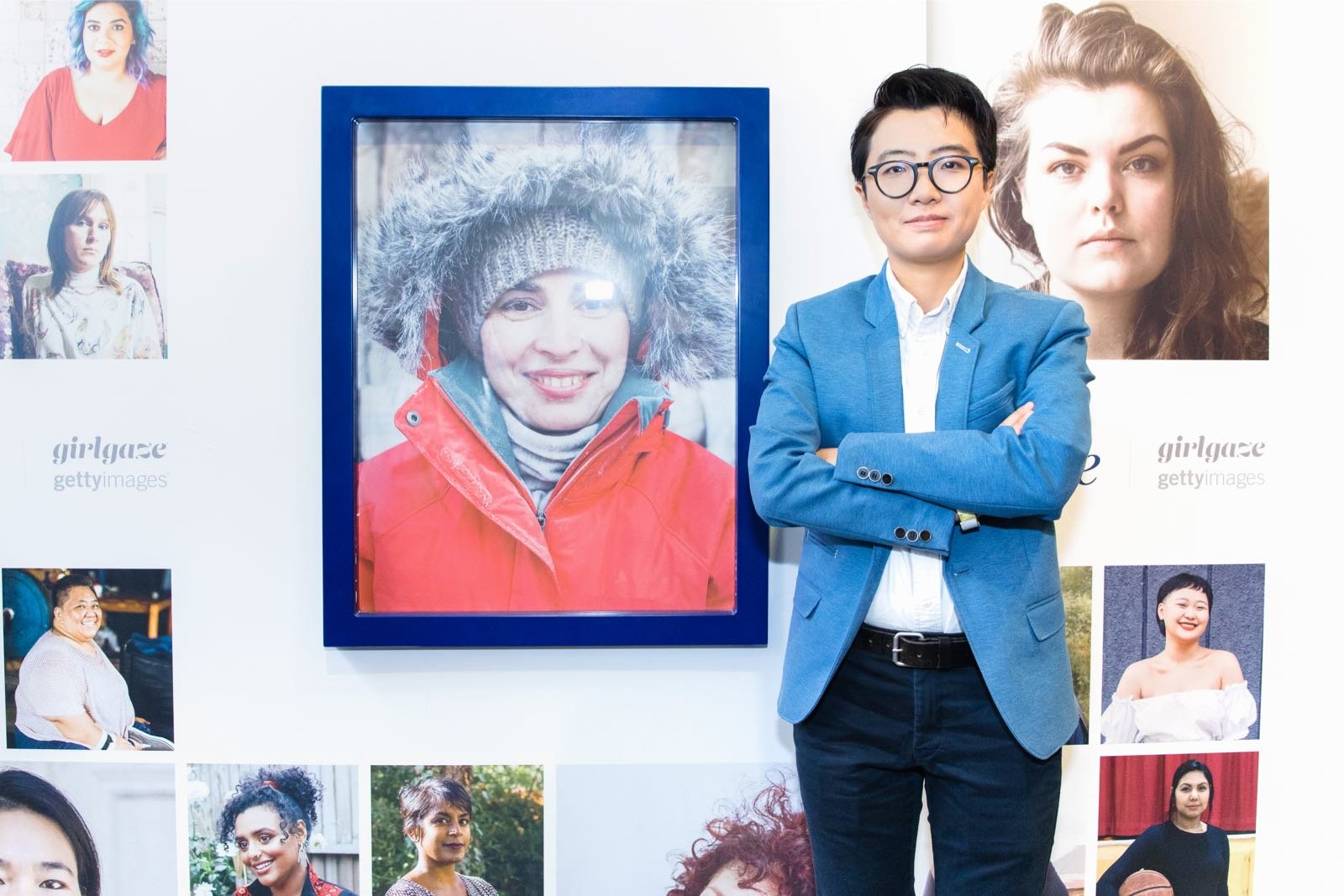 Above: Dove's Chief Confidence Officer – Chen Qiu, a well-known debater in "U can U BiBi" and the chief brand officer of MEWE Media
In the interview,  Sophie Galvani expressed that, "The understanding of beauty not only affect women's self-confidence, but also affect women from fulfilling their potential capacity, especially for young women who are easier to be influenced by what the outside world thinks."
---
Chinese Reporter: Elisa Wang
English Editor: Aviva Li
---
Marketing and Business Cooperation, please email to contact@hualizhi.com