"How to embrace the young generation?" It has been a key topic for luxury brands lately. French classic luxury brand with 172 years of history, Cartier provided a perfect answer.
Under Swiss luxury group Richemont, Cartier launched a brand-new jewelry collection, Clash de Cartier. Following the brand's classic style, the new collection however, presented an impressively modern and young design. In addition to brick-and-mortar stores, the new collection also launched online distribution including official website and WeChat boutique.
In this collection, Cartier not only made a breakthrough in design, but also made a series of innovative measures to strengthen its contacts with young consumers and to improve the efficiency of digital interaction.
Bring a "clash of attitudes" to play
The Clash de Cartier collection showcases an expression of duality that celebrates the idea of opposition— soft yet structured, geometrical yet fluid, and feminine yet sharp. This resonates with the diverse jewelry needs of young consumers.
The young generation have different views on jewelry consumption, which is no longer limited to specific formal occasions, such as weddings and romantic relationships. Their demand for jewelry is diversified, such as gifting, self-use, occasional wear or everyday styling.
Therefore, versatile and modern jewelry design has become an important approach for luxury brands to attract young consumers. Taking the Cartier's Clash de Cartier collection as an example, it continued Cartier's exquisite craftsmanship, and also satisfied the younger generation's pursuit of individuality.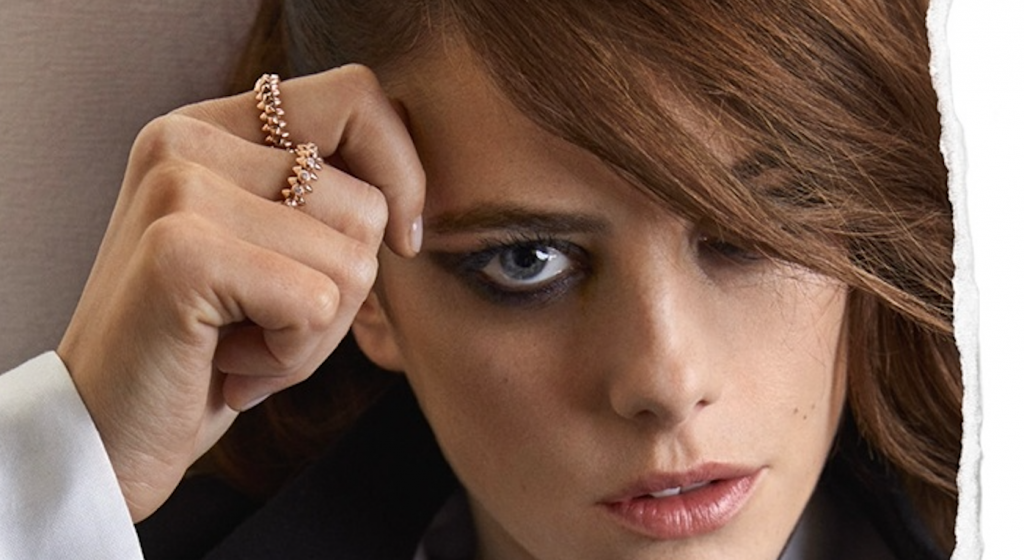 Above: Clash de Cartier Collection
A new product launched by a century-old luxury brand, requires not only a full interpretation of the brand spirit, but also a showcase of modern and updated design aesthetics.
In terms of structure and silhouette, the new Clash de Cartier line celebrates Cartier's love for simple and geometric design which is dated back to the 1930s. The collection also applies stud, clou carrés and bead decoration to create another iconic jewelry collection.
The Clash de Cartier collection reflects Cartier's insights into the "Millennium spirit". The duality temperament is in line with the spirit of the younger generation – they are aggressive but soft; they pursue individuality and independence but also care about the world.
Versatile and comfortable
In addition to express the brand spirit and design ideas, Cartier also considered how to truly satisfy the needs of young consumers, i.e., convenience and comfort.
In fact, in addition to value and design, "comfortable wearing" is a key to differentiate jewelry products, which requires the exquisite craftsmanship.
The new Clash de Cartier collection, features rounded studs and beads designed to form a ribbed mesh- redefining the brand's new jewelry signature. To ensure that studs are connected and move freely, the Cartier Jewelry Workshop has created a complete set of interlocking mechanisms to assemble polished moving parts. In addition, the trim inside is also carefully treated to make it comfortable to wear.
In-depth digital interaction to gather young consumer groups
Offline exhibition & online social media promotion
To interpret "duality", the famous British actress and model Kaya Scodelario starred in the campaign film of this new collection. The film was released on Cartier's official website and official social channels such as WeChat.
In addition, Cartier created a series of online and offline marketing campaign, conveying the attitude of multiple facets of personality, which resonates with the younger generation.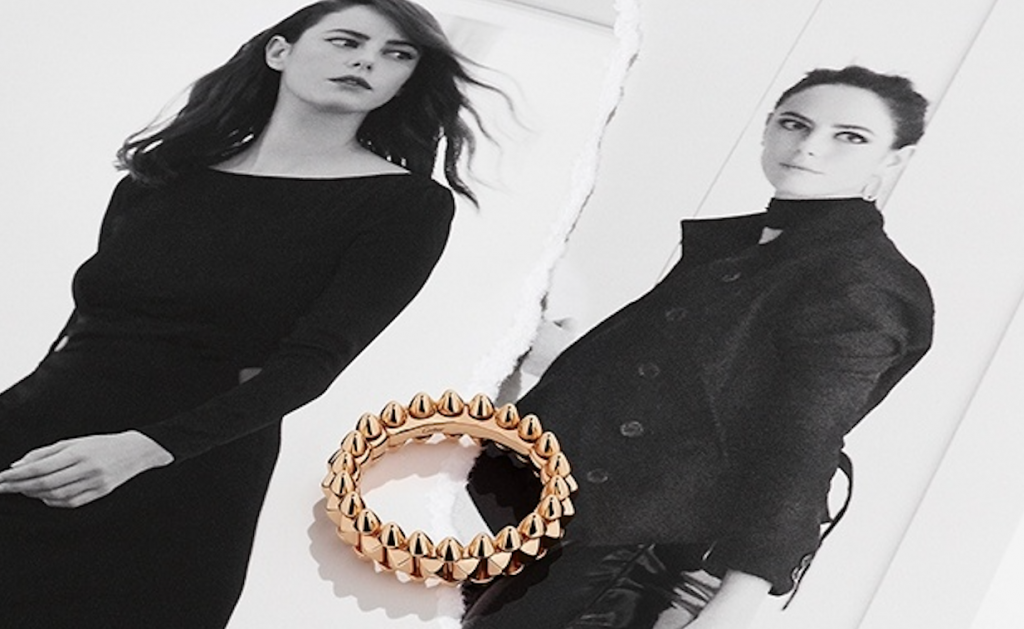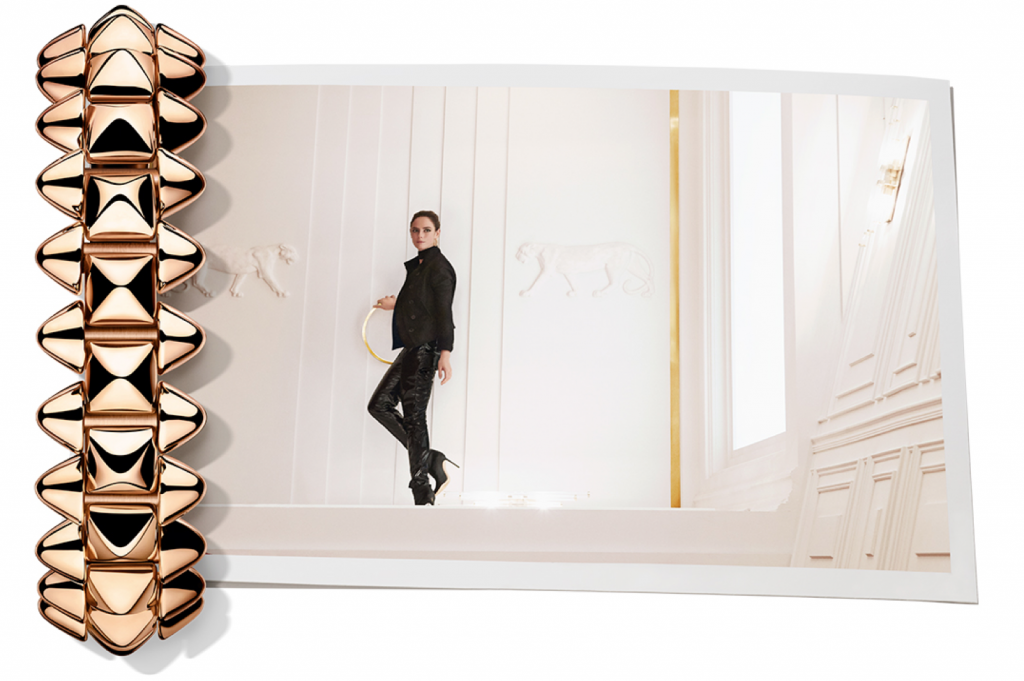 Above: Kaya Scodelario in Cartier's campaign interpreting "duality "
Offline experience exhibition and online exhibition mini-program
In late April, Cartier launched a six-day jewelry exhibition at Shanghai K11, which was free to the public.
There were three sections in the exhibition area. Cartier created specially a series of interactive space and installation, including mirror walls with sound-controlled color alteration, upside down space with infinite rotation, art wall with interactive sensor effects, screen wall with selfie uploading, as well as the mysterious cafe which can only be accessed with a "secret" switch.
Cartier also created a WeChat mini-program, "It is me", for this exhibition. The mini-program had multiple navigation features and presented the campaign film starring Kaya Scodelario. Through the mini-program, users could obtain relevant information such as exhibition maps and make appointments for new product fitting. The mini-program was also a key part of the exhibition interaction. Users could upload their selfies to the mini-program, and view their photos on the screen wall by scanning the code.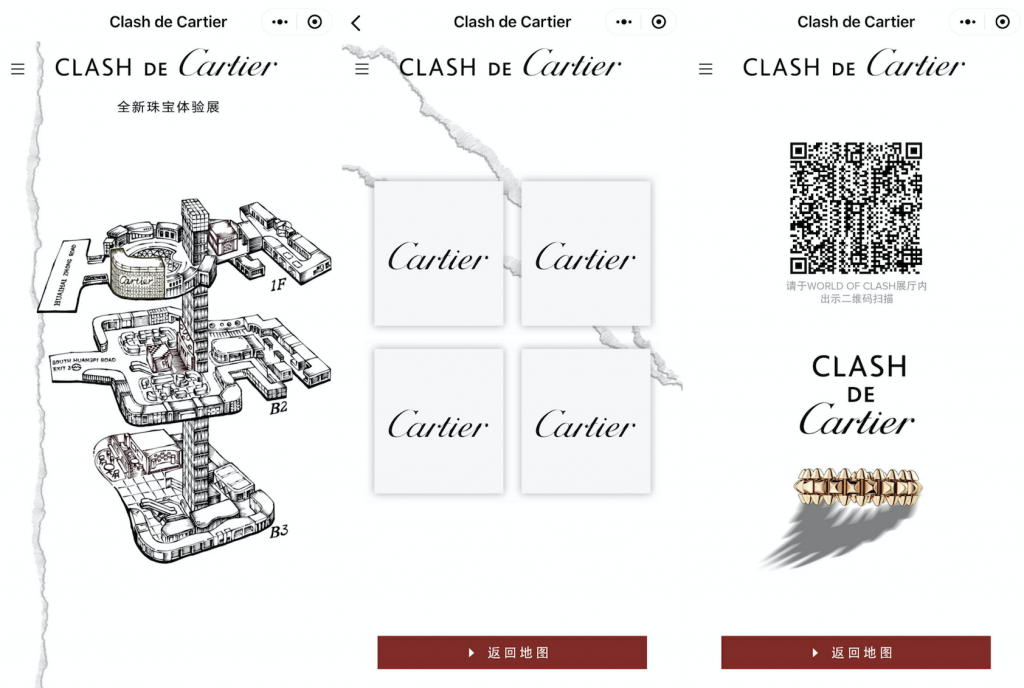 Above: Cartier's exhibition mini-program "It is me"
Online social media promotion to strengthen social interaction
Due to the special features of consumer groups and social environment in the China market, international luxury brands have to apply innovative and appropriate marketing approaches. Social media has been an important battlefield for luxury brands.
Bain & Co's latest report "What's Powering China's Market for Luxury Goods?" shows that the rapid growth of leading luxury brands in the China market is inseparable from its investment in digital marketing. According to the report, the digital marketing budget has almost doubled for the top 40 luxury brands in China since 2015. Among them, 40–70% were used on WeChat. The influence of WeChat platform has continued to rise.
Recently, Cartier and WeChat cooperated and launched an advertisement on WeChat moments. It was a new digital marketing approach in the luxury industry. Cartier selected an interactive video with interesting slide function and touching content to reach and interact with users.
"Uncover" the video to enhance interaction
If you had seen this advertisement recently on WeChat moments, you would remember the images of Kaya Scodelario's interpretation of duality.
In fact, many users were attracted to this dynamic picture when they saw this advertisement. "Is it the same person in the pictures?" "Is she wearing a new Cartier?" – With these questions, when a red dotted line appeared in the center of the picture, most users would "slide" and "uncover" the complete campaign film.
It is worth mentioning that in this advertisement, most users slid the screen to the next page. The total interactive clicks on this ad were more than 6 times of the average value of the market. It is also a significant increase for Cartier, which is more than 300% higher than previous campaigns. The main reason was the action of "sliding screen", which brought 2 million slides to the advertisement and demonstrated that interaction added value to advertisements.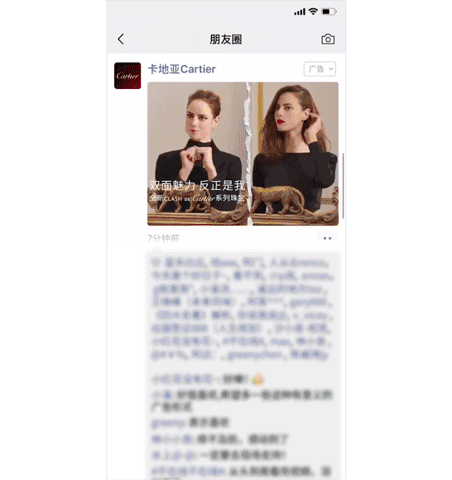 Open "extra bonus page" into WeChat boutique to achieve sales conversion
After users slide screen, it would jump directly to the full version of the campaign film. After the film, the screen would show an extra bonus page where the film played repeatedly.
The extra bonus page also had a click button to jump directly to the boutique, where users could browse and purchase the complete Clash de Cartier collection right away.
It is common in the industry that luxury brands divert users to WeChat boutiques from WeChat moments advertisements. In fact, more and more luxury brands use the combination of "WeChat Advertising + WeChat boutiques" to link scenes. By combining WeChat's social interaction function and boutiques, luxury brands attract traffic and achieve sales conversion in a closed loop.
With the increase in WeChat payment users, WeChat's closed business loop has grown even stronger. As a part of the WeChat ecosystem, boutiques also complete the closed loop. WeChat moments ads lead orders directly to WeChat boutiques, shortening the sales conversion significantly.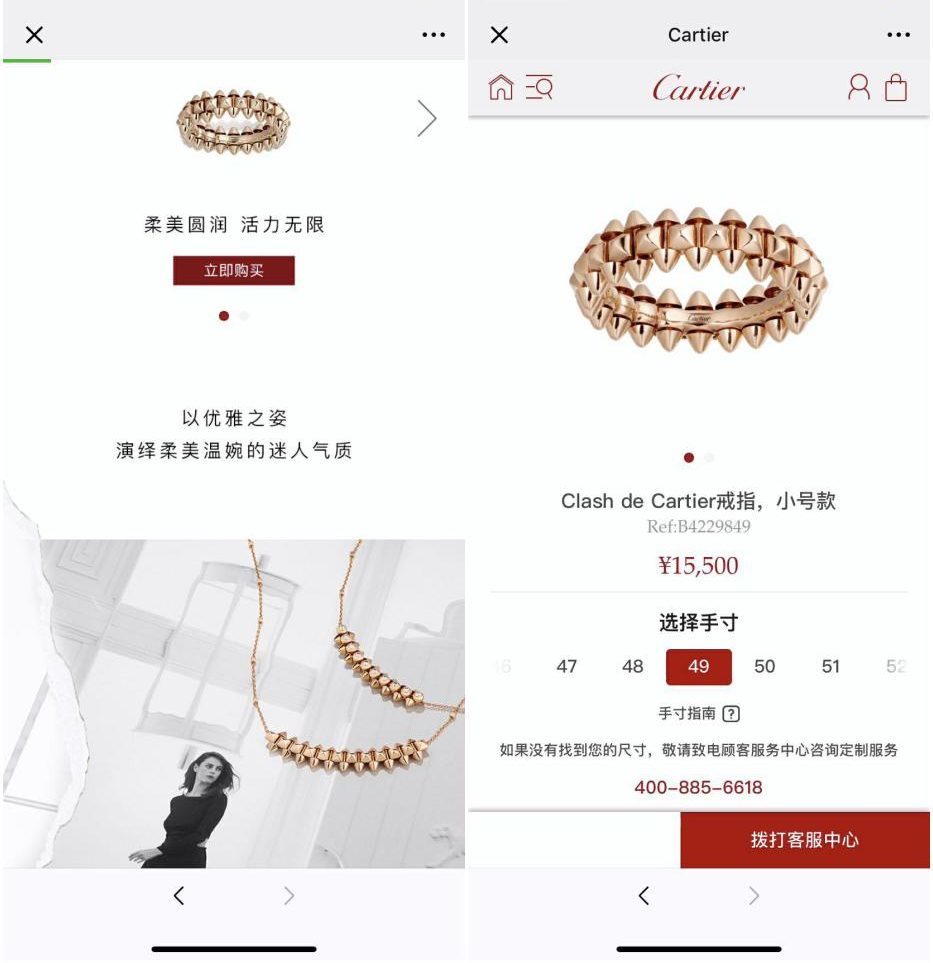 Above: Clash de Cartier's advertisement on WeChat Moments
Precise delivery, targeted influence and increased sales conversion
Generally speaking, luxury brands' target consumer groups are relatively "narrow". WeChat's "targeted delivery" feature is a perfect match. Bain & Co pointed out in the report that leading luxury brands would identify and secure target consumers through WeChat for online and offline sales.
In addition to the brand's followers, Cartier's WeChat moments advertisement also target potential purchasing needs and consumer groups, for example, brand keywords, industry keywords, and those who interact with Cartier's previous campaigns.
The big data screening ability of WeChat help luxury brand continuously reach and cover target users, achieve commercial conversion and magnify the communication value. It is reported that Cartier's WeChat moments advertisement reached 10 million users with excellent sales conversion.
From Cartier's marketing approaches for the Clash de Cartier collection, we could find that embracing the young generation not only requires luxury brands to reshape style and design, but also to seek innovative ways of communicating about the brand and the story behind it. In other words, from design to communication, from offline to online, only an integrated approach can truly reach the young consumer groups.
The rise of the WeChat ecosystem has given the social marketing greater potential. WeChat moments advertising is a useful tool for luxury brands. The Cartier case of WeChat moment advertising may show new directions for digital marketing in the luxury industry.
---
Photos | Cartier's official website, Mini-Program and Moments Advertisement
Chinese Reporter | Ruoyu Zhu
English Editor | Aviva Li
---
Marketing and Business Cooperation, please email to contact@hualizhi.com