Are top trendy streetwear brands the new generation luxury brands? How can trendy streetwear brands survive the cycle of the trendy culture? Does the scarcity strategy always work? How do trendy streetwear brands build their unique DNA?
At the roundtable discussion, "How Long can Streetwear Brand Trend Last?" from Luxe.Co Global Fashion Innovation and Investment Forum (LGFIIF, 华丽志全球时尚创新与投资论坛), the Co-President of Chinese Culture Group, Jie Zhou (周洁,华人文化控股集团副总裁 & 媒体创新实验室总裁) shared her opinion.
Luxe.Co also invited two other outstanding entrepreneurs for this roundtable, Tie Shou, Co-Founder of INXX (铁手,INXX联合创始人) and Sam Ren, Founder of SMFK (SMFK创始人). Head of Research from Luxe.Co Claire Shen hosted this discussion.
WHO IS JIE ZHOU?
Jie Zhou is the Vice President of Chinese Culture Group and the President of Media Innovation Lab. She is also involved in TV entertainment programs, fashion and lifestyle, and children education business. Ms. Zhou has more than 10 years of media-related operation management experience, covering distribution, advertising, sales, production, marketing and communication fields.
01
Are top trendy streetwear brands the next generation luxury brands?
Claire Shen: Last year was a wonderful year for trendy streetwear brands. In the international market, some top trendy streetwear brands completed financing. Li Ning, the Chinese sportswear brand presented a new trendy image at New York Fashion Week and raised great attention on social media. It is rather difficult to define the term "trendy streetwear brand". James Jebbia, the person behind SUPREME, was recently nominated by CFDA as the menswear fashion designer of the year in 2018, which was rather controversial. Some people think that top trendy streetwear brands are luxury brands, how do you think about this?
Jie Zhou: Personally, I think that it is rather controversial to equate trendy streetwear brands to the new generation luxury brands. Behind every successful brand is the expression of an attitude and values. Women in the last century used Chanel products, in which the black collection was its signature. Chanel was the trendy brand at that time, expressing an attitude of freedom, individuality, courage and innovation.
For Supreme, perhaps it looks very simple. In fact, Supreme has collaborated with a lot of musicians and artists, paying tribute to those who have made contribution in their fields. Behind every successful brand, the designers have their own attitude expression and value proposition. The pursuit for trend or novelty cannot support a brand, which is also a violation to the basic rules and logic of branding that we often talk about.
We often see the glamorous parts of trendy streetwear brands. It is a business behavior at the end. The cornerstone of business behavior is supply chain, finance, channels and building brand positioning. If there are good ideas and means, which can be read by the target group, then the opportunity comes. But people tend to overlook the fundamental part.
02
How do trendy streetwear brands survive the cycle of the trendy culture?
Claire Shen: Trend, by nature, may be fleeting. How do trendy streetwear brands survive the cycle of the trendy culture?
Jie Zhou: If you look at one brand and a product, there may be a life cycle. Every product has its life cycle. But the industry is always there. In the 17th century, men wear high heels and wigs in France. There are always people pursuing trends.
The key is to convert the former wave as the momentum and energy for the next wave. You cannot stay in the industry with only good ideas. You need a system. In addition to supply chain and distribution channels, you need to get into the youth community, draw inspiration from them, find their leaders and and know how to tell stories to them.
These links must be constantly vigilant for entrepreneurs. In simple terms, first, your system must be mature and sound, which is fundamental. Secondly, you need to be close to young people and influence them. In addition to expressing attitude, you need to be fast and forward-looking.
 03
How do trendy streetwear brands differentiate?
Claire Shen: Trendy streetwear brands have their unique identity. It is very different and rebellious. It has its own cultural foundation. It is related to surfing, skateboarding and so on. But there are many trendy brands and the competition is fierce. How do these brands differentiate from each other? 
Jie Zhou: First, designer is the soul of a brand. Secondly, brands need to create a content, as a marketing tool to differentiate from other brands' characteristics. What's a good content or story? True story is the best story. Following designers' own will and making judgement based on certain culture background, will help differentiate brands and products.
I believe that there will be more exciting trendy streetwear brands in China in the future. A few decades ago, young people at Universities had limited extracurricular life and hobbies. We did a survey at campus. We found that interesting extracurricular activities (including military, chess, magic and so on) would bring a variety of ideas and lifestyles. When these young people grow up, they will create something different and exciting as designers.
---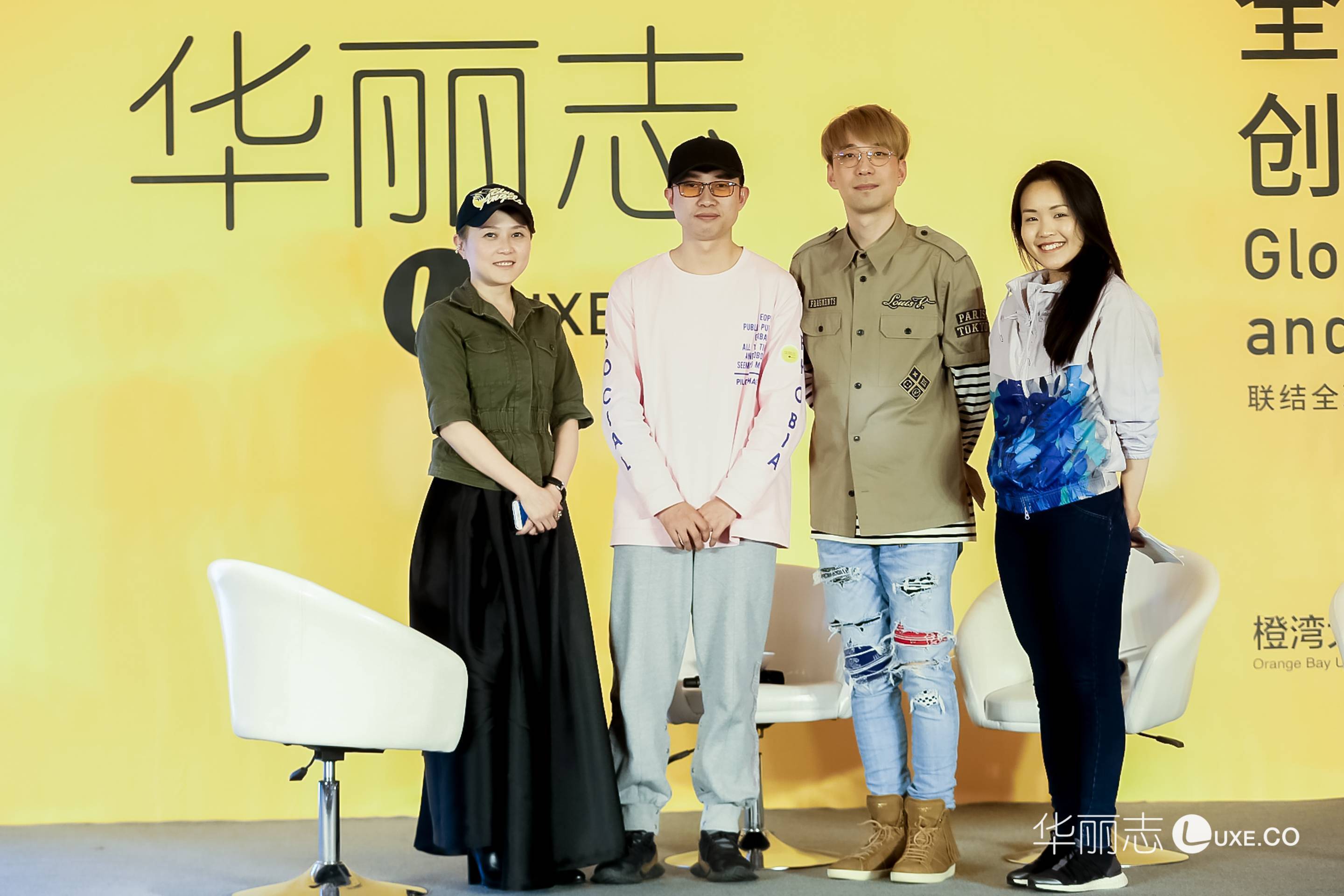 Featuring "Innovation Drives Fashion Forward" and "Embrace the Golden Age of China Fashion Entrepreneurship and Investment", Luxe.Co Global Fashion Innovation and Investment Forum was launched in Beijing on April 18th, 2018.
The most outstanding investors, entrepreneurs, designers and senior managers in the fields of fashion investment and brand innovation gathered together at the forum for thirteen speech, dialogue and roundtable discussions, presenting the latest trends of China and global fashion investment and entrepreneurial innovation.
In the photo above from the 2nd left to right, Tie Shou (Co-Founder of INXX), Sam Ren (Founder of SMFK) and Claire Shen (Luxe.Co)  also presented and shared their thoughts with the audience of the forum.
---
| Chinese Reporter: Ruoyu Zhu
Marketing and Business Cooperation, please email to contact@hualizhi.com