There's a wide variety of underwear brands currently on the market contending with one another. However, founder Xiaolu Liu of NEIWAI, who's from a family with a long history in the underwear industry, believes that it's still difficult to find a brand genuinely created for women, with comfort as its ultimate goal, and that respects the female body. Therefore, 'building the underwear brand that knows women best' has always been NEIWAI's mission, with its focus unwavering over the four years since its establishment.
Since receiving pre-series A funding from ZhenFund in 2015, NEIWAI has secured series A funding of tens of millions of RMB, an investment led by QF Capital and followed by ZhenFund at the end of 2016.
The Underwear Brand that Accompanies Women for a Lifetime
NEIWAI was founded by the couple Jiang Li and Xiaolu Liu in 2012. Liu has a master's degree in finance from Washington University's Olin Business School, and a bachelor's degree from the University of Hong Kong. Her consulting experience in the planning of consumer goods and luxury brands for women has helped her form insights into various brands for women. Jiang Li is a cross-industry serial entrepreneur with a Ph.D. in biology from Columbia University. He founded Nova Photo Studio in Beijing, providing a creative, convenient portrait photography services that incorporate innovative new ideas. Li has worked in top management consulting firms, and once joined the world's largest pharmaceutical company, where he participated in the creation and implementation of company strategies in the Chinese market as a founding team member.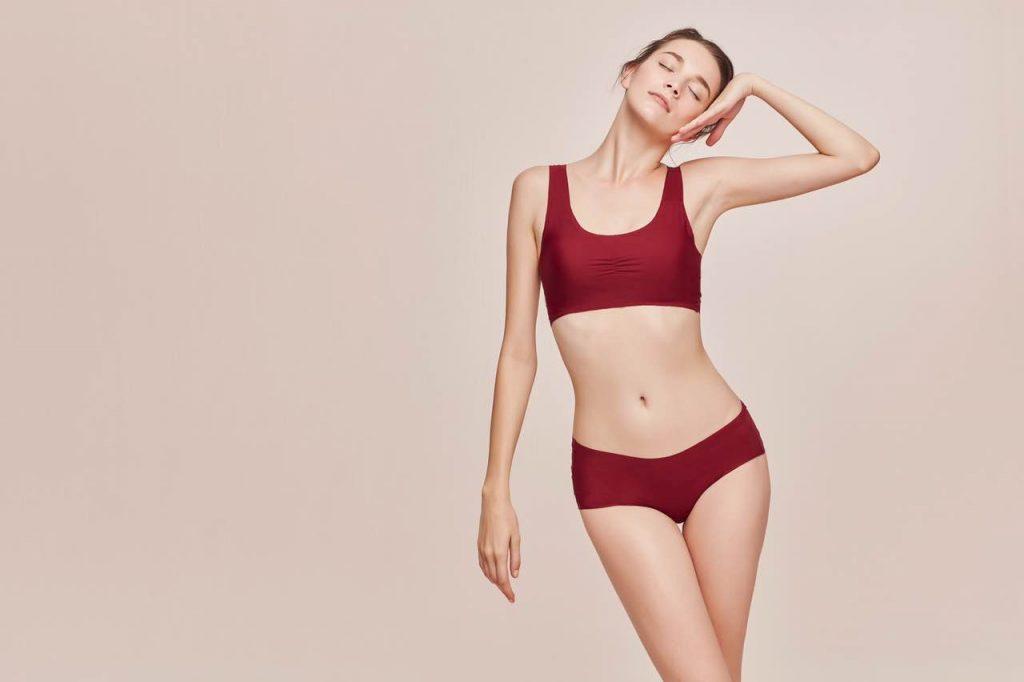 As American and European underwear brands are on the sidelines when it comes to the Chinese market, Liu spotted the perfect opportunity to start a domestic underwear business. In April 2012, she rented a small office on Wuding Road, Shanghai, with 5,500 RMB, and started to plan her own underwear brand. Liu comes from a family with a history in the underwear business, with her mother and grandmother having served on the management of Shanghai's earliest underwear textile industry. Liu was therefore familiar with the supply chain in the clothing industry, and had an especially deep understanding of the importance of experience and resources in the industry.
Liu believes that underwear, the apparel closest to one's heart, should be a woman's most intimate and loyal companion across her lifetime. Comfort should be the essence of underwear, rather than flashy looks.
There's a lovely anecdote behind the creation of NEIWAI. While Liu was studying in New York, she became acquainted with a 70-year-old lady. The lady mentioned a Swiss underwear brand by chance in their conversation and said that the brand has accompanied her since she was young; she had been wearing the same brand for almost half a century. This, in turn, has become Liu's belief, that a good underwear brand should be able to accompany a woman throughout her life.
Comfort in the Extreme—the Philosophy of NEIWAI
Traditional industries, like the underwear business, are open to innovation in this day and age. Neiwai started by separating out the wireless bra market segments, exploring the possibility of innovating in the aesthetics and function of underwear from all angles, including textiles, design, technique and pattern structure. In the past four years, the brand has accumulated more than 100,000 loyal consumers in the mid- to high-end demographic, many of whom have formed the habit of buying another item every three months, with the repurchase rate within six months as high as 40%. The comfort level offered by NEIWAI is incomparable for many customers, many of whom refuse to switch to other brands once they've experienced NEIWAI. Customers have said that when they don't feel like wearing a bra, they will choose NEIWAI, because of how comfortable it is. NEIWAI has now grown to be one of the most reputable wireless bra brands.
The popularity of wireless bras reflects certain changes among young consumers in terms of self-image and fashion sense—more and more of them are starting to regard comfort, confidence and relaxation as the true elements of beauty. Increasingly, these young consumers value their own feelings more than the opinions of others. Therefore, wireless bras with a natural cup shape have become their new favourites.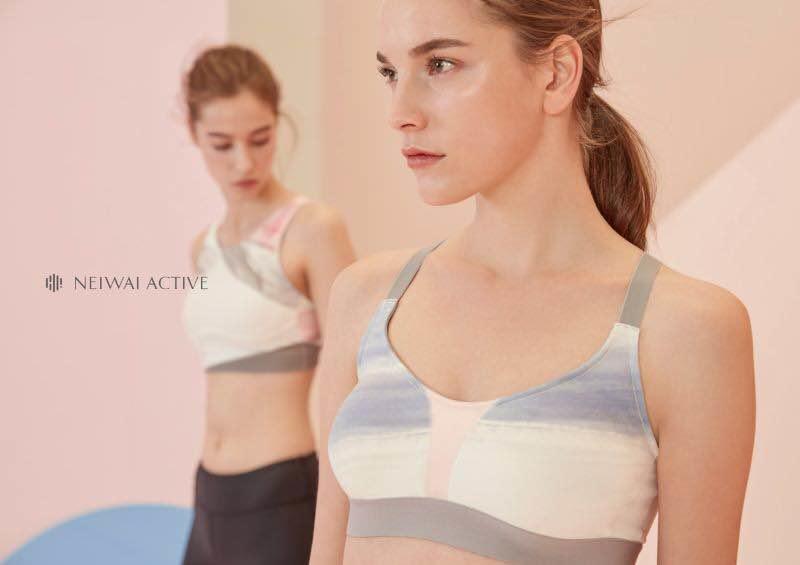 For NEIWAI, the concept of 'comfort in the extreme' means that there is no sense of restraint when wearing the bra, and this is also the competitive difference of their product. From their spring and summer 'Lingmin' (zero allergy) daily wireless collection, featuring hypoallergenic cotton and an innovative 'half-size' measuring system, to the new sportswear line, NEIWAI ACTIVE, released last August, which divides the products according to the intensity of exercise, thus offering something suitable for every sports occasion, NEIWAI is dedicated to designing the most comfortable wireless bras for more and more Chinese women, allowing them to live freely and confidently.
A Year of NEIWAI
In 2016 NEIWAI took a huge leap forward in terms of growth.
In March, the Lingmin wireless collection hit the market with two major innovative features: 'wire imitation design' and the half-size system. Furthermore, its anti-allergy cotton fabric maximised the brand's distinctive comfort level, while enhancing its supporting and shaping function, pushing the standard of tailoring to a new height in the industry. Since the collection's release, sales of each item have exceeded 10,000. One item from the collection, 'Linglong', ranked third in T-mall's sales record among other products at similar price points, closely following Uniqlo and Mani Form.
In August, the brand launched the sportswear line NEIWAI ACTIVE. The hand-drawn ink wash print design inspired by the theme of 'day and night' has broken the norms for traditional sportswear design. The classification of products based on exercise intensity is a reflection of the global trend for 'atheleisure', bringing sportswear into daily wear.
In October, NEIWAI made its stock available through the S.F. Express warehouse. S.F. Express is a leading courier in China. With its advanced warehouse management system, the average delivery time for NEIWAI products has shortened to six to eight hours on average and the accuracy rate for preparation and delivery has surpassed 99.99%. On Double 11 (11 November, the single biggest online sales day in China), NEIWAI received nearly 30,000 orders, which were all processed within two days.
Thus daily sales on Double 11 increased nearly nine times, with over 12 million RMB worth of products added to consumers' shopping carts.
In December, NEIWAI launched its 1,500-square-metre experience centre in the centre of Shanghai.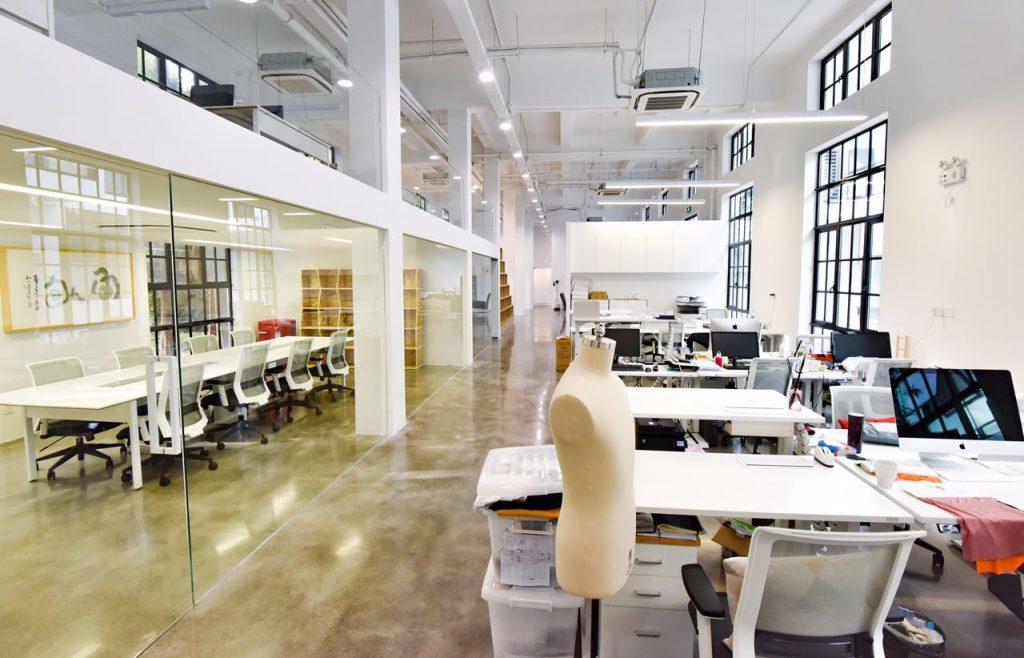 With the support of capital, NEIWAI is striving to be an international brand for everyday aesthetics
In an extremely fragmented market, a brand has to be clear headed about its core competitiveness. How can it improve the quality of its products, build better brand awareness and find the right sales channels? How can it introduce capital to provide the perfect support for the brand's momentum? These are the challenges faced by the founders and investors of start-ups.
The two founders of NEIWAI firmly believe that product research and development will be the critical competitive difference that will make NEIWAI a world-class brand of the future. NEIWAI has gathered a team of Chinese designers trained at the top design academies, including the Royal College of Art, the Fashion Institute of Technology and ESMOND International Fashion Institute, while building an efficient manufacturing system with strict quality controls. The manufacturing team consists of staff with an average of over 10 years of management experience each in world-class clothing companies.
In 2017, NEIWAI will fully implement its offline strategy, opening 15 to 20 stores in first- and second-tier cities, thereby strengthening the connection between the brand and its consumers. In the future, NEIWAI will further elevate and expand the concept of 'daily comfort' while growing to be an internationally renowned brand.
Q&A with Xiaolu Liu, founder of NEIWAI:
In the underwear market, where traditional brands, foreign brands and start-up brands are fiercely competing with one another, why did you choose the wireless bra market as the foundation of your business? Who are your direct competitors? What are the characteristics of your target consumers?
Our competitors do not distract us, because NEIWAI's philosophy is more advanced than those of other players in the Chinese underwear market. We focus only on [creating] quality and comfortable underwear. We've attracted a large group of female urban elites. Many of them are industry leaders who enjoy a high-class lifestyle, while knowing exactly what they want. They choose NEIWAI to be their designated underwear brand. These loyal customers give us the confidence needed to face more competition in the future.
What are NEIWAI's biggest competitive advantages?
It is the exceptional quality and style of the products, which can pass as a high-end brand, but with a medium-sized price tag. NEIWAI's products also offer a comfort level that's incomparable for many women, making them unable to switch to other brands, and therefore there is a high degree of brand loyalty. Moreover, since 2012, we have developed a community for elite female customers. We have organized an influential forum for women, Her Voice, in Shanghai, as well as conducting a series of in-depth interviews via social media. 
What's your mid- to long-term plan for NEIWAI?
Focusing on the subdivision of comfortable underwear products, and influencing the mass market through our high-end customers and opinion leaders. NEIWAI's long-term goal is to become a global underwear brand.
Can you share some stories about your start-up business?
In the beginning when I discovered that American and European underwear brands were still on the sidelines when it came to the Chinese market, I realized that there was a great opportunity to create a domestic underwear brand. In April 2012, I spent 5,000 RMB on renting a small office on Wuding Road in Shanghai and started to plan my own underwear brand. I am actually from an underwear industry family, with my mother and grandmother being part of the management of Shanghai's oldest underwear textile business. There are certain obstacles in the clothing industry that can be difficult to overcome if you don't have the relevant experience and resources. My family was actually initially against my plans, mostly because they regard entrepreneurship as extremely demanding. However, since then, they have become convinced of my determination and have offered me great support.
What is the biggest difficulty you have encountered while building your business?
Building a team and maintaining the supply chains are the hardest challenges. To build and manage a great team, you have to be a good observer of humanity, understanding the ideas and needs of each staff member; and supply chains need to be monitored constantly. To ensure the quality of the products, a lot of effort has to be put into maintaining supply chains.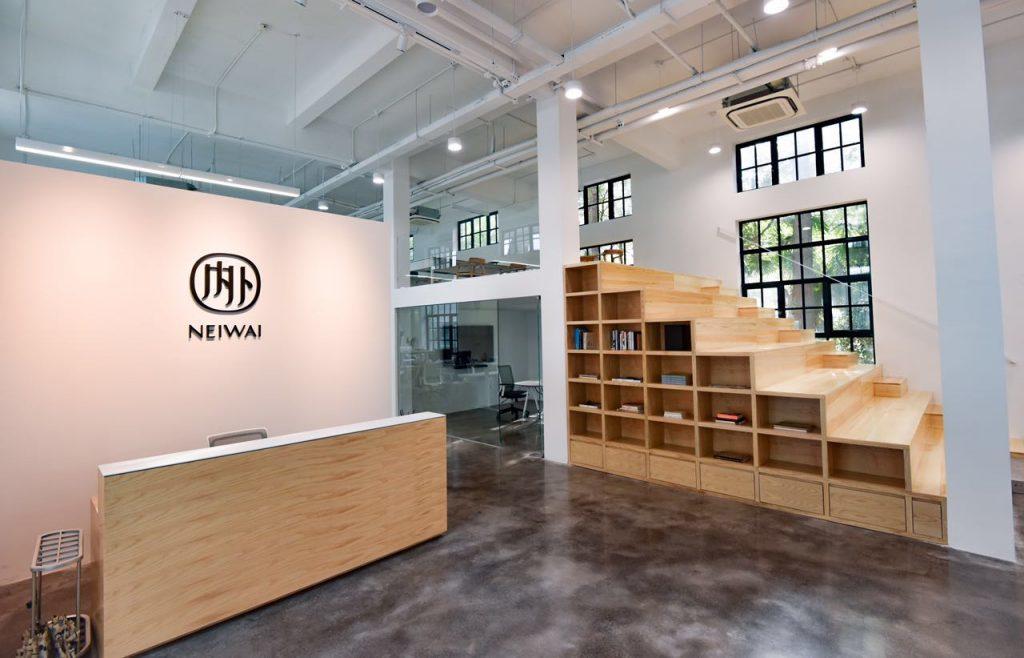 About the founder of NEIWAI
Xiaolu Liu was born into a family with a history in the underwear industry and gained experienced with textiles and related techniques from a young age. She studied business at the University of Hong Kong at the age of 18, and then worked in the strategic department of Coca Cola (China). Liu went on to study finance at Washington University's Olin Business School. After graduation she worked in the top consulting firm, Monitor Group, and the French strategic consulting firm Estin & Co, where she was mainly in charge of consumption goods and luxury brand planning for the female market. In 2012, Liu left her job to establish NEIWAI. She hopes to convey an elegant and comfortable lifestyle through underwear, the apparel closest to a woman's heart.
About QF Capital
QF Capital was founded in December 2011. It is a professional fund company specialising in early-stage private equity investments. Zhekuan Fu is the founding partner. QF Capital focuses on consumption upgrades, TMT, the modern service industry, the Internet, new materiel and other industries. The company currently manages 10 funds, totalling 1.6 billion RMB, and has invested in over 150 projects in the early stage.
About ZhenFund
ZhenFund is angel fund established in 2011 by Xiaoping Xu (a New Oriental co-founder), Qiang Wang and Sequoia Capital China. With the aim of encouraging young entrepreneurs to be involved in start-ups, innovation and the creation of wealth, the fund focuses on seed investments in the TMT industries, including the Internet of Things, the mobile Internet, e-commerce, education, games and so on.