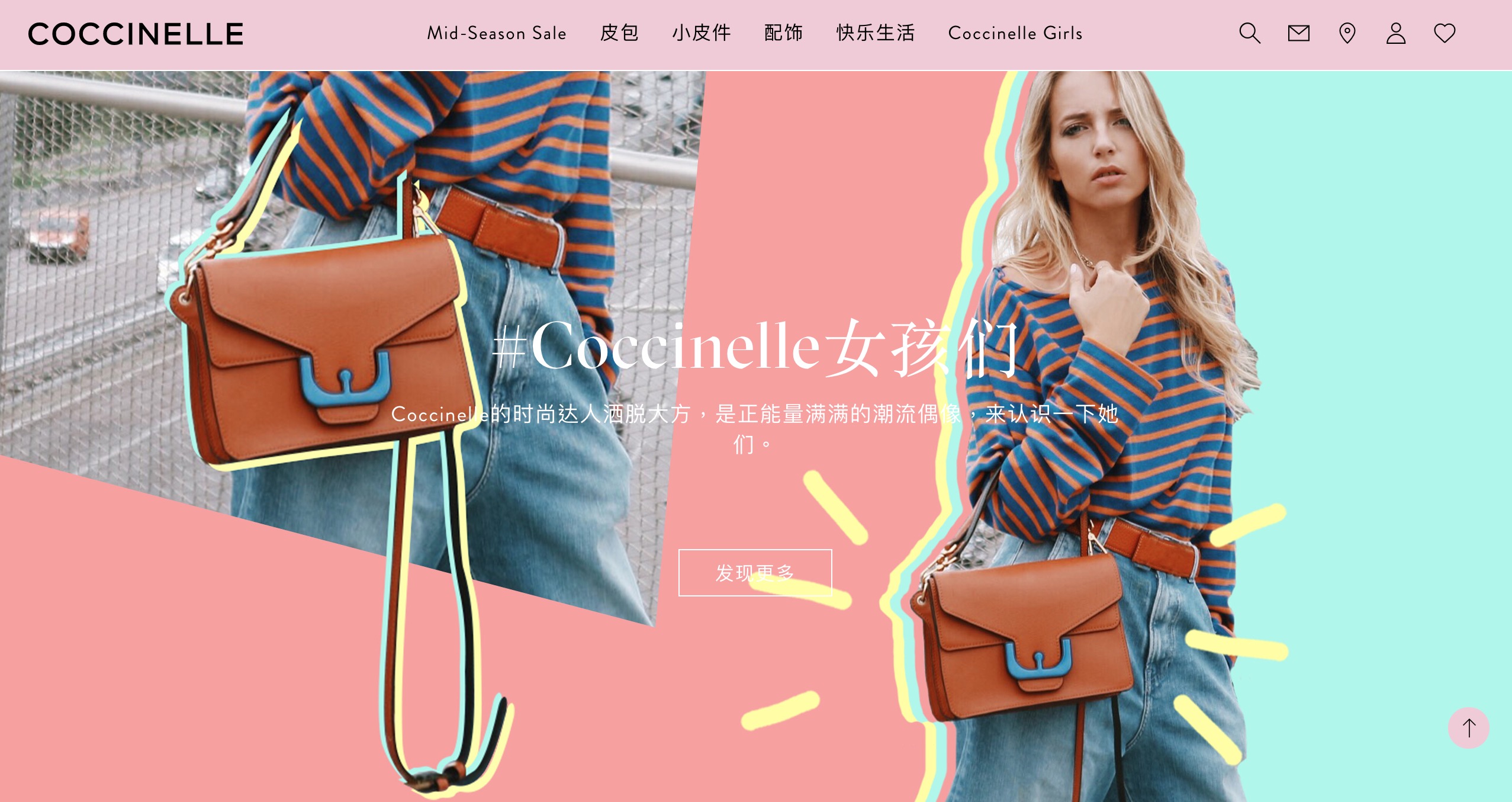 (L=Luxe.CO, A=Andrea Baldo)
L: You have worked for Marni and Diesel, what kind of experience will help you and the brand to expand in the world?
A: I was very lucky to work for Italian brands who have stronger knowledge outside. Most companies in Italy has very strong capabilities in product. Sometimes they are not able to really express themselves in international level. What I'm bringing to coccinelle is the experience of teamwork for international brands, they always look their market as a one. They always looking for niche consumers that no matter they are in Tokyo, Shanghai or Milan, and they share the same values. That's how you can build a global brand.
That's why all the working is about what is the value of coccinelle, what we want to tell customers, why do we exist, what are the reasons customer choose us and That's what almost last 6 months myself and our colleagues do, to find who we are. Now we are ready to bring it to market in a very powerful way. We are really in a same language with those smart and self-confident women, who want to spend money wisely. They are in the world wide, if we can find them, we can reach the international success.
L: What's the Global strategy?
A: On the global strategy, basically, we are focusing on few key market. Our brands are already known in Italy and we have good platform in Germany and Russia. These market are our strong core, but to bring the brand to international level, we need to focus on China, which is the global market of the future. And also, we need to focus on japan and USA. Japan is an important market that we want to penetrate in the future. It has very strong influence on Asia, but it also a very sophisticated market, and it's same of North America. Many successful luxury brands coming from USA, and having strong marketing ability and novelty products.
We are the one having novelty products that really speaks of value. We can even compete with those American brands in USA. We are a small brand with big ambitious, anything could happen in a few years. It's a very long term strategy, and we have a very strong company(ELAND) behind us that support the strategy.
L: How to meet the demand of customization?
A: It's a strong demand for personalized products which you can express yourself.
First of all, we are a niche brand, one of the way to express themselves is choosing coccinelle but not another brands.
Then within our offer, we have already workout this things, on the different areas. For example: you can choose your own straps, so that you made your bag special.
On specialization, we are working on the project which has started in the Europe but not arrive here yet. We call it "message in a bag":a bag is not gain for others but for yourself, or for the one you are giving. You can not only choose the color inside or outside, but you can write the message in the bag, you give this to your friends or to yourself. It'll reminds you the value you believe, every time you open the bag, the message is in front of you. This is our way of personalize the products, having a more intimate and unique relationship than showing off to others.
Besides, we are dedicating to have sober design, which means our bag won't have a lot of stitching or print. This is one of the value of our brand that you can have something timeless.
L: What's the biggest challenge for Coccinelle to expand in China?
A: It's about the brand awareness. The premium brands market is already having a lot of brands, when you look at them, they also have good products. And for consumers outside, they have a lot of choice. There are a lot of brands, so there are a lot of competitions, how can we break through? How can we raise our brand more aware? Those I think are the major challenges.
The answer is going back to communication,marketing,and also social media, finding the right representative to be our ambassador who can speaks authentically about the brand, finding the right distribution where we can prepare the brand properly right stand of consumer.
The space is limit but we believe in our strong story and the real strong authentic product which create a long term sustainability. So again, I think we are something value to say to consumer, and we will find our way to get to it.
L:What are COCCINELLE's current sales channels? Can you share your digital sales strategy in China?
A:Our company entered China 3 years ago, most of our channels are retailing. We have 6 stores at the moment in China, including the city of Beijing, Shanghai, Chengdu, Hangzhou…
We are still studying the digital strategy, because we need to have strong strategy capability to support the development across the country. We strongly believe in the integration of e-commerce and retailing. This is a very special market that e-commerce is developed much faster than anything in Europe, so we need to make the right choice of partners and platform. We have already workout the complete strategy, and going to have the agenda very soon.
On the other side, it is more about marketing. We already start to deal with social media, and also working with our partners to find the right KOL to start collaborating. During the fashion week in September in Milan, we are going to have an event which will invite Chinese KOL together with Italian's. We are a brand that speak to women across the global, across geography, so we like to mix things up.
Retailing is going to be for the time being the most important channels. When you look up the global scale, this is the company that developed mostly to multi-brand first and franchising partners,so retail account to around 40% novotal sales and this is definitely channels we see increasing together with the online e-commerce.
L: Will COCCINELLE develop its own sales function on official website or cooperate with Chinese e-commerce platform?
A: I think we will implement on several aspects. What makes China interesting for us is that, it's a market that developed a lot and there's a lot of collaboration chance for new brands, which is very different in Europe. In Europe, typically, brands are pushing the message to consumers, and we like this approach of being more from bottom up. But in China, because the market is very big, many platforms already have strong capabilities on creating communication channels. So we shouldn't only have our official website, we should be mix of different things.
Today, the product our brand offering is really stronger and has a lot of value, which is also very important for the word of mouth marketing. So I think we would have a good development in China.
L: What's the retailing plan in China?
A: First we will focus on first-tier cities: Shenzhen Guangzhou will be developed next year; Beijing only have 2 stores now, so it's looking for expanding. Then we will go to Chongqing, Nanjing……It will account around 20 stores at the end of 2017, and having another 10 next year. It's very important for the first step to position our brand where those smart and confident women are buying. Those young woman are becoming the main consumer of future, and much more than what has been in the past of European women.
Developing in the right location will be very important for the second way of development. Our brand is very approachable and demographic, so it could have an accessible business in China compare to some other brands. So definitely to give the first impression is very important. We are growing little by little, besides the potential of the market is very very big.
L: What's the value of Coccinelle?
A: We are very humble as a brand, and we've been working for leather goods for 40 years. Our company also build leather goods for other brands, so we have really good craftsmanship and one of our key trick is the selection of material. In fact, the leather we use is 100% source in Italy and we only use Italian leather. We believe that the final touch of customer is rich and that is how we want to position ourselves.
Having a product that is functional for modern woman is the second step. As a brand, we has strong value on the products and push a lot of importance of the functionality.
The third step is to be fashionable.
This 3 part are the core of our proposal. What we are good is we are offering this at a very affordable prices. We want to be inclusive of customer, we want to be creative for this kind of woman. Those smart customers can see they are spending the little amount of money for something is valuable. For today, but also for tomorrow, this also into our design. Our design is more sober, it is more about having something valuable. So at this point, when you look at our price, and you see we are affordable, that is where customers see the value.
L: What's the strategy on social media platform and celebrity endorsement?
A: We have studied a lot and still studying about Chinese market. Consumer advice are becoming very popular, in fact the socialize are becoming much more important than price sometimes. So our strategy is about how can we create authentic relationship with those consumers. What we don't want is to push the message by paying somebody to be our ambassador, we don't believe in this, we believe in the connection, we believe in presenting something that is true value. We want to connect with KOL who are willing to be our ambassador. We can see the potential of their followers and consumers. It's not just about branding, it must be something more about identity of the brand. In the case, the KOL we select is very few, because we need to find the one that is the right one on voice.
Many luxury brands use influencer and many important stars to present their brand, which is sensible. Because luxury is about to be rich, this is not same as our brand. Coccinelle is a more inclusive brands, more accessible to customers. Customer will know your brand and products from ambassador of the. In this case, having KOL and intimate relationship maybe more important for us than having a star to present out products.
KOL have such a big group of followers, they need to very carefully on what brands they want to work with. In other point of
I hope we can find somebody who is really right for our brand and has the right followers. I think to me, it's all about the product, you need to have something that is unique that has value for consumers. If you have that, then soon or later, by word of mouth, you can get your market, that why we have been focusing so much on clas the right position for the consumer.
L: Is there any founding family member who still involve in the management of the brand?
A: After sold the company to ELAND, the owner left the company. There's no more family members in the brand now. In this case, I was hired by him to be the CEO.
The owner knew that to bring the brand to next level, he needs to reorganize the company, but he didn't know how to do it, and it would be a potential problem. The owner is a very humble and clever man, so he makes the step back, and helps to select the next CEO.
What I'm very proud is that with the same team, adding some new talents, the team are already jump to another level. We are not reinventing the brand, because the value of the brand is there. Most Italian families are not able to bring their brand to the market in a compelling way. Sometime because they are afraid, sometime because they are reserve. So that many French or American brands come to buy Italian brands and bring it to the world. In this case, we think we can do the same by ourselves.