Note: An in-depth interpretation of the "brand exhibition online marketing operations manual".
According to incomplete statistics of Luxe.co, at least 12 exhibitions of 8 luxury brands have landed in China since 2019. Exhibitions by luxury brands are not new, as the act of holding an exhibition embodies the fact that the brand attaches great importance to that market. In China, the competition goes beyond the exhibition itself — it is an opportunity to showcase brand strategies through digital marketing.
From REACH to AWAKEN to INTERACTION to DIFFERENTIATION… how does a brand build a larger funnel?
This paper will explain and break down the online communication strategies of exhibitions of luxury brands such as:Cartier, Bvlgari, Chanel, Prada, Hermes, Dior and Louis Vuitton, and reveal the practical experience behind creating an "online funnel" for these brands' exhibitions.
Step 1: Reach
Physical retail: pay attention to the scene, generate an immersive experience
Online marketing: pay attention to every click 
In this paper, we examined a number of brand exhibition cases, all of which fully interact with a large number of online users through WeChat Little Program, WeChat Moments advertising, and other digital methods.
One of the biggest characteristics of their success is how they break the inherent expression, language and visual system of luxury brands, and rethink and redesign the communication pathway. For example, we even observed customized emoji by luxury brands.
Formulating online communication strategies means that the brand is re-exploring brand culture with a new logic, and establishing a dialogue with users directly through new technologies and a native ecosystem.
1. Going deep into the social ecosystem to discover more users
If an exhibition is as quiet and low-key as its stores, and only attracts a very limited group of people (who already knew the brand), there is no doubt that this was not the original intention of the brand, where they spend a lot of money to build public exhibition.
Online marketing is becoming a breakthrough for luxury brands, designed to "break the circle" and convey brand culture to users — focused on telling the users who they are, and to connect with those who don't know them yet. For this purpose, brands need to start from the perspective of users, and win their hearts step-by-step.
Cartier provides a good case study. During the two-month exhibition "Beyond Boundaries: Cartier And The Palace Museum Craftsmanship And Restoration Exhibition" (hereinafter referred to as "Beyond Boundaries"), Cartier released two waves of advertisements through WeChat Moments — this allowed the exhibition to penetrate into the social ecosystem of the Wechat Moments, and more accurately reach more groups with potential interest.
It is worth mentioning that both waves of advertising used the POI (Point Of Interest) functionality in WeChat Moments to make the exhibition address more obvious. Users in both Beijing and other places were able to see the location of the exhibition "Beijing • Palace Museum – Meridian Gate", which created a sense of "immersion" for the users.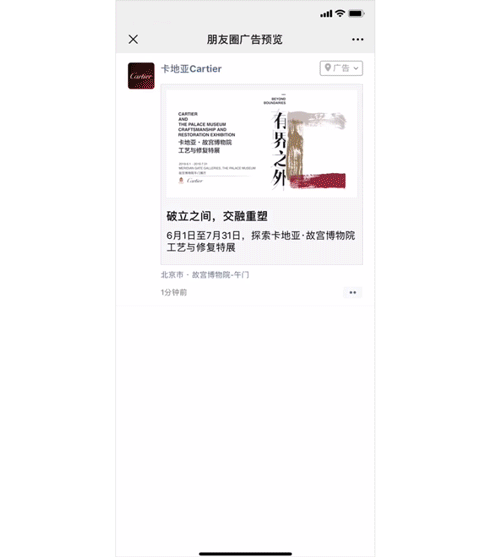 2. Digitising exhibitions, conveying the brand culture
In order to let users have a deeper, three-dimensional understanding, and truly experience the exhibition, the WeChat Moment will lead users to Cartier's WeChat little program, designed especially created for the exhibition. Simply by browsing the directory of the app, it is clear how rich the contents are.
When using WeChat little program became the standard of the brand exhibitions, Cartier then created a "walking exhibition app". This meant that even if users did not know Cartier, or didn't have the opportunity to see the exhibition in person, they were able to experience something similar from the little program. Nowadays, more than ever, Chinese consumers are hungry to know the story behind the brand. Beyond simply consuming the brand, customers now need more convincing interactions, and even require a sense of belonging.
Detailed catalogues are set up in the WeChat little programs' Cartier "Beyond Boundaries", where the layout of each of the three exhibition halls and areas are reproduced by hand drawing. Users are able to switch between each exhibition hall by sliding from left to right.
More than 800 pieces of arts were presented in the offline exhibition, and some of them were selected by the online little program. The artistic elements and cultural connotations behind the exhibits were also presented to the users in the form of pictures and texts, with many pieces of information detailing the historical background, material, size and image of the exhibits.
It is obvious that little program has become an important medium for luxury brand exhibition's "online-ization".

Step 2: Activate/Awaken
1. Multiple reminders
On the list of "can't miss luxury brand exhibitions" in the past 6 months, Chanel "Mademoiselle Privé" Shanghai exhibition often comes up. When looking back, Chanel had done plenty of online marketing to warm-up and promote the exhibition before and after it went live.
According to official data, Chanel's exhibition lasted 44 days. To promote the exhibition, Chanel launched 4 waves of advertising in the WeChat Moment across just one month.
In terms of timing and content, Chanel did the following: it started the first and second wave of advertising 10 days before the official launch; and the third and fourth waves of advertising were carried out in parallel with the exhibition.
Chanel's first wave of advertising embedded celebrity interview videos that introduced the theme of the exhibition from the perspective of the celebrity, and guided users to make an appointment to see the exhibition.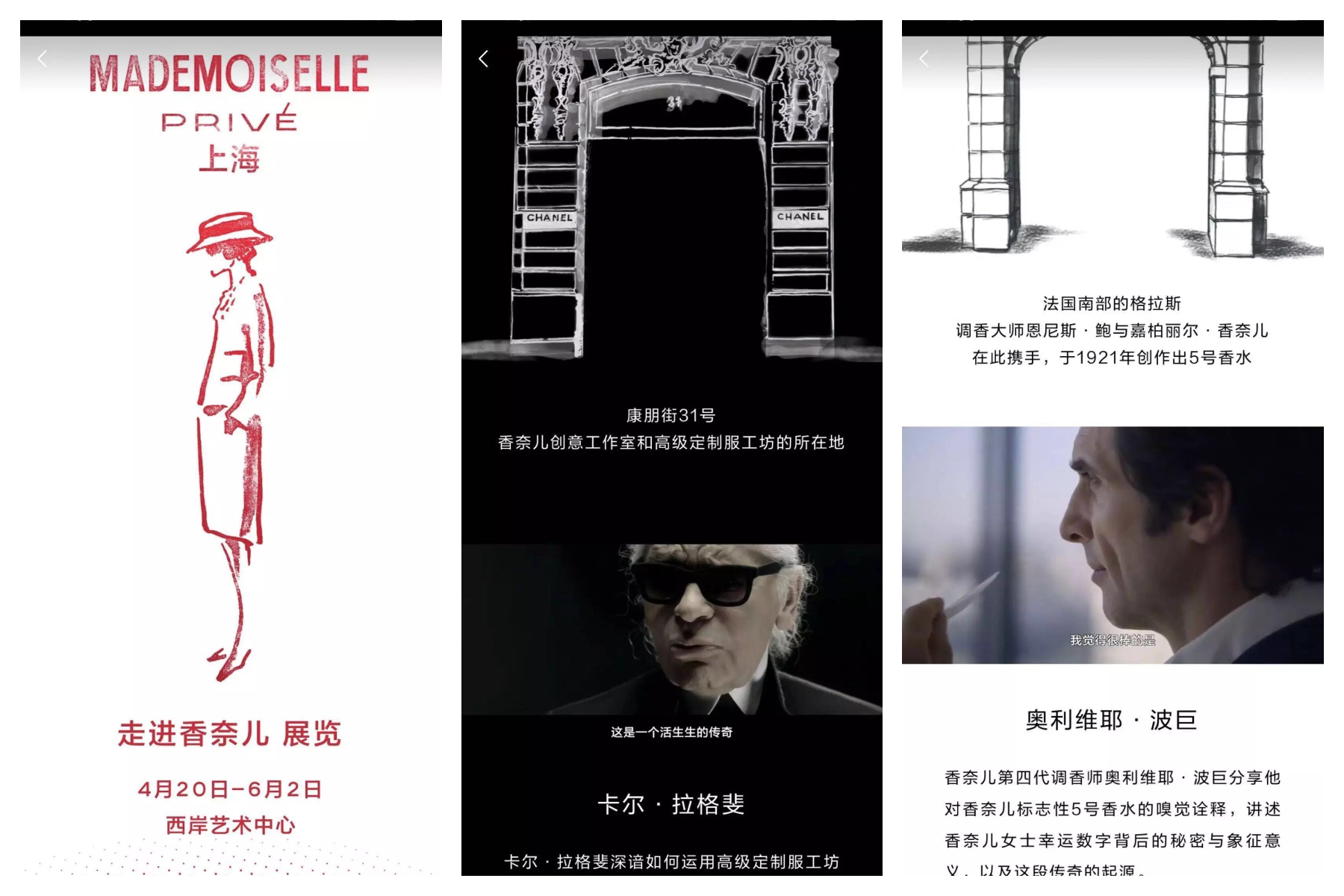 In the last two ads, these celebrity interviews were replaced by interviews by Creative Director Karl Lagerfeld, fourth generation perfumer Olivier Polge, and director of fine jewellery studio Patrice Leguereau. Together, they shared the creative sources of Chanel's three major businesses: ready-to-wear, perfume, and jewelry.
No doubt, repeated advertising can enhance the presence of brands in the social ecology and enhance social popularity.
Another point worth learning is that Chanel adopted a progressive content presentation, which enhanced WeChat users' interaction with the exhibition, and avoided fatigue from repeated contents, thereby maximizing the effectiveness of the campaign.
2. Grasping the emotions of local consumers
Faced with a larger and more complex online user base, online communication has challenged brands to really understand local consumers' emotions and preferences.
The three mini interactive games launched by Cartier "Beyond Boundaries" app set up multiple roles for users, such as a "cultural puzzle solver", which closely followed the upsurge of Chinese people's attention to cultural relics restoration and Chinese culture in recent years.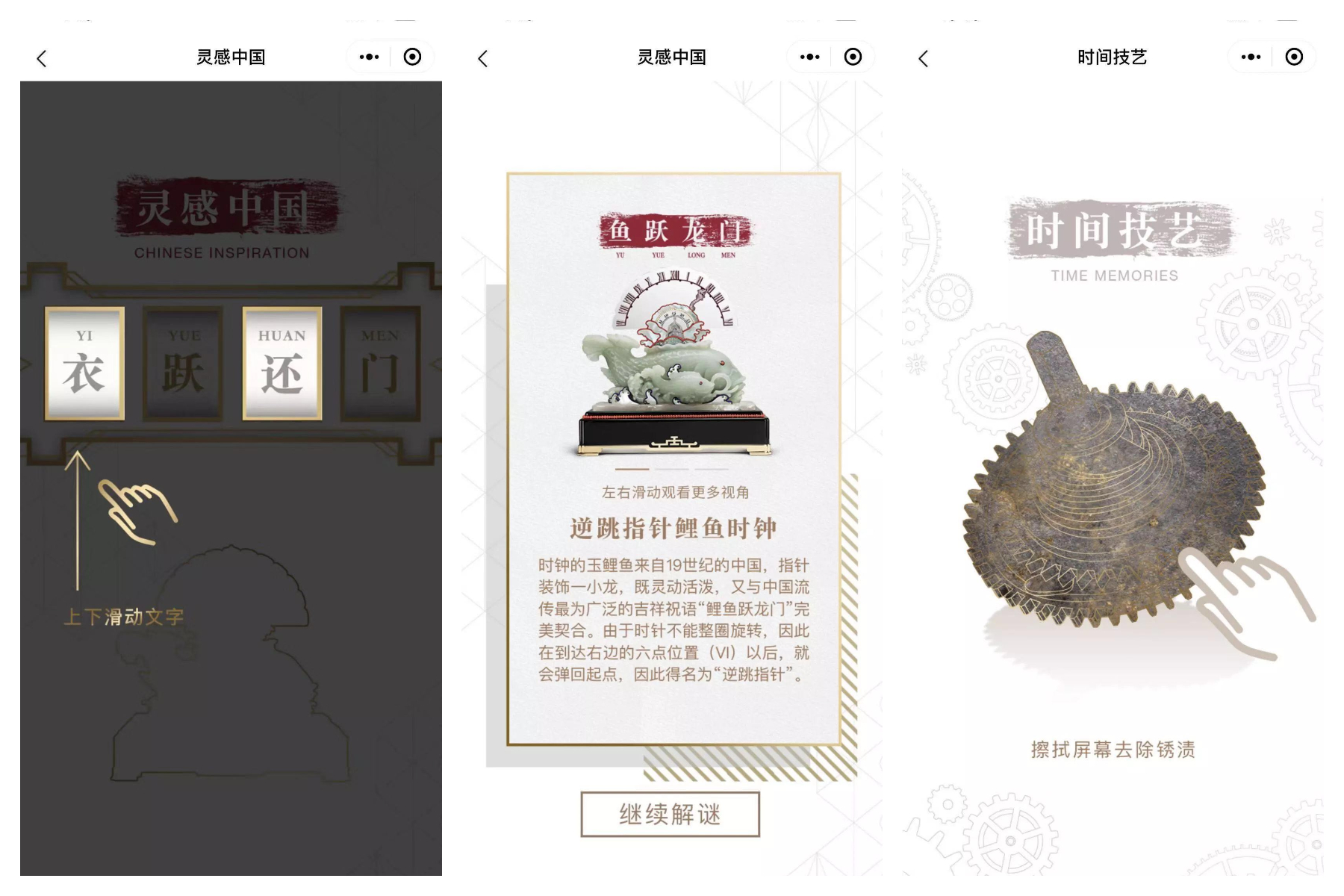 Besides utilising the "China element", luxury brands also use the "celebrity effect" to extend the interaction between celebrity spokespeople and users from offline to online. For instance, Chanel embedded celebrity interview videos into WeChat Moments; and Bvlgari "SerpentiForm" exhibitions' little program used brand spokesmen' for the voice of their audio guide.
Step 3: Interaction
Interactive marketing comparable to websites/apps
When we opened each brand's WeChat little program, we were surprised by the variety of functions and a huge amount of information, as well as the interface and interactive design comparable to a normal website or app.
In order to reach more users from WeChat, an enormous user base of 1.112 billion monthly live users, each brand takes the opportunity of an exhibition to do all it can. Accordingly, WeChat Moment advertising and design of little program brand exhibitions became the most worthy of our in-depth study.
We found the following three most prominent features:
1. Audio-visual immersive experience
Voice tours have become an indispensable part of all brand exhibition little programs, and luxury brands have gone beyond mere voice tour to now try more diverse formats.
For example, the little program of Prada's "What Was I?" exhibition mainly carried the function of voice guidance: a picture would represent an exhibition hall, and users were able to switch the exhibition hall and voice at the same time by sliding the picture from left to right.
Dior "MISS DIOR LOVE 'N ROSES EXHIBITION" little program made a map of the exhibition area, where users were able to click the corresponding exhibition area, where a voice introduction would pop up (including pictures and text).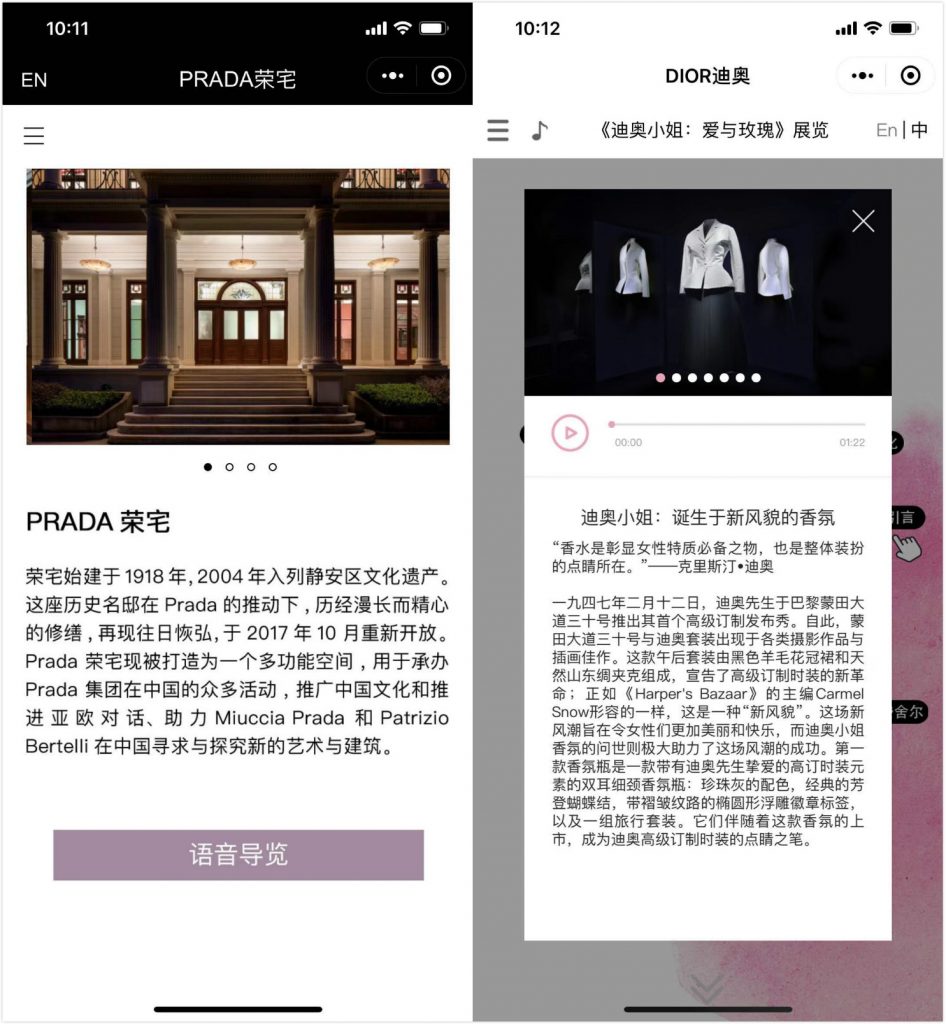 In addition, the immersive experience has also extended from offline to online. The little program of Cartier "Beyond Boundaries" introduced a "VR immersive experience", in line with the offline exhibition, and provided VR scene exploration with three themes.
2. Gamification
Improving user engagement through gamification interaction has always been one of the core topics in luxury brand online marketing. "Not too long and not too complicated" are the main features of online interactive games created by luxury brands, which often attract users to click and play.
For example, a WeChat little program created by Hermes lets a user rotate the turnable to choose the tool for making silk or leather products; in Bvlgari's little program, users need to visit the exhibition site to find 7 QR codes to unlock "SerpentiForm".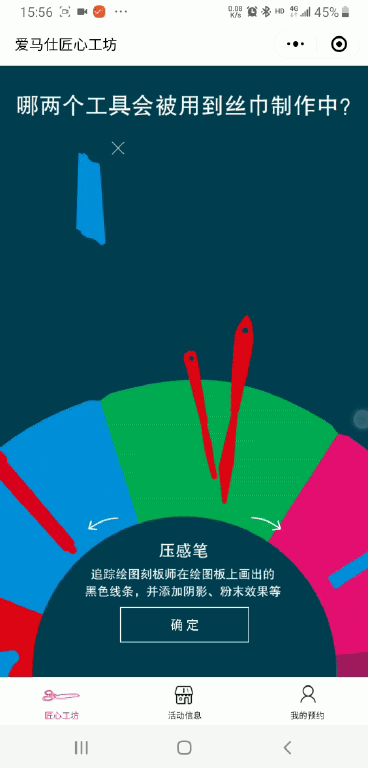 3. EMV general mass communication
Luxury brands have inserted personalized experience with strong social features into the exhibition little programs, catering to young people's habit of taking photos and sharing, including photo frame stickers, photo walls, emoji, dynamic stickers, and so on, combined with exhibition themes, to bring more people to the exhibition.
The Dior "MISS DIOR LOVE 'N ROSES EXHIBITION" little program launched a customized photo service, and allowed users to upload photos, add stickers, and add their photos "on the wall"; Cartier's little program "Clash DE Cartier exhibition" also provided online production of theme photos. If you are at the exhibition site, you only need to scan the code to see your photos on the screen wall.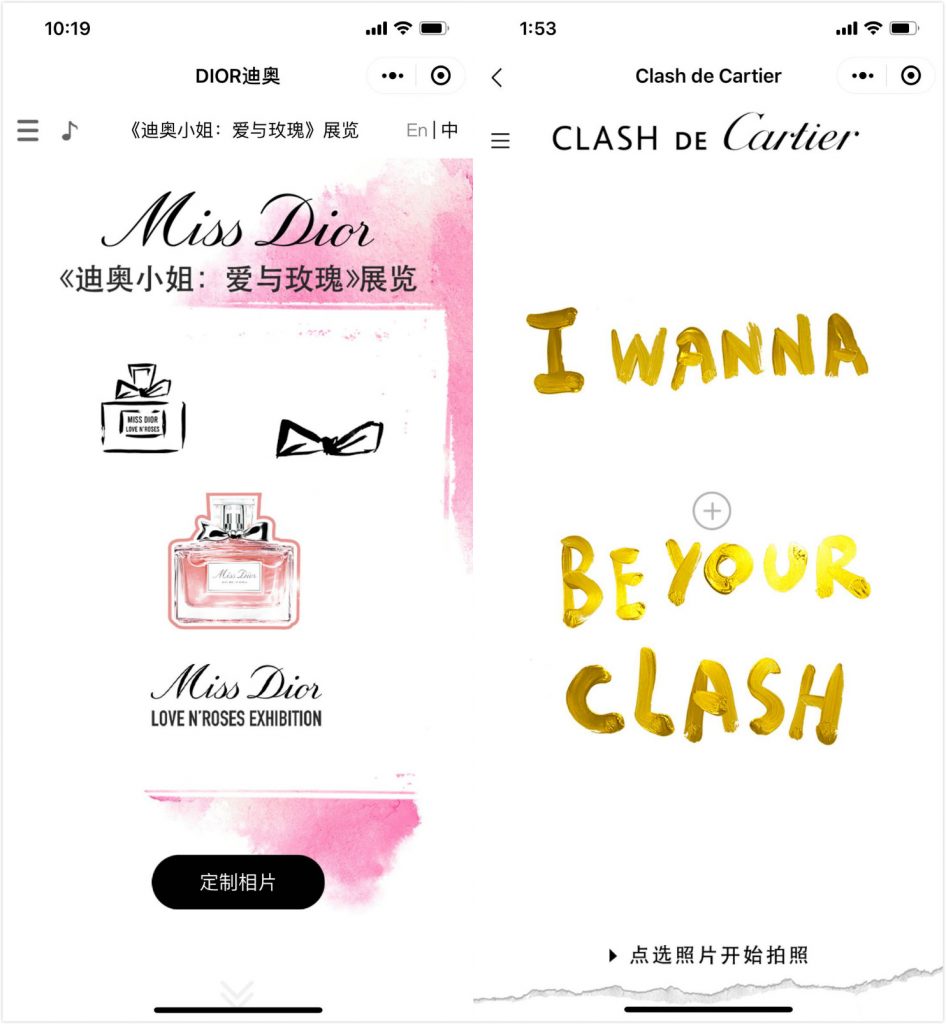 In addition to offering notebooks, canvas bags and other souvenirs in offline exhibitions, luxury brands have also begun to offer fun merchandise online.
For example, Louis Vuitton's "Time Capsule" WeChat exhibition guided users to the official account to receive emoji stickers; Cartier's little program "Beyond Boundaries" produced emojis with dragon, phoenix, turtle, crane, koi and other traditional auspicious animals.
Step 4: Differentiation
The reason for users to enter the physical store? One is enough!
What is the ultimate purpose of an online brand exhibition? How does a brand convince and transform online users?
We observed that the final diversion from WeChat moment ads and little program and found it divided into 4 different paths, which are respectively:
Making an appointment to visit the exhibition

Guide to the brand's WeChat public account

Guide to the official website of the brand

Guide to offline stores

1. Making an appointment to visit the exhibition
This is the most direct path, and is also the basic purpose of the online marketing campaign. Cartier and Bvlgari have adopted the path of "ads — little program — exhibition reservation" in the WeChat moments ads for exhibitions, which are direct channel for offline exhibitions.
Most luxury brands offer access to multiple exhibitions, but there are exceptions specific to some exhibitions. For example, users can only make an appointment for Chanel's Interactive workshop experience course through the little program.
2. Guide to the brand's official public account
Many luxury brands did not direct the WeChat moments ads flow to offline exhibitions, but instead adopted the path of "ads — brand's WeChat public account — reservation", by taking the opportunity of the exhibition to direct users to the public account, and gather user data for the brand public account.
For example, Chanel's "Mademoiselle Privé" exhibition and Louis Vuitton's "Time Capsule" exhibition put ads in the Wechat Moments, all of which led users to pay attention to the WeChat public account; Bvlgari "SerpentiForm" exhibition advertising in WeChat Moments simply set up a dual entrance: users were able to choose to enter the exhibition's little program, or the brand's WeChat public account home page.
3. Guide to the official website of the brand
During the tour exhibition of Hermes "petit h" series, ads placed in the WeChat Moments not only led to the official WeChat public account, but also to the official brand website. After clicking, users would directly jump to the product interface of "petit h". Users were also able to place orders directly on the official website if they have the intention to buy.
Hermes launched its new official website in China last October with the addition of online shopping function, which meant the brand had officially launched its e-commerce business in China. As the new official website launched not long ago, WeChat Moment ads were able to guide uses to the official website.
4. Guide to offline stores
Offline stores have become the inevitable home of online users. Luxury brands also seize all opportunities, through little program or other carriers, to continue to create opportunities for users to shop. Once the user is in the store, it brings more possibilities for the brand through customer flow and sales strategy.
With the "Beyond Boundaries"exhibition, Cartier created a more visually rich online VR experience. Users were able to visit two stores in Beijing and Shanghai via VR experience through the little program. This may have been the "best way" for users who ended up not actually seeing the exhibition.
Conclusion
When preparing the little program for "Beyond Boundaries" exhibition, Cartier once said that the exhibition is a journey of cultural exchange with the audience. With WeChat, communication with the younger generation can be done well. WeChat Moments promotions and little program usage importance is increasingly important.
As the owned channel for luxury brands, WeChat little programs can be easily adjusted according to the brands' specific strategies.The technological inclusiveness of little program not only provides diversified presentation space for the dissemination of content, but also enables the brand to realize a complete service integrating all functions.
Further, as a part of the WeChat ecosystem, where "connecting users" has always been the most core ability of little program,"light opening and light sharing" has brought a greater imagination space for luxury brands, setting off a "perfect storm" for an exhibition.