"48% of Chinese luxury consumers are under 30 years old; Prior to final purchase, over 60% of consumer touch points are on social media." 
The latest "Tencent X BCG 2019 China True-Luxury Playbook" outlined a growing China luxury market and a vivid Chinese luxury consumer portrait.
China's luxury consumption growth remained strong in 2018, with the overall retail value of €111 billion and a growth rate at 6%, contributing 33% of the global luxury market. The report predicted that China's personal luxury spending would exceed €160 billion by 2025, with a global contribution rate of 41%.
China's digitalized consumption process has been leading the world,featuring a high intensity in digital marketing and transactions. In China, WeChat has over 1.1 billion active users per month.Facilitated with social media, payment and marketing functions, WeChat has built a solid and closed commercial loop and become one of the major digital marketing tools and e-commerce channels for luxury brands in China.
While analyzing the report, Luxe.Co combines several case studies to reveal the unique characteristics of luxury consumption market and the digital marketing practices of luxury brands in China.
China luxury consumers continue to be young
78% of luxury consumers in the survey were under 35 years old, who contributed 74% of luxury consumption. Among them, luxury consumers from 26 to 35 years accounted to 60% of the survey and contributed 62% of luxury consumption. As seen, young consumers are the key battlefield for luxury brands in the China market.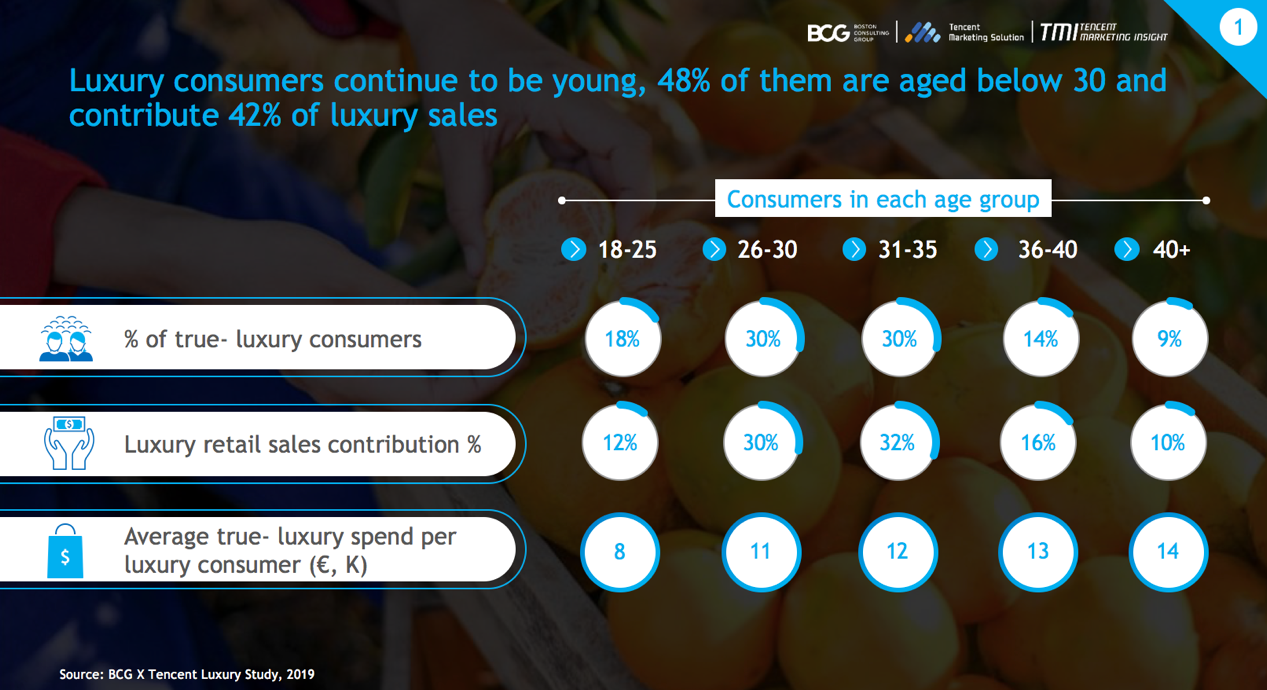 In terms of product categories, luxury consumers aged from 31 to 35 years old have high penetration among all categories. Luxury consumers aged from 26 to 35 years are major consumer groups for handbags, jewellery and watches.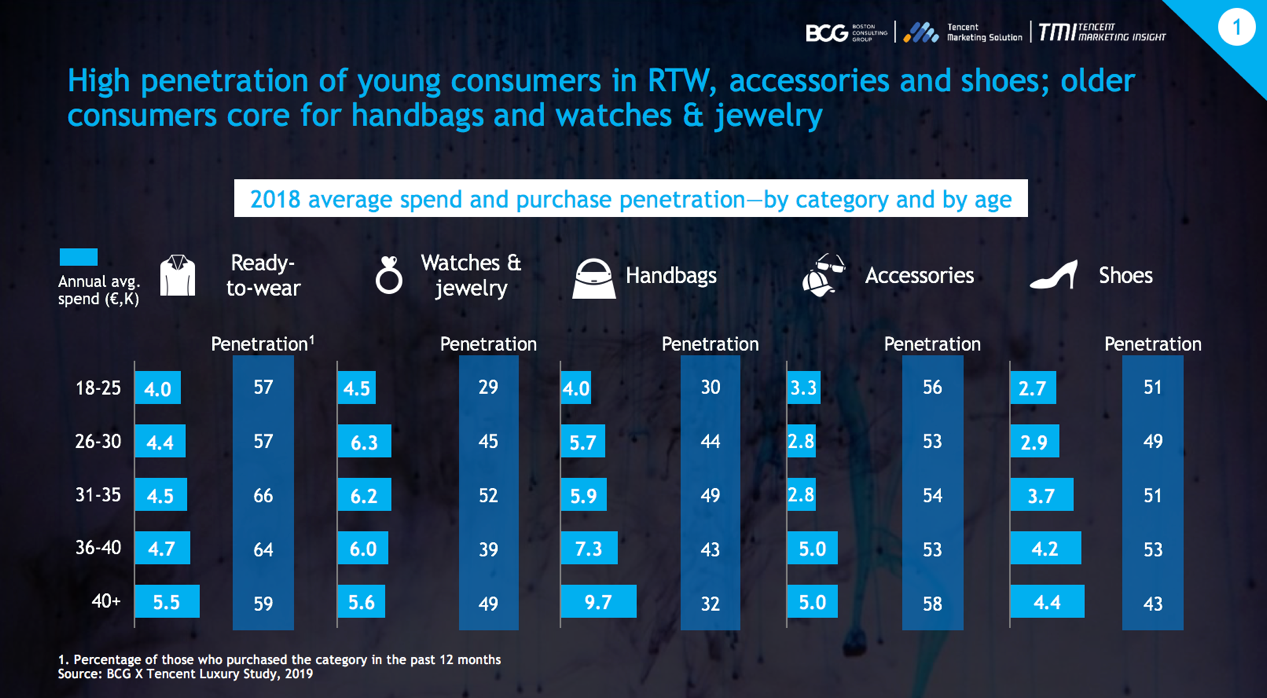 Geographically, 73% of luxury consumption were generated from top 50 cities (tier 2 or above) in China. Core cities (Beijing, Shanghai, Guangzhou and Shenzhen) and tier 1 cities (11 cities) contributed 32% and 22%, respectively. 35% of luxury consumers in the survey were from Tier 3 or below cities, which are emerging market for luxury brands.
Increasingly complicated purchase pathway (Touch points)
Compared to overseas consumers' purchasing behavior, Chinese consumers' luxury purchase features different characteristics:
Social media and digital media continue to occupy half of the attention
Over half of consumers follow brand updates through social media and digital media channels such as KOL, brand accounts and social advertising.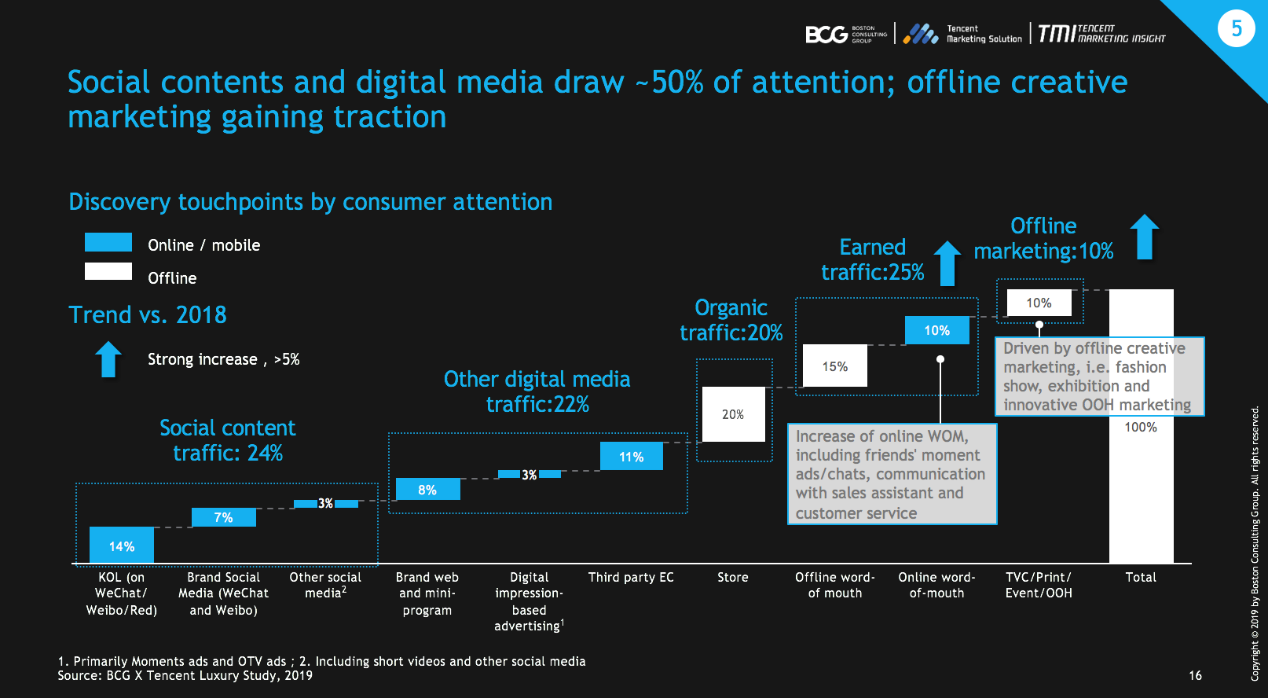 KOLs have key influence on consumers aged below 30. KOLs are becoming more diverse in their online personalities. Their contents & themes are increasingly fragmented in China.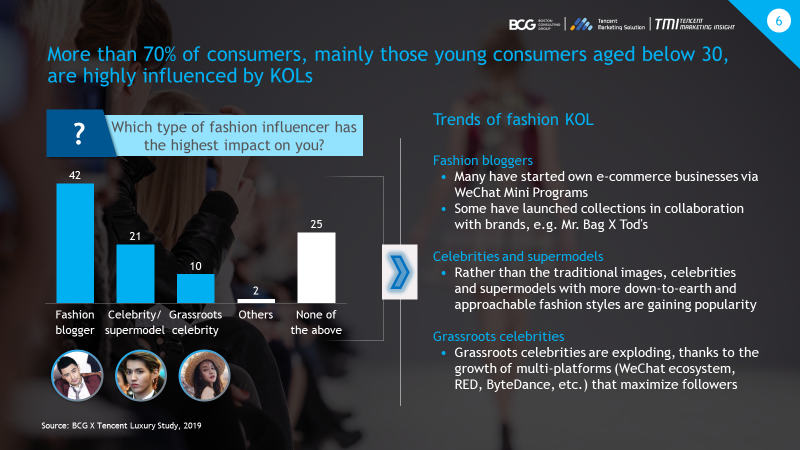 Under digital ecosystem, Chinese luxury consumers increasingly prefer a highly personalized social experience
The digital ecosystem has undergone drastic changes over the past decade.In 2008, social networking focused on information distribution. In 2018, social network was more diversified and social scenarios were digitalized,personalized and around the clock.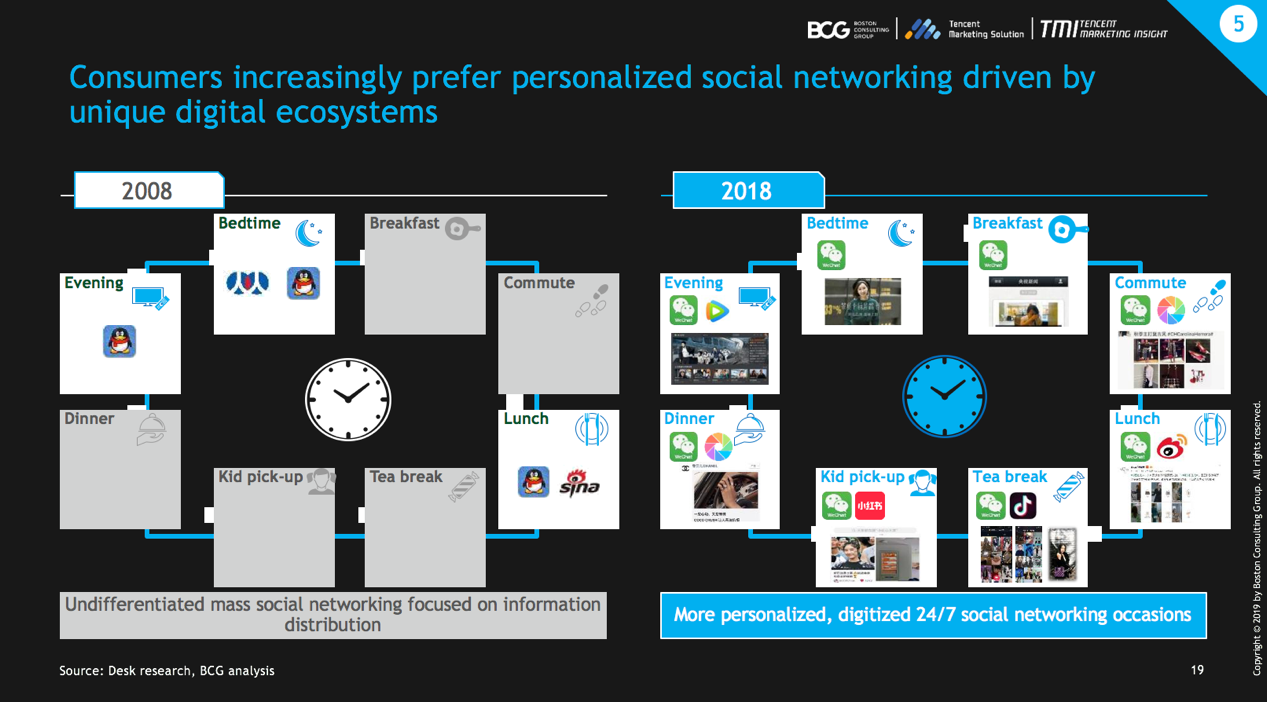 The path to purchase happens digitally.80% of luxury purchase journeys are ROPO (research online, purchase offline)
Digitalization is highly involved in the purchase pathway for Chinese luxury consumers. More than 80% of consumers chose ROPO in luxury consumption, 30% higher than the global average.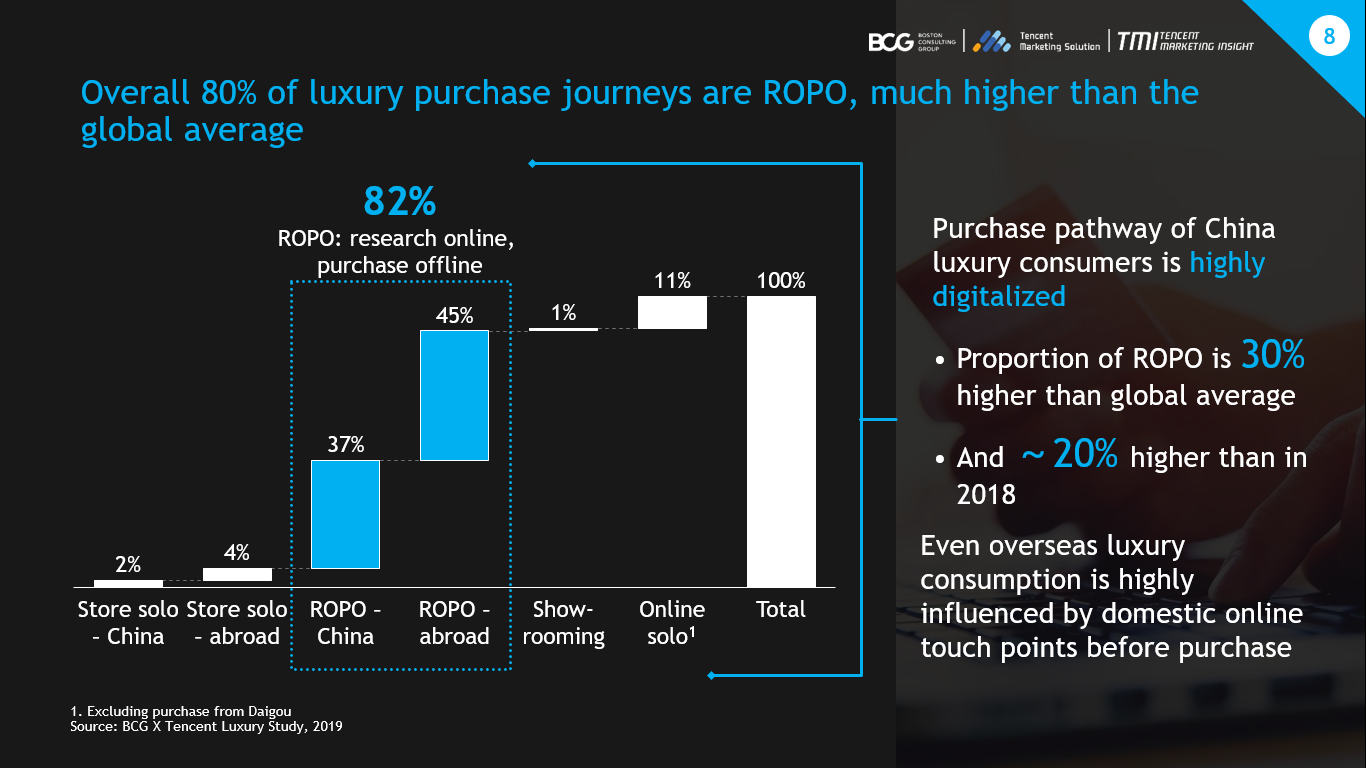 In an era of  individual "Discovery and Research" , consumers were in contact of an average of 4-5 touch points, of which more than 60% were on social media, which was a major channel for consumers to search, learn and become interested in luxury brands and products.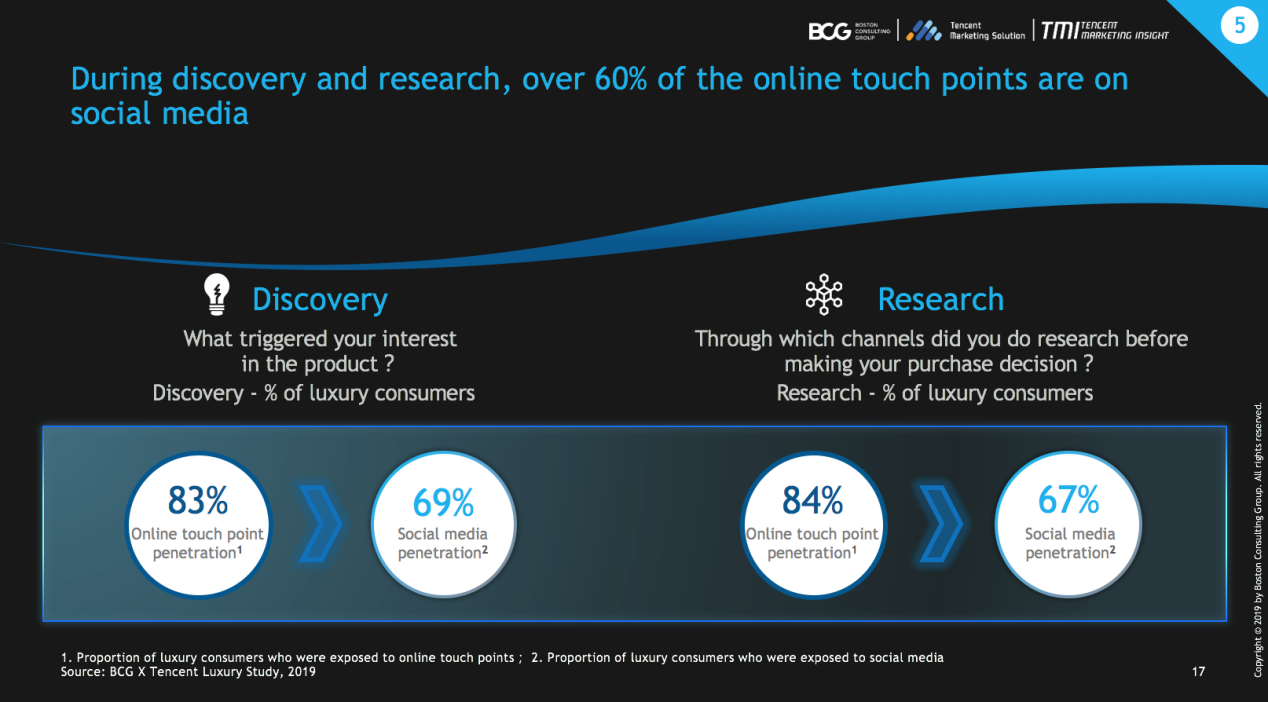 Among them, the most frequently used social channel was WeChat, followed by Weibo and RED. WeChat ecosystem includes Moments advertisement, Moments sharing, Mini-Program and WeChat official accounts.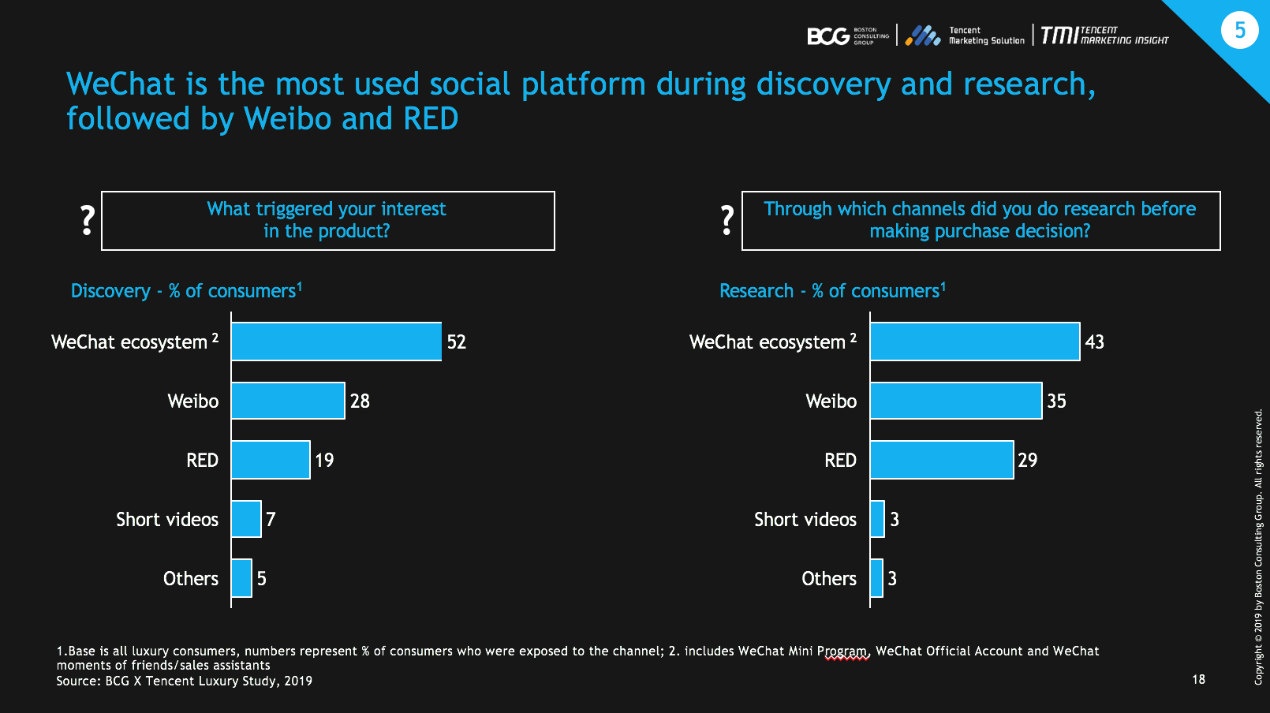 Diversified Digital Marketing Practices for Luxury Brands
In the current digital ecosystem in China, it is important for brands to link marketing and sales conversion together.
With insufficient brand knowledge, Chinese consumers have strong desire for information, such as product recommendation, celebrity styling, and brand history and campaign. Meanwhile, the unique China market has cultivated Chinese consumers with extremely high degree of digitalized purchasing habits.
Luxe.Co summarized luxury brands' WeChat digital marketing approaches into three categories, the underlying case studies reveal how luxury brands bring consumers a seamless brand experience on WeChat through managing data sources, analyzing consumer insights, and converting to sales efficiently.
Data-Driven Consumer Insights
In China, brands have embraced digitalization like never before. With data analysis, brands obtain consumer insights, drive marketing decisions and achieve sales conversion.
Case Study1: Montblanc
Instead of exposure-only online marketing, Tencent's oCPA technology focuses on the conversion. With this smart technology, Montblanc was able to optimise advertising bids and maximize the cost-effectiveness in conversion. With a targeted conversion ratio, marketing resources were adjusted in a timely manner to recruit followers and achieve sales conversion. In Montblanc's campaign, the cost of recruiting followers was well below the industry average.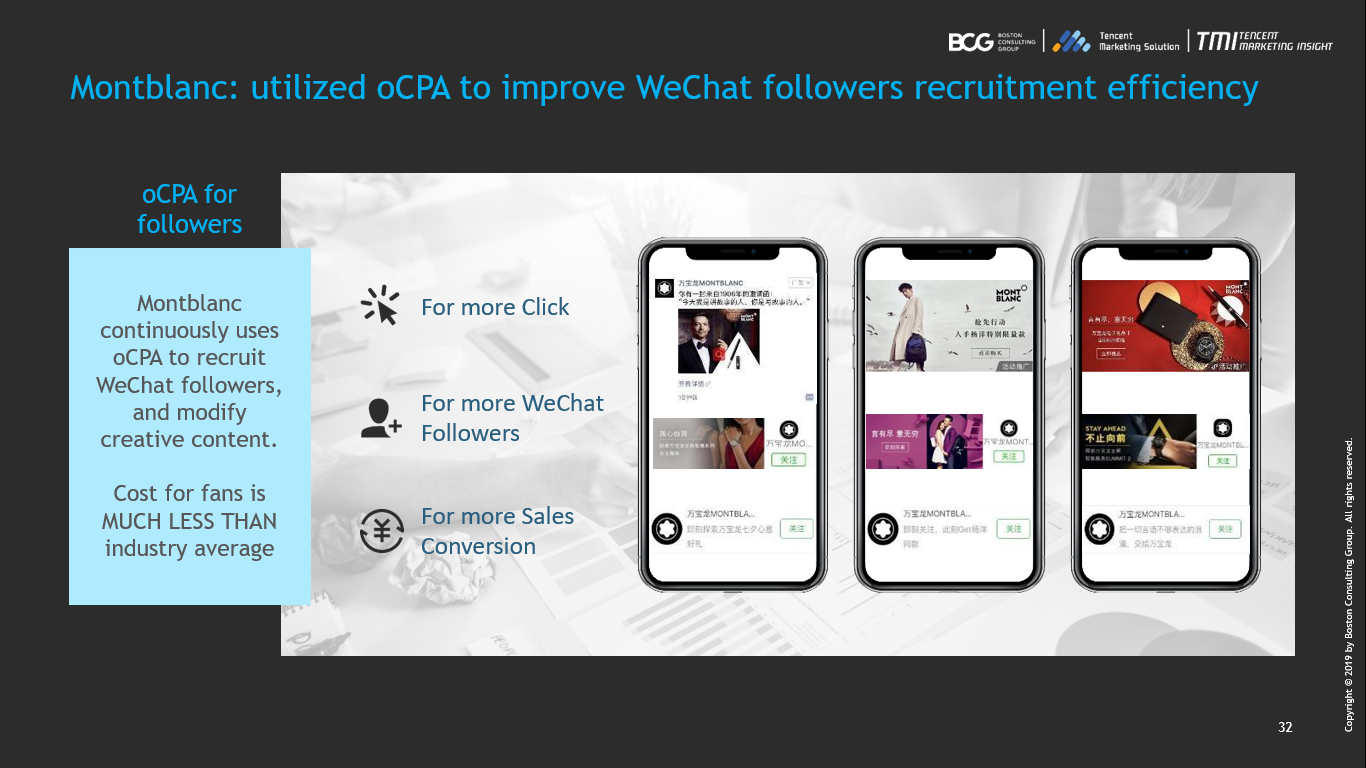 Leveraging on Social Media
Social platforms and contents have occupied a lot of user attention. How to utilize social media is a key issue for luxury brands. Combining brand concept and social scenarios helps brands secure target customer groups precisely, communicate with consumers efficiently, and achieve sales conversion effectively.
Case Study 2: Tiffany
Integrating marketing resources on WeChat ecosystem to engage with consumers
Tiffany launched its social marketing in China with its first WeChat Moments advertisement in 2017. By launching new products and campaigns on WeChat, Tiffany has built a follower base and a communication platform with consumers.
With user labeling, Tiffany has also explored seed users and expanded potential consumer groups in multi-dimensions through WeChat's data mining capabilities. With LBS technology, WeChat advertisement could help Tiffany offline stores to find potential users .
Limited-edition products on online pop-up stores to drive commercial success
Prior to setting up official e-commerce channels in the China market, luxury brands usually choose to open pop-up stores online. This trial helps luxury brands efficiently collect relevant data and outline a consumer group portrait in the China market, in order to prepare for the further development of official online channels. At pop-up stores, exclusive and limited-edition products carrying key brand elements and trendy features were usually selected to attract young consumers.
At the Chinese Internet Valentine's Day 5.20 (May 20th, 2019), Tiffany captured this gifting occasion, opened a Mini-Program pop-up store and launched limited-edition "Modern Keys" products. Through Moments advertisements, users were guided to Tiffany's Mini-Program pop-up store. The purchase pathway was an one-stop and seamless experience from browsing, placing orders to payment. Commercial-wise, the sales conversion was significant. 200 pieces of limited-edition products were sold out within 6 days.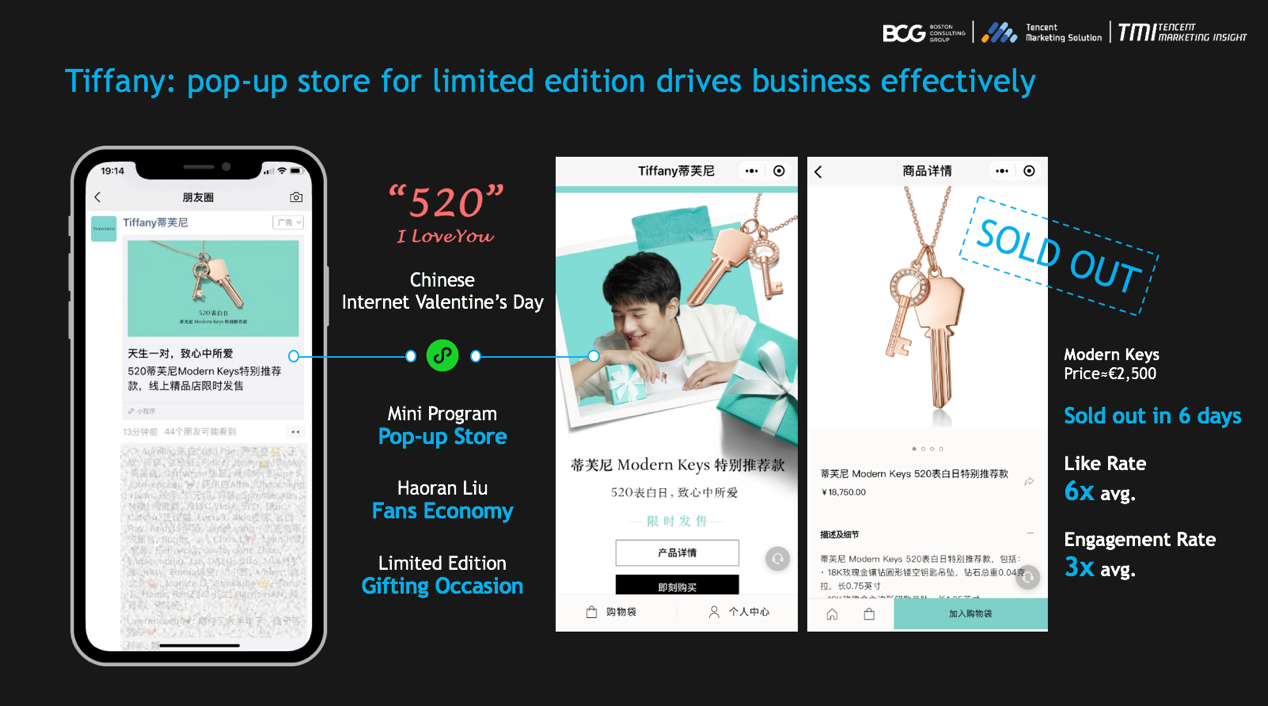 Omni-Channel Synergy
As consumers' purchase pathway and touch points become more complex, luxury brands need to connect online and offline, and provide consumers with a more targeted and seamless brand experience. Integrating online innovative engagement to offline events, often help eliminate geographical restrictions and expand event audience. How do brands direct online users offline effectively? How can brands refine and differentiate content delivery according to different touch points?
Case Study 3: Louis Vuitton
Louis Vuitton brought the "Volez-Voguez-Voyagez" global tour to Shanghai in November 2018.
As the brand's major global exhibition, Louis Vuitton also incorporated local digital innovation. Particularly, rather than the general practice of building a separate APP in other touring countries, Louis Vuitton launched a WeChat Mini-Program for the Shanghai exhibition.It combined multiple functions such as visit booking, exhibition overview, venue layout, and route navigation. With three different styles of WeChat Moment advertisements, Louis Vuitton attracted different types of consumers to the event Mini-Program. Through the Mini-Program, as well as WeChat brand search and official Account, Louis Vuitton guided users further to book offline exhibition visits.
This was the first exhibition related Mini-Program launched by Louis Vuitton, which has won the "Smart Service Award" in Tencent's "WeChat Power of the Year" for its innovativeness in interaction and application.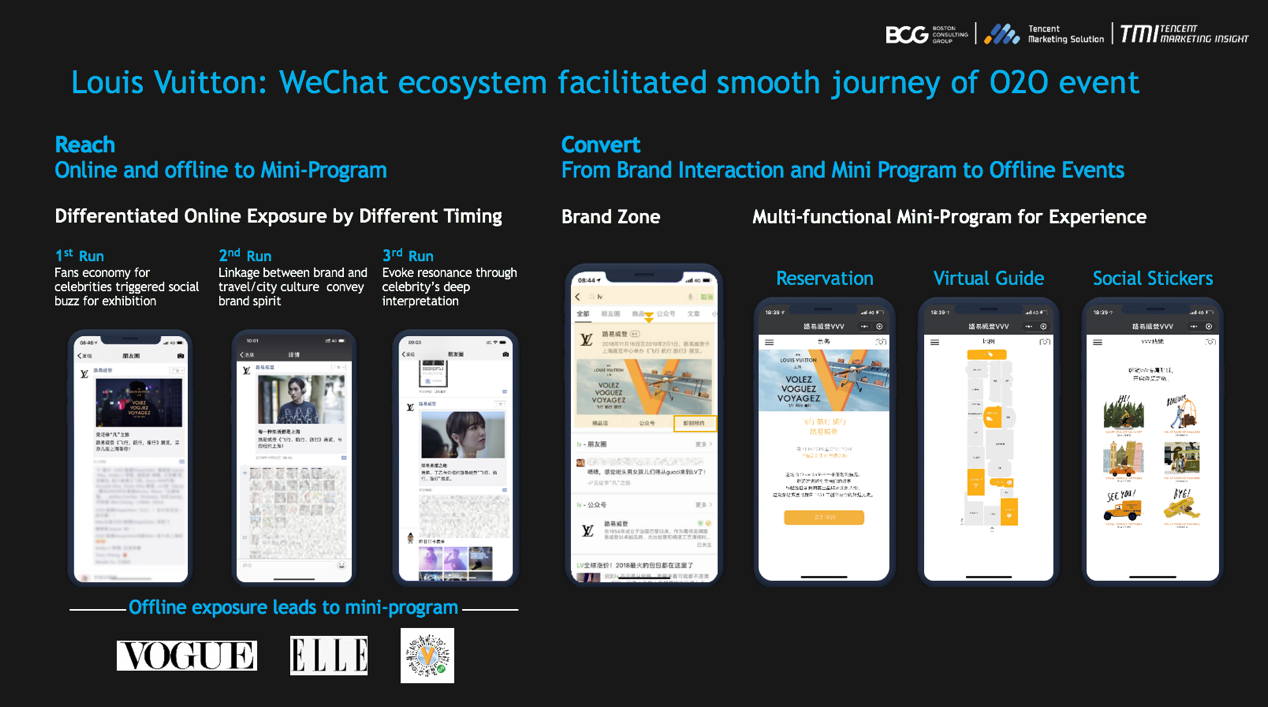 Case Study 4: Vacheron Constantin
Vacheron Constantin launched 38 pieces of limited-edition Traditionnelle watches on WeChat in 2017. In the first three days, more than ten pieces were sold, of which all were purchased by new customers.
Through WeChat Moments advertisement, Vacheron Constantin diverted users to their WeChat official store. After paying a deposit online, users could make reservation for offline testing. Vacheron Constantin provided clients with one-to-one exclusive service and luxury transportation.
During this campaign, online channels helped brands secure "interested customers", who may not have access to stores in their cities. Through WeChat, they can "book online and experience offline." By using the official WeChat account channel, Vacheron Constantin managed all the details, and provided users with the same exclusive online space as offline stores.By creating a closed loop from online to offline shopping experience, WeChat helped brands accelerate consumers' decision-making from interest to final purchase.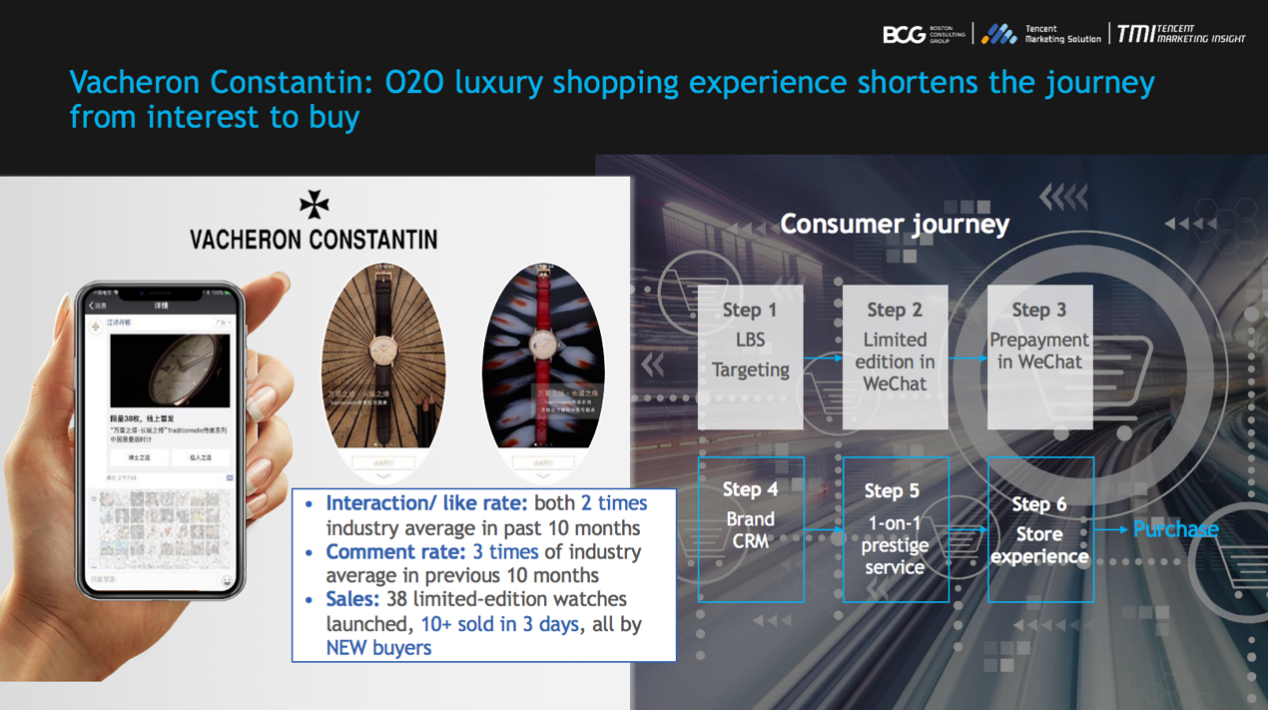 Conclusion
Innovation is always a key success factor for global luxury brands.  New technological ecosystem has re-shaped the luxury marketing in China.
Over the past year, luxury brands have increased their digital marketing investment in China, particularly in the direct engagement with consumers on social media and platforms, in order to adapt to the youth and digital trend of Chinese consumers.
With huge user base, WeChat is equipped with powerful capability of broadcasting, and has built a closed commercial loop to convert diversified online traffic into sales conversion. With data analysis and in-depth consumer insights, WeChat helps luxury brands generating more compelling and creative content for target consumers. For luxury brand marketing, this is both a challenge and an opportunity.