On December 7th, 2018, Kering, together with the global innovation platform, Plug and Play, held an event in Beijing to launch the Kering Sustainable Innovation Award.
Inspired by Kering's motto Crafting Tomorrow's Luxury, the award program will identify promising change-making startups and technologies in Greater China that have the potential to disrupt the current textile value chain, bringing a positive environmental and social impact.  In particular, Kering seeks startups that address challenges in terms of alternative raw materials, green supply chain, retail & use and the circular economy.
Following the award launch this week, start-up scouting, due-diligence and a winner selection process will take place from December 2018 to August 2019, under the leadership of Marie-Claire Daveu, Chief Sustainability Officer and Head of international institutional affairs of Kering.
Including Jinqing Cai, President of Kering Greater China, the jury is composed of individuals with extensive knowledge of the fashion, luxury, entrepreneurship, sustainability and innovation fields. Alicia Yu, founder and Luxe.CO and the president of Orange Bay University, was invited to be one of the advisory committee members.
Three winners will be selected by the jury in September 2019 and announced at a Kering sponsored Sustainable Innovation Conference & Prize Award Ceremony in autumn 2019. The winners will receive:
Targeted introductions to industry leaders and investors and access to funding opportunities;
Meetings with and mentorship from Kering Group members and other industry experts;
Trips to Europe and the US including visits to: Kering headquarters in Paris, Kering Group's Houses, Fashion For Good in Amsterdam as well as Plug and Play Tech Center headquarters in Silicon Valley, California;
Access to Kering and Plug and Play's network;
The first place winner will also receive a monetary prize of 100,000 Euros to develop its project.
"Kering is excited to extend our Plug and Play collaboration to China where we recognize that the entrepreneurial and innovative spirit of Chinese start-ups can offer endless solutions to fashion's sustainability challenges," said Marie-Claire Daveu, Chief Sustainability Officer and Head of international institutional affairs of Kering. "Innovation and smart problem-solving are critical to reinvent Luxury's business model as sustainable and through our dedicated Kering Sustainable Innovation Award we hope to catalyze new ideas and solutions in the Greater China region to help us in our mission to do so."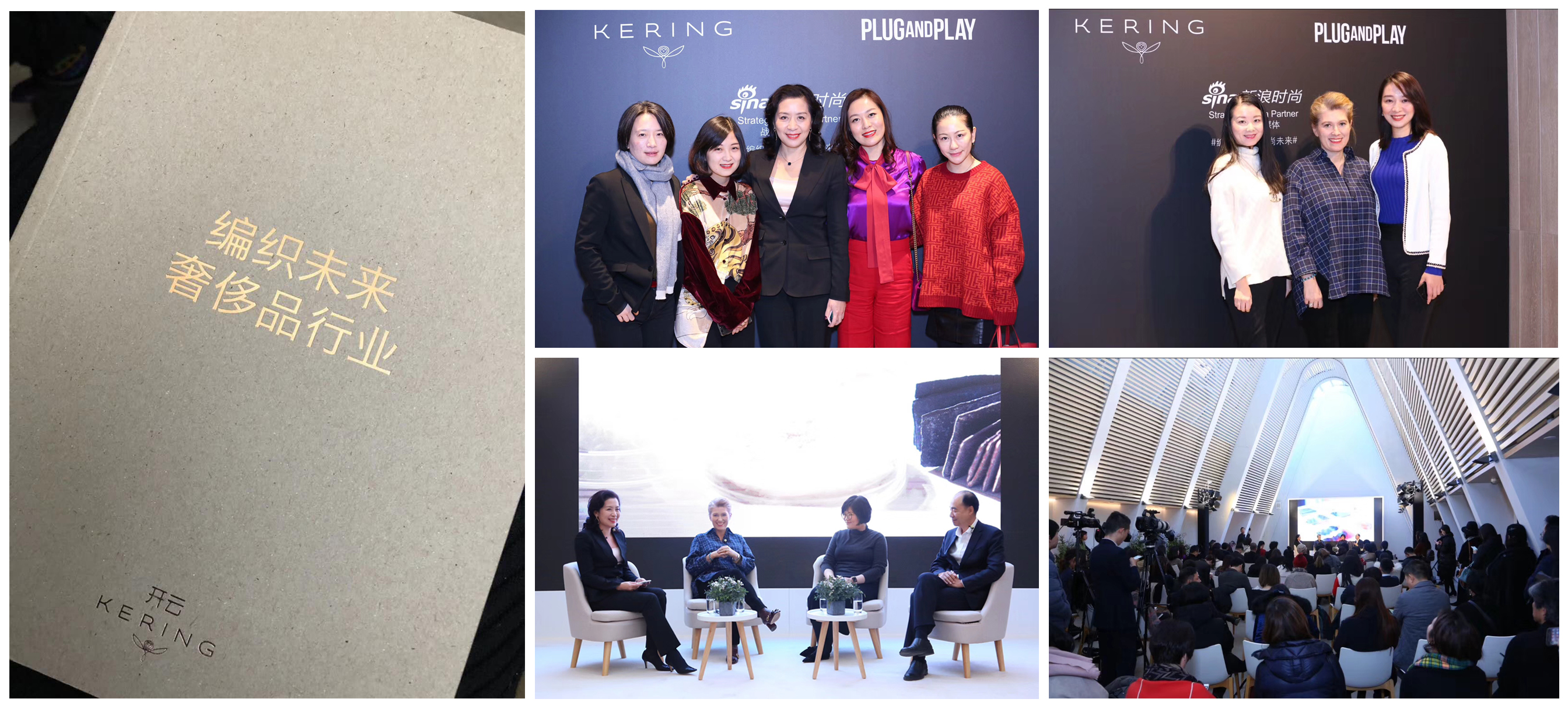 The cooperation between Kering and Plug and Play can be traced back to 2017, when 'Plug and Play – Fashion for Good' accelerator initiated, which is a collaboration between Plug and Play, Fashion for Good and Kering aims to fast-track sustainable innovation within the luxury and apparel industries.
About Plug and Play
Plug and Play is a global innovation platform connects startups to corporations and invest in over 150 companies every year. Since inception in 2006, the programs have expanded worldwide to include a presence in 22 locations globally giving startups the necessary resources to succeed in Silicon Valley and beyond. With over 6,000 startups and 180 official corporate partners, it has created the ultimate startup ecosystem in many industries. Plug and Play provides active investments with 200 leading Silicon Valley VCs, and host more than 365 networking events per year. Companies in the community have raised over $5 billion in funding, with successful portfolio exits including Danger, Dropbox, Lending Club, PayPal, SoundHound, and Zoosk. By successfully launching in 2015, the China office has invested in more than 200 startups and accelerated over 500 startups across 8 major cities in China including Beijing, Shanghai and Shenzhen, building innovation platforms with Chinese corporate partners, and link global community to the world's fastest growing market.
Apply the award program here: http://pnpchina.com/kering/apply/
---
Source: Kering, Plug and Play
Photo courtesy of Kering & Plug and Play