After 18 months of preparations, on May 5th, Italian luxury brand Gucci officially opened its new 1,000 square meter store in Soho, New York. A special correspondent of Luxe.Co in New York visited the world's unique Gucci "new retail lab space" the first time.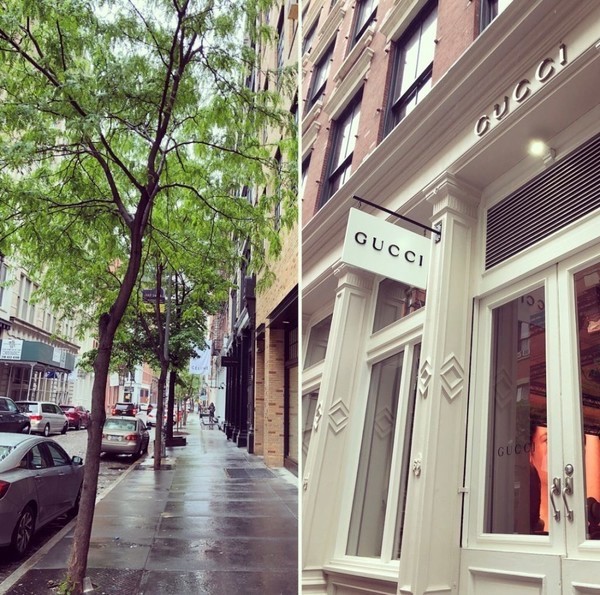 Gucci Soho is located on Wooster Street in New York, next to the French luxury brand Celine
I felt something different before entering the store. The traditional luxury stores in New York are manned by security guards wearing black suits, whereas this store welcomes customers with young shop assistants dressed in Gucci's new clothes. When entering the store, the red brick walls, exposed ceiling pipes, live music and lighting immediately gave people the feeling that they had become one of the rebellious Disco youth of the 1980s. A giant screen on the left side of the door shows a Fall 2018 commercial, with several rows of theater seats in front of the screen and some "guests" sitting around. For a moment, it is difficult to distinguish what is genuine and what is artificial.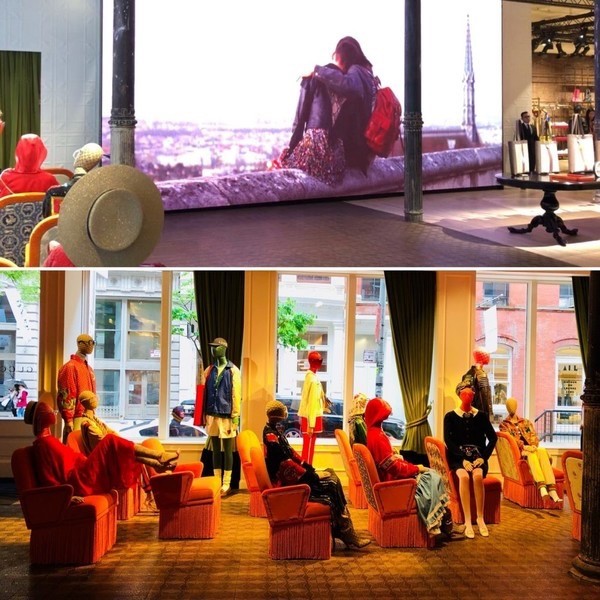 Showplace at the door
Unlike traditional luxury stores, which divide by distinct category, this Gucci store is like a vintage museum or the living room of Alessandro Michele (Gucci Creative Director): there are two luggage carts with suitcases unloaded by customers who don't have time and bags for various travels on the right side of the door.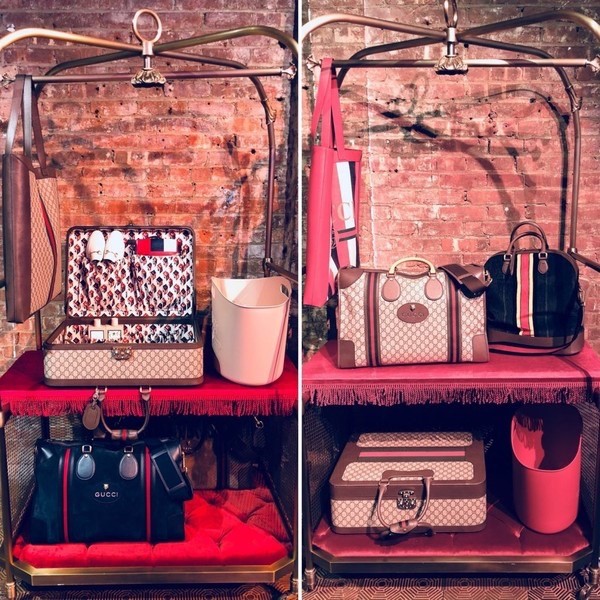 Two rows of hospitable sofas rest in the center of the living room with garments, shoes, handbags, suitcases, glasses, jewelry, etc. staggered on both sides. Each piece of furniture appears to have been carefully selected and matched by a vintage collector for his wardrobe. Only when I asked the shop assistants did I find out that these were pieces of vintage furniture, specially imported from Italy to New York.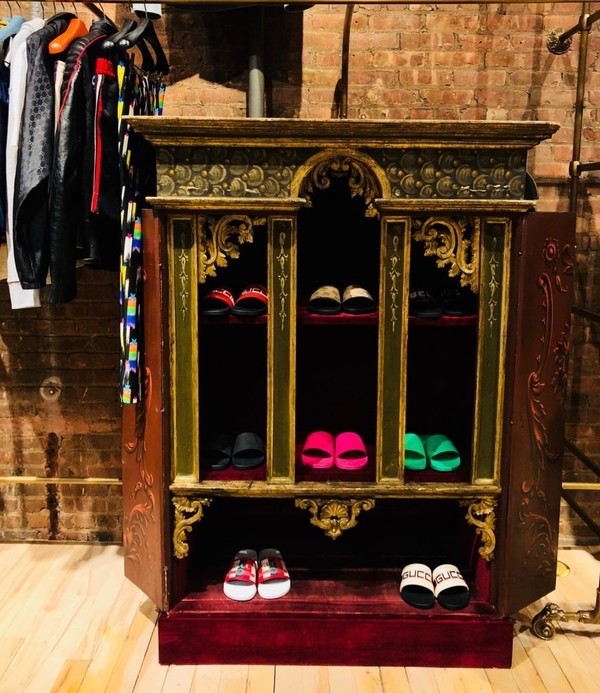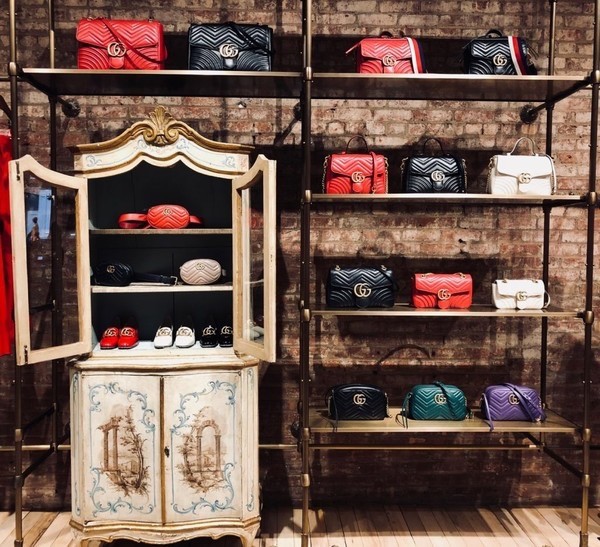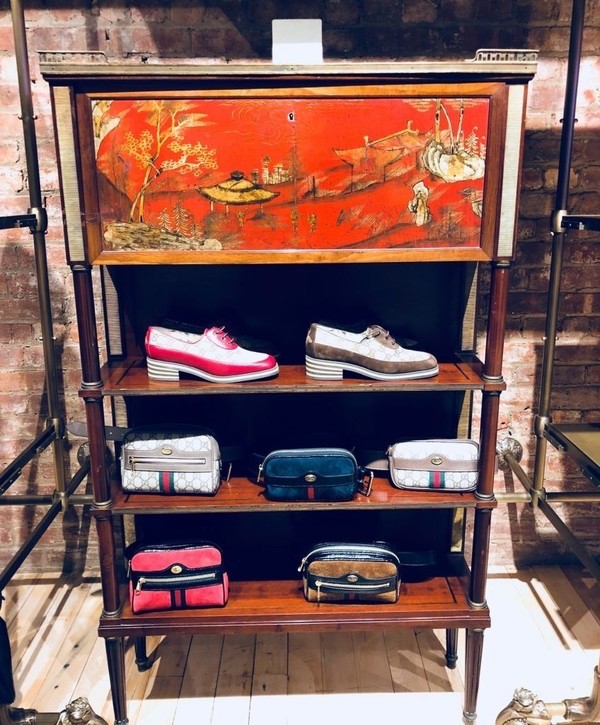 Vintage wardrobe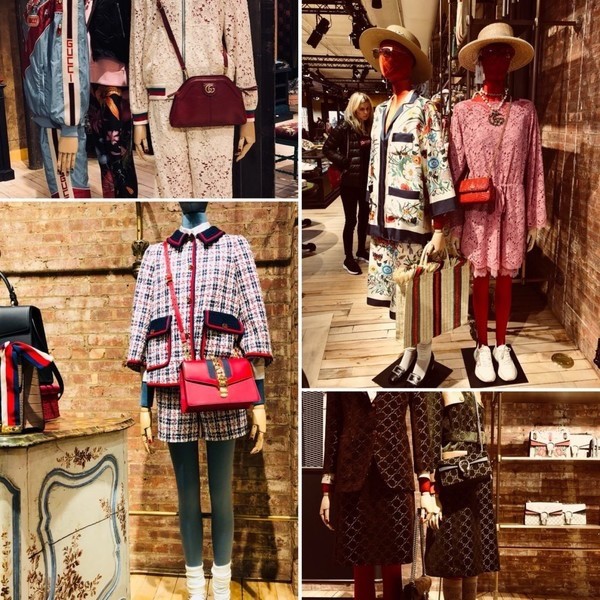 Ready-to-Wear
The "kitchen" is at the end of the living room. There are two cupboards filled with dishes and bowls of porcelain, candle cups for candles, vintage blue-and-white interlaced Gucci leopard heads.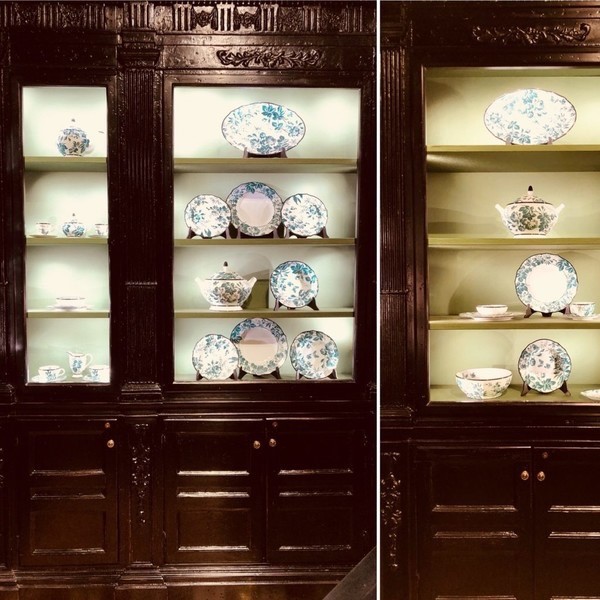 Kitchen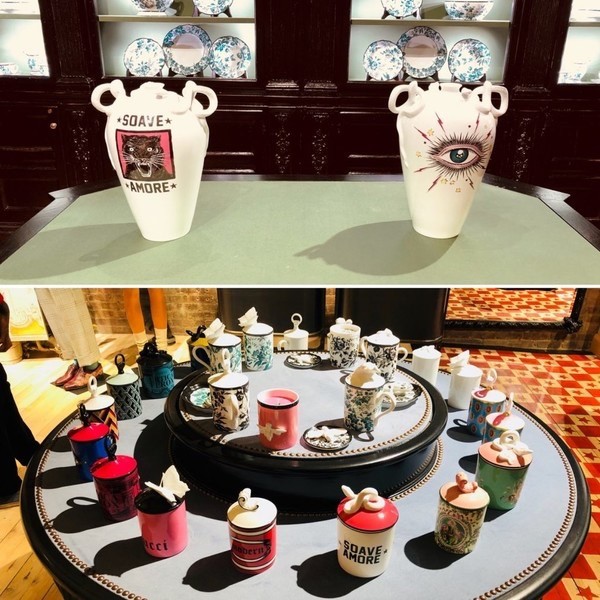 Candle cups
The "rest area" is opposite the kitchen, whose walls hang full sofa pillows with highly-saturated colors. The pillow patterns are totems used by Gucci on various handbags: snake, cathead and French bulldog, which echo the patterns of the chairs scattered in the rest area. The back and four legs of the chair are all classic Gucci bamboo designs.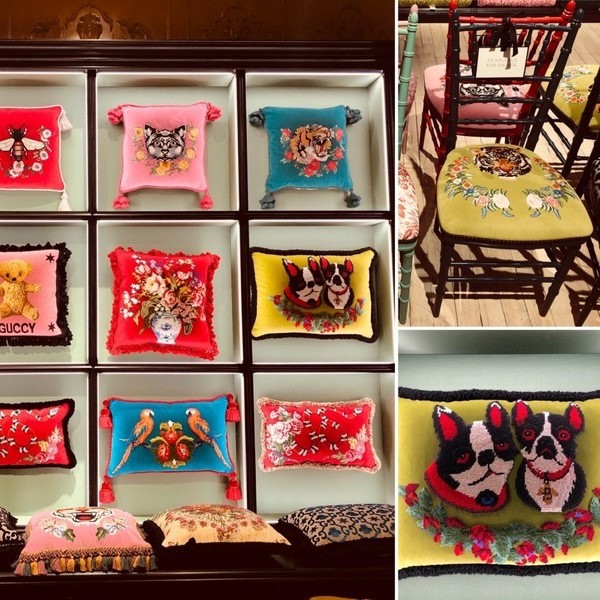 Rest area
I initially thought this was the end, but when I made a turn, there was a hidden but beautiful spot for "watching a film". New costumes from the show are displayed on both sides of the room and a screen is set in the middle, showing the documentary "Into a Space of Love", created through collaboration by Gucci, the Frieze Art Festival and the artist Wu Tsang.  Two rows of seats in front of the screen belong to the typical vintage style of Gucci where iconic bees are hung on the armrests of the chair.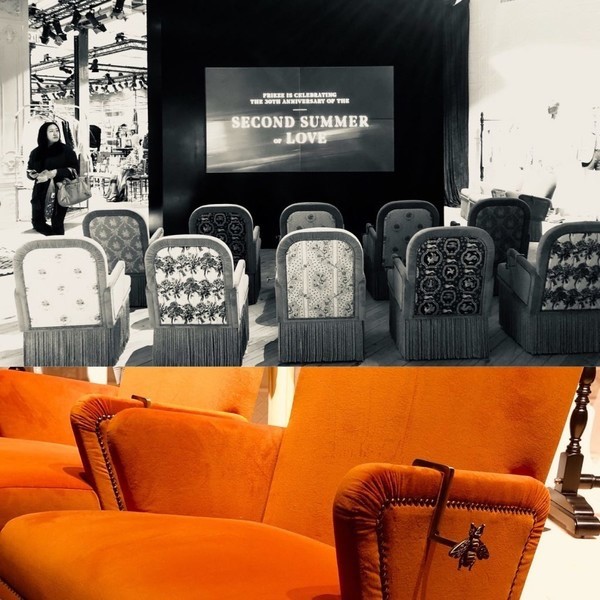 Video room
The store also provides unique items, such as the collaboration with Dapper Dan (a rapper who is recognized as a fallacy in tailoring) creating the world's unique place with customized Ace Sneaker and suitcase (the store offers a variety of leather samples for customers to choose the leather style they like, put their favorite letters on shoes or bags, and see the customized effect immediately through AR augmented reality technology.) as well as a variety of vintage style sofas, folding screens, seats and other household items.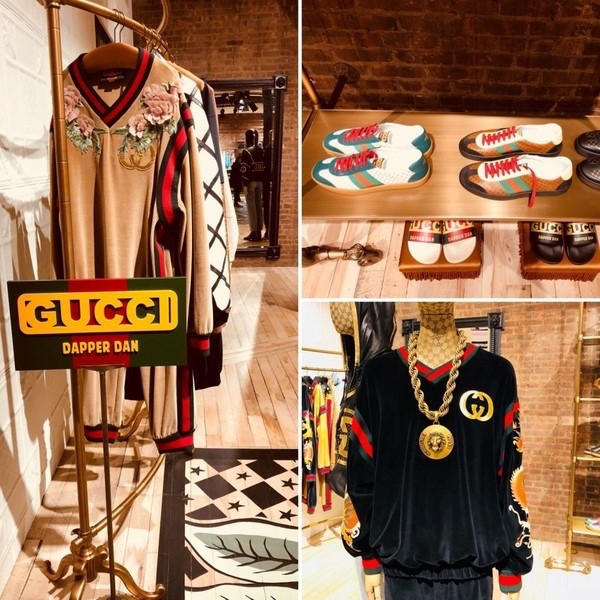 Dapper Dan collection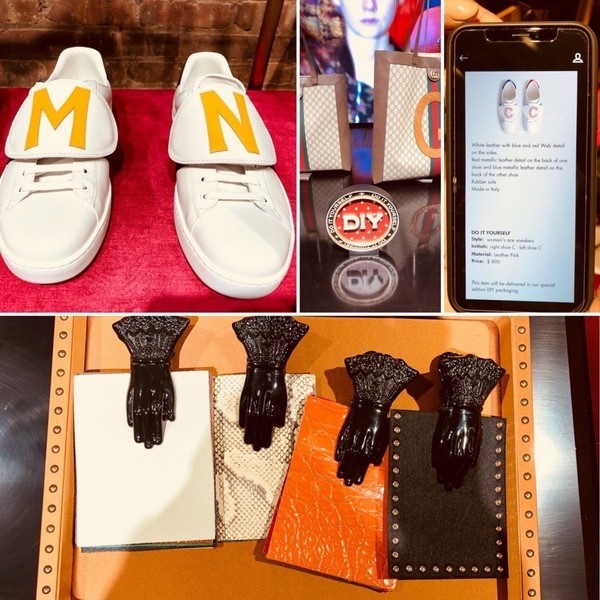 DIY Ace Sneaker
At Gucci's new store in Soho, New York, every experience mentioned above is unique:
The in-store music list was selected by John "Jellybean" Benitez (a famous New York DJ in 1980s);
The video room will play film and television works of Gucci in cooperation with different artists, and the film list will be published in succession;
The interior design in the store itself is an extraordinary art, not only the vintage furniture, but also the floor patterns which are hand-painted by Italian artists.
All of these experiences have made this store not only a great place to buy Gucci goods, but also an art gallery to display works by independent artists, a showroom for vintage furniture, and even a gathering place for friends to relax and chat.
Creating a special experience is also the main goal of this new store – the traditional luxury brand sales logic is no longer applicable in the face of increasing numbers of millennials and the mature e-commerce platforms. Faced with overwhelming online and offline channels for consumption, the scarcity of luxury goods itself is becoming increasingly blurred, and the superior status of luxury is becoming less appealing to younger consumers.
It is these special "experiences" that can not be cheaply obtained by other channels to maintain the vitality of the brand and attract consumers to visit the brand store.
The shop assistant told me that they want to create a relaxing environment where customers can stay in the store for a long time to relax and discover new gadgets. As long as they enjoy their stay in Gucci, it doesn't matter if they don't spend money.
This is an innovation and an adventure for a classic luxury brand like Gucci. Presumably, with the attitude of experiencing something new, this Gucci store only signed a two-year lease (contracts are generally signed for five to ten years), but what is the effect? Let us come back again next year!