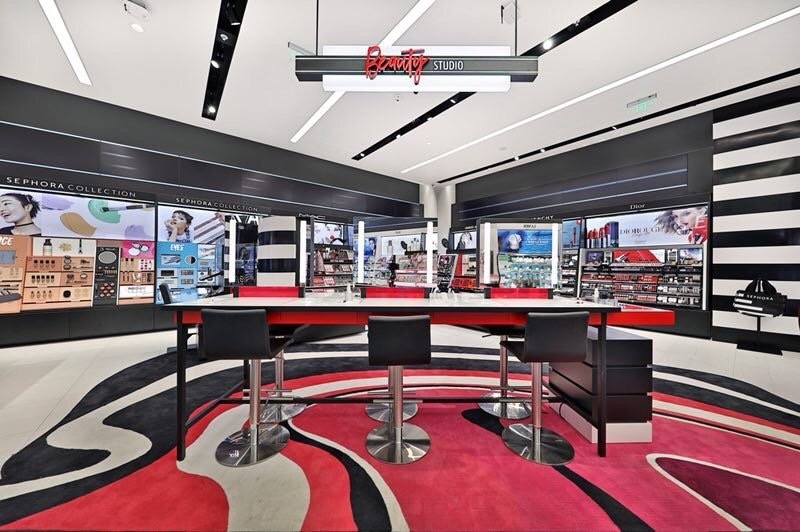 Two years ago, Sephora introduced its new Beauty Studio for the first time in Shanghai when it opened its 200th store in China, bringing an exclusive makeup experience to Chinese consumers.
Sephora's first concept store was recently unveiled in Shanghai, China, its first in Asia, presenting customers with a representative experience of the comprehensive improvements coming to Sephora's retail experience. Beginning with this concept store, Sephora hopes to bring consumers a refreshing beauty shopping experience that begins with store aesthetics, inexhaustible brand categories, store service and technological interaction.
At 10am on September 21st 2018, the Sephora Concept Store at the World Trade Center in Nanjing East Road officially opened. As one of Shanghai's main commercial centers, white-collar workers from nearby office buildings, Shanghai residents, a large number of out-of-town and foreign tourists all come here to shopping.
Luxe.Co recently visited Sephora's new concept store. Through the lens of the three key words of "intelligence", "immersion" and "fully stocked", we will unveil the latest discoveries and physical innovations of this high-end beauty retailer.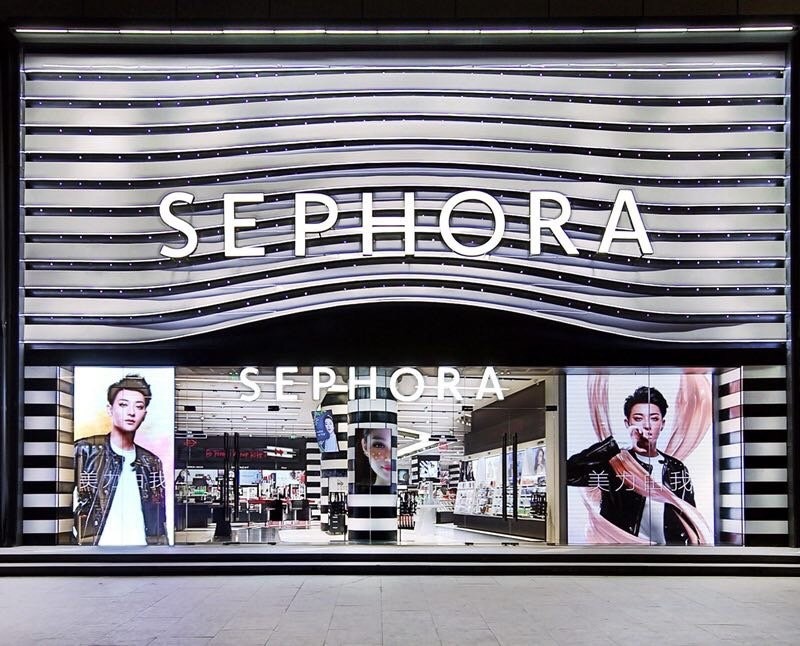 Keyword 1: Intelligent Beauty Retail
E-commerce Wall: orders placed in-store, goods received at home
Always at the forefront of technological innovation, Sephora has launched a series of pioneering attempts in store innovation in recent years. The new concept store launched in Shanghai carries forth the digital legacy of Sephora and fully embraces technology. Through this means, the use of digital technology to empower retail service and to create differentiated in-store experiences has become one of Sephora's core strategies.
Upon entering the concept store, we noticed many people milling about, as well as the attention-grabbing full-length mirror placed at the center near the entrance. In fact, this is a high-tech mirror with an "E-commerce Wall" function, a unique device made for the concept store.
One of the store's Beauty Advisors (BA) demonstrated the operation of "Ecommerce Wall" to us on the spot. The entire process was  easy and convenient, feeling almost the same as regular online shopping. Customers can find all of Sephora's offerings on the "E-commerce Wall" through manual or voice search, they can then choose to receive their goods at home with one-click order. If a customer has been keen on a product for a long time, but there is no stock in the physical store, they can go to the "E-commerce Wall" to order it. If customers do not want to pick up their products, they can also try out the products in-store, then place orders directly on the "E-commerce Wall".
One of the advantages of physical stores is that people are willing to try more products in-store, which translates into purchases, but this also creates great purchasing pressure on retailers. Relying on Sephora's integrated inventory system, the emergence of the "E-commerce Wall" has undoubtedly eased this pressure to some extent. Even if a certain product in the store is out of stock, customers can complete the purchase through the Ecommerce Wall".
In addition, the new concept store introduces electronic shelf labels instead of traditional paper price tags, which is not only more environmentally friendly, but also reduces the labor of price tag manual replacement, and it is also conducive to streamlining online and offline product information.
Virtual magic makeup mirror: one-click to try on makeup
The Beauty Studio in the new concept store has placed an AR makeup device, a virtual magic makeup mirror that Sephora created with Meitu Company to provide customers with a comprehensive cross-brand and cross-category makeup testing experience
Users can open the "magic mirror" and click on "virtual makeup" to try different makeup on the face, eyes, lips and eyebrows, covering seven categories including blush, foundation, eye shadow, eyeliner, eyelash, lip gloss, eyeliner.  Customers can choose a variety of products by brand, texture or color, and for similar products, "Magic Mirror" will help you try different makeup methods. Aside from the interactive AR makeup device, Sephora also places a variety of makeup tutorials on display through the electronic screen of the makeup mirror.
In recent years, beauty retailers, including Sephora and many other make-up brands, have begun to truly embrace virtual makeup technology. Undoubtedly, virtual makeup technology greatly solves the user's pain points during the makeup trial experience, and uses digital innovation to redefine the relationship between beauty retailers and consumers, becoming a key force in promoting beauty brand sales and consumer engagement.
On opening day, the customers who wanted to try makeup products before the AR magic makeup mirror lined up in an endless stream. By introducing high-tech equipment such as the AR makeup device, SEPHORA enables customers to enjoy themselves in the store, not only extending customer's time in the store and improving sales conversion opportunities, but also, to some extent, reduces manpower costs and enables customers to achieve the next step in self-service shopping.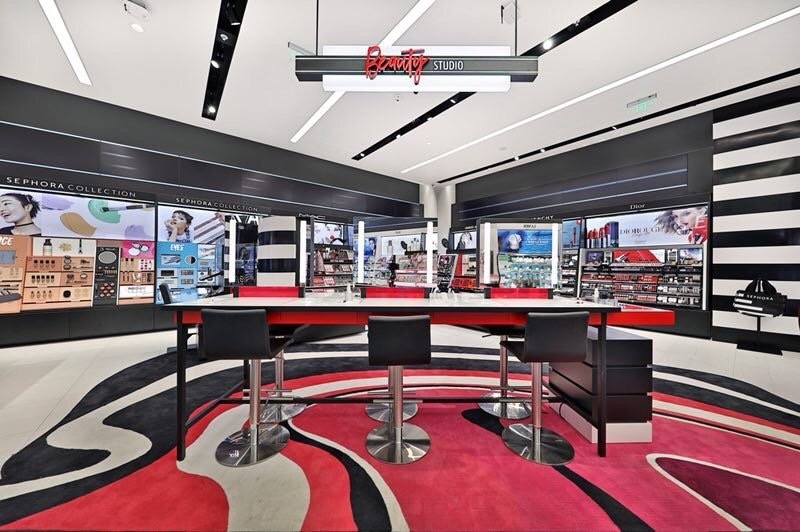 Keyword 2: Immersive Experience
Beauty makeup tutorials, customized service
The overall design of the concept store continues the original legacy of Sephora, including zebra-stripe decor, black and white curved windows and so on. On this foundation, the new concept store uses a floodlight ceiling treatment to provide a more transparent and bright environment for customers to try on beauty products.
The latest"White Paper on China's New Generation of Fashion Consumption 2018" by Luxe. Co found that "store display / atmosphere" has become the first detail that those generation born after 1995 notice to create a favorable impression on the brand. As "Internet natives", they belong to a new generation of web-based consumers, but are not necessarily obsessed with online products. Sephora's new concept store not only retains its original DNA, but also caters to the aesthetic trends of young consumers. Together with various cool technological devices, it will undoubtedly provide consumers with another "buyer's paradise".
Compared to traditional Sephora stores, several new tables and chairs in the new concept store are particularly eye-catching:
——Firstly, three tables are placed near the door marked with the words "Trend Display Table" by Sephora. The most popular beauty skin care item in season, such as Estee Lauder Nutritious Super-Pomegranate, MAKE UP FOREVER liquid make-up, are placed on the display table;
—— Second, in the center of the store, Sephora has specifically opened a special skin care area, which consists of a display table, benches and washbasins. This makes it convenient for customers to try out a set of skin care products in the store and also provides customers a place to sit down and rest between long periods of shopping;
—— Third, beauty makeup tutorials have always been the focus of Sephora and can offer a  professional makeup environment by the six makeup desks within the Beauty Studio, and customers are matched with relevant makeup guidance from professional makeup artists. In addition, Beauty Studio also regularly introduces the "Mini Makeup Show" from its Beauty Class and offers makeup techniques classes by beauty masters. From skin care to makeup, from makeup experience to makeup tutorial, the new concept store truly realizes one-stop beauty service.
It is worth mentioning that the new concept store also offers exclusive perfume lettering services and an exclusive gift box. According to the Beauty Advisor (BA), customers only need to buy 100ml of perfume to be eligible for the bottle lettering service. The exclusive gift box is also unique to the concept store, which solves the personalized packaging needs for customers buying special gifts. The "White Paper on China's New Generation of Fashion Consumption 2018" by Luxe. Co demonstrates that personalization has become one of the strongest demands of young consumers in terms of physical retailing.
Keyword 3: Fully Stocked
Nearly 10,000 products under nearly 100 brands, assembling a "beauty museum"
A wide range of goods may attract even more consumers to the store. According to Sephora, the new concept store has gathered nearly 100 international brands with about 10,000 beauty products covering skin care, make-up, fragrance, hair care, body care and other categories. The store surrounds people with a dazzling array of products, as if placed in a small "beauty museum".
If you look closely at this beauty museum, you will find that Sephora has a lot of thoughts on the selection of concept stores:
——Exclusive set up of a fragrance experience area. Contrasting itself from the busy makeup area near the door, the exclusive fragrance experience area is set at the innermost location of the store, creating a quiet atmosphere for experience. What deserves our attention is that Sephora has introduced a number of foreign niche perfume brands in the concept store, including the Italian Acqua Di Parma, the French Atelier Cologne, the GUERLAIN AQUA ALLEGORIA and other perfumes.
——Exclusive sale series.  Continuing Sephora's existing selection strategy, the new concept store also introduces exclusive SEPHORA brands and products, such as Glam Glow, KENZO, Lancaster, NUXE, and PETER THOMAS ROTH. However, compared to traditional stores, the exclusive sale series of the concept store is noticeably more abundant, and shelves filled with products occupy an entire wall.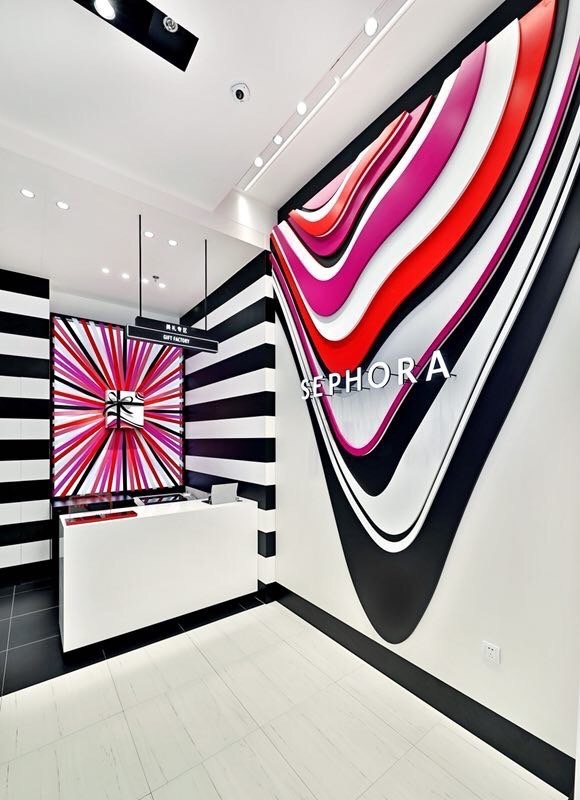 As a high-end beauty retail platform under the LVMH Group, Sephora has continued to accelerate its expansion since entering China in 2005. 228 physical stores are present in 74 cities.
The launch of the concept store is an important measure for Sephora to respond to the changing consumer demand and consumption habits of Chinese consumers. The new generation of consumers is more rational and independent. They are more inclined to decide upon their own products in the store. This is  partly because beauty bloggers and KOL beauty tutorials have enabled consumers to complete their own "makeup pre-education" online, in advance. "Targeting Millennials in Beauty Innovation Report 2017" shows that 63% of Millennials say they are more willing to trust bloggers and user reviews than brand promoters.
In the face of such consumer groups, physical stores must emphasize and develop their own advantages in order to encourage more consumers to return to physical stores. When a brand chooses to open a flagship or concept store in a shopping mall, it is more important to consider the kinds of services to be provided and the kinds of experiences that should be created in addition to its main sales function.
From enhancing the consumption experience through digital innovation to offering a wider range of goods and customized services, the many practices of Sephora's new concept store may create a new reference standard for other beauty retailers and brands in terms of store innovation.