Fashion Designer Uma Wang (王汁) is usually modest and low-key in public. But her unique style and tall and slender figure with iconic long black hair always stand out in the crowd.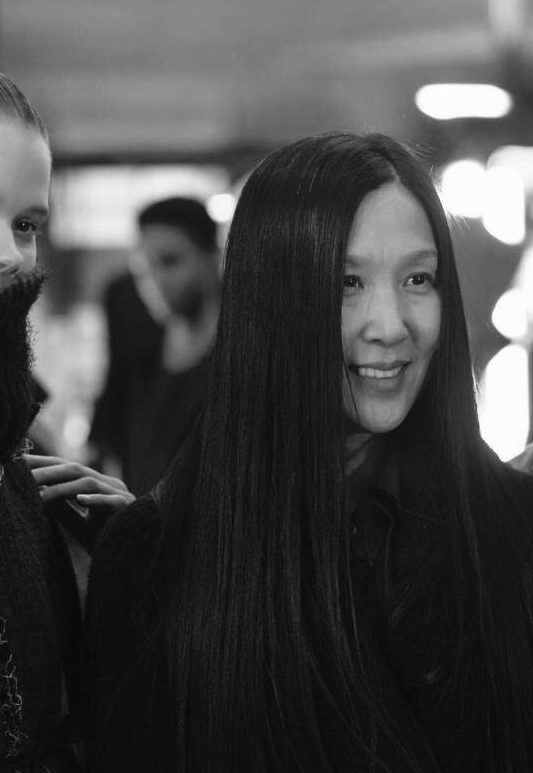 At the Shanghai Film Festival weeks ago, Chinese actress, Yun Zhou shone on the red carpets with two sets of Uma Wang tailor-made dresses. Ms. Wang is also the fashion stylist for one of Jiang Wen's new film, "Hidden Man". In the previous interview with Luxe.Co, she said that, "Once the style of the brand and the product quality have been stable, the stories to be told become limited."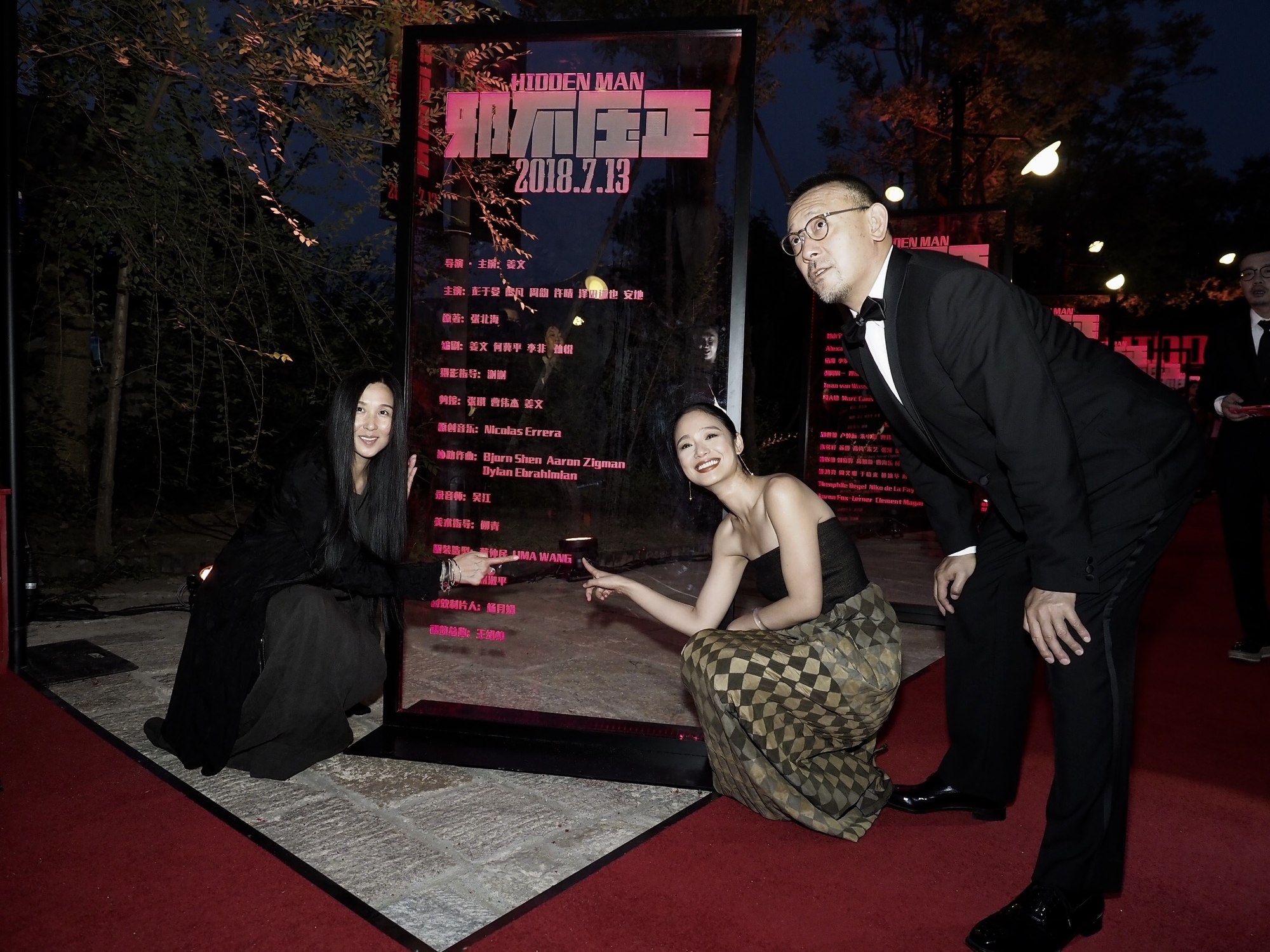 From left to right: Uma Wang, Yun Zhou, Wen Jiang
In 2009, Ms. Wang officially established her own brand UMA WANG. In addition to the highly recognizable design style and innovative fabrics, what surprises the world is how Ms. Wang as a Chinese independent designer, silently leads her brand and has completed three major relocations in the global fashion arena: from Shanghai to London, from London to Milan, and then from Milan to Paris.
From Shanghai to London
Born in a family of Chinese medicine practitioners in 1970s, Ms. Wang has immersed herself in the aesthetics of Chinese calligraphy, the colors of different herbs, and Eastern philosophy. Although she has not continued her family tradition to become a doctor. the influence of the family is still a focus in her life, as she fulfilled her own destiny of becoming a fashion designer.
After studying fashion design at Shanghai China Textile University (now Donghua University) in 1992, Uma joined the knitting department of a fashion company to work on clothing design. In 2002, she decided to give up her job and go to Central Saint Martin in London for further studies.
"I used to read some esoteric books with my father. I found myself good at imagination, especially things without standard answers," Ms. Wang said. Along the way, from different aspects such as her experience, age, geography, brand development, to brand operations, all kinds of secular traditions or rules seem unable to stop Ms. Wang's imagination.
"The sense of the Orient from my design is hidden inside, but my customers can feel the philosophy just at a glance!" said Ms. Wang. In the fashion world, design style is the most prominent symbolic representation of the designer, and Ms. Wang is no exception. When a designer becomes the founder or operator of a brand, her/his personal philosophy is also directly presented via these brands.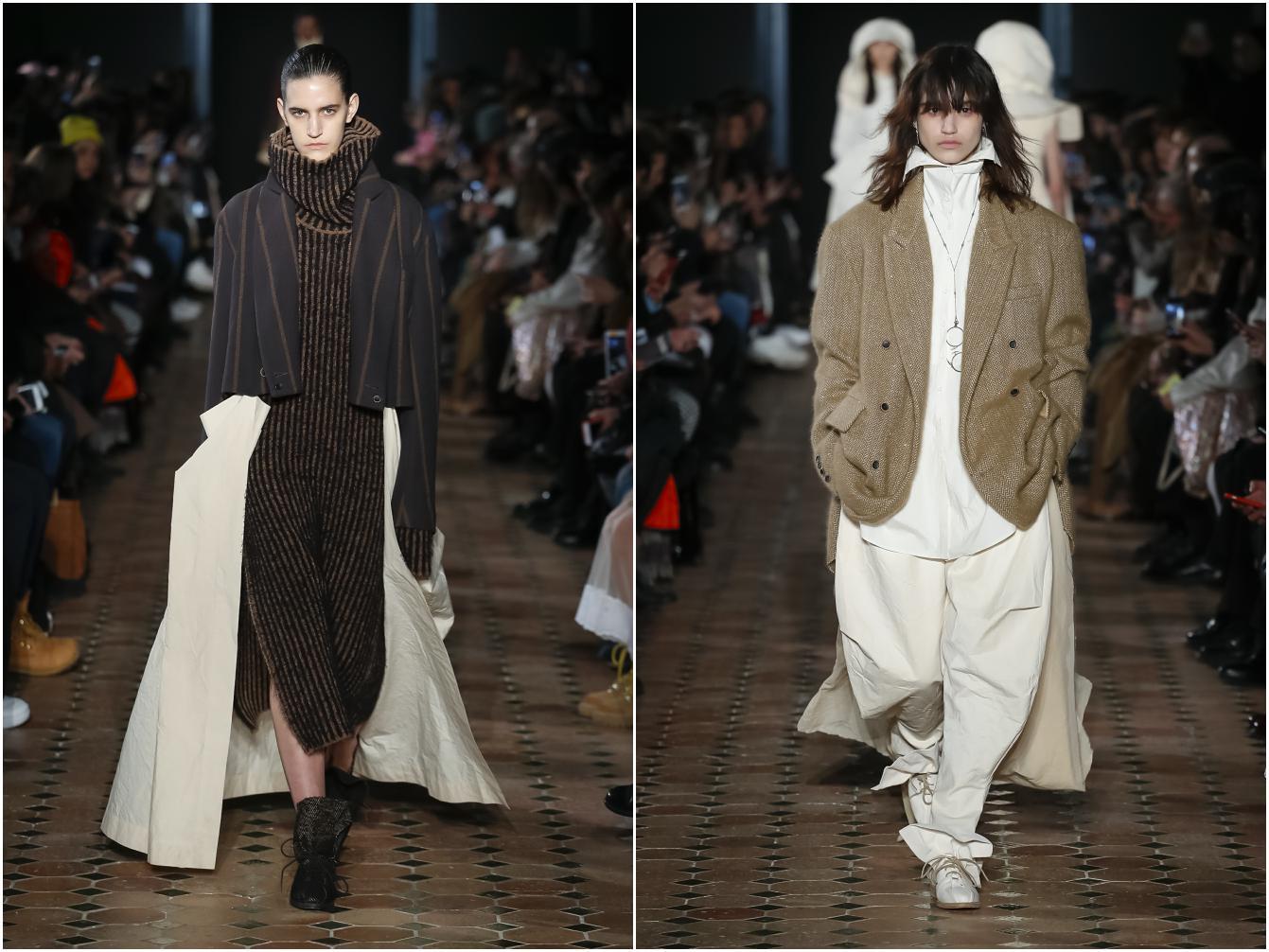 Ms. Wang has been cautious and even passive in promoting the brand's image. In China, there has been very little media news about her and the brand. The latest articles on its official WeChat account were posted in December 2017 and March 2018.
In contrast, in the details of brand building, she dealt with extra care. For the small little things such as clothing tag, She asked her father to write the origin and date with traditional Chinese. She also conducts strict screening on store selection, space design, and cross-over collaboration partners.
"UMA WANG is still very small, and the price is really not down to earth. We are still trying to find a way that make our customers recognize and understand the culture of this brand, without resistance or any other unpleasant feelings," Ms. Wang said during the interview with Luxe.Co. She does not hide, as the brand operator, any entanglement her brand is facing, "I am very contradictory. On one hand, I hope this brand to be small and beautiful. But on the other hand, this brand must grow at scales from a commercial perspective."
At present, UMA WANG has two self-operated stores in Shanghai, and has collaborated with 15 boutique shops in China. There are more than 100 retail outlets around the world. "We pay attention to the control rights in China, not because we are not optimistic. Once it performs too well, we start to be concerned about things going out of control," said Ms. Wang.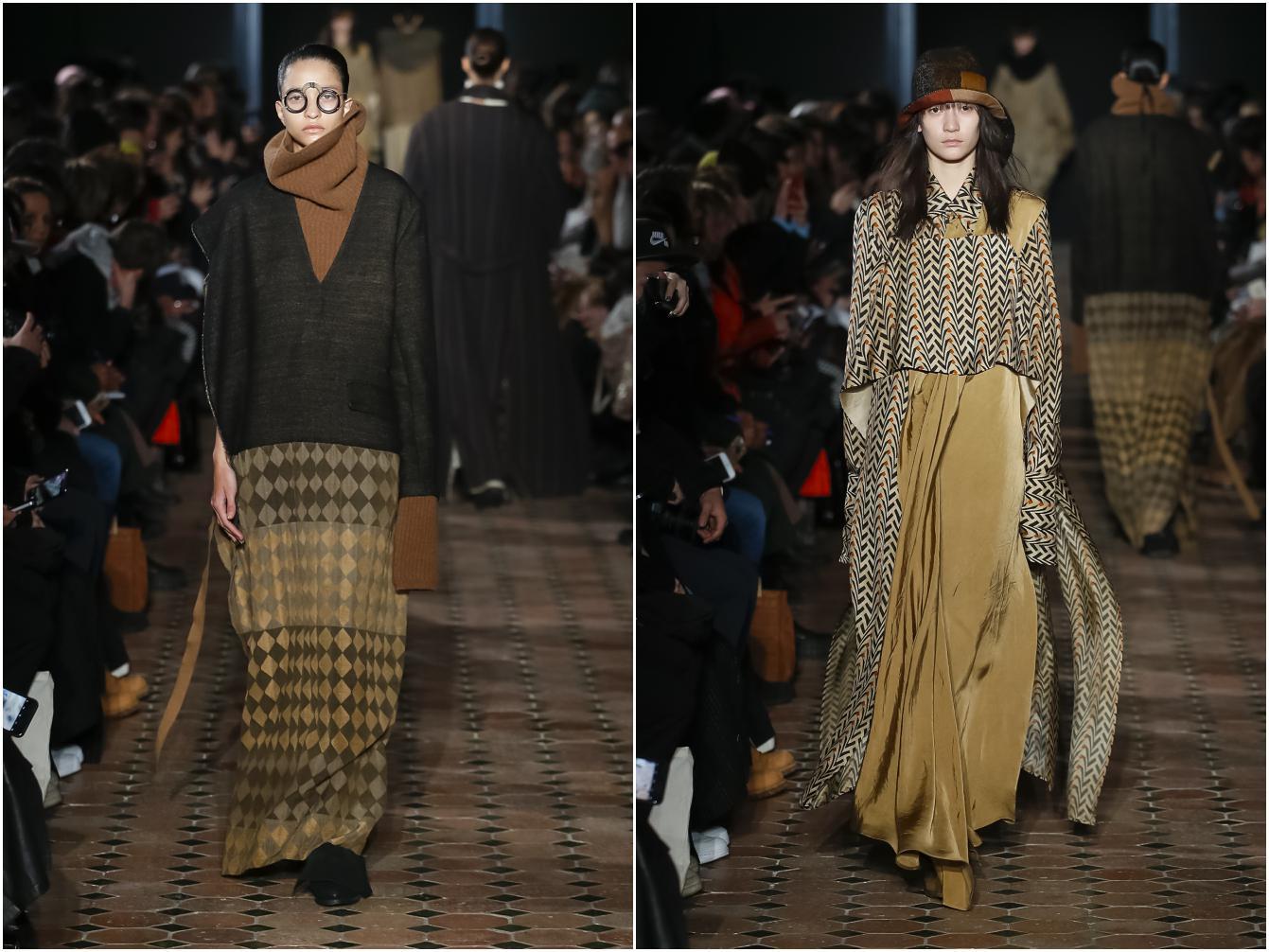 From London to Milan
Three years ago, the brand UMA WANG began to launch six collections each year. How to achieve intense, high-quality and stable output has become the ultimate challenge for her.
"Six collections each year provide us with good customer feedback from the business perspective. However, from my point of view, I am tired and feel that I am just making clothes for the sake of making clothes," Ms. Wang expressed. Indeed, it was her attention to the design, innovative research, and fabric development, that made this brand adored by so many people and also constituted the core competitiveness of the brand.
In recent years, UMA WANG's global orders have increased by 30%-50% every quarter, especially in the United States, Russia and Europe, and have been sold in more than 20 boutique shops. The significant increase in orders also poses challenges to the supply chain. For Ms. Wang, from conceiving a knitting brand to building a ready-to-wear brand, she realizes that supply chain is the critical part that restricted the scale of fashion brands.
Taking into account the larger proportion of overseas sales and the influence of overseas manufacturing on the brand, Ms. Wang decided to transfer all production to Italy completely. "Although the cost of production in Italy is higher, it is still worth trying to do so, for the sake of brand upgrade and team training," She added. After years of cooperation, both sides achieved visible growth with mutual understanding.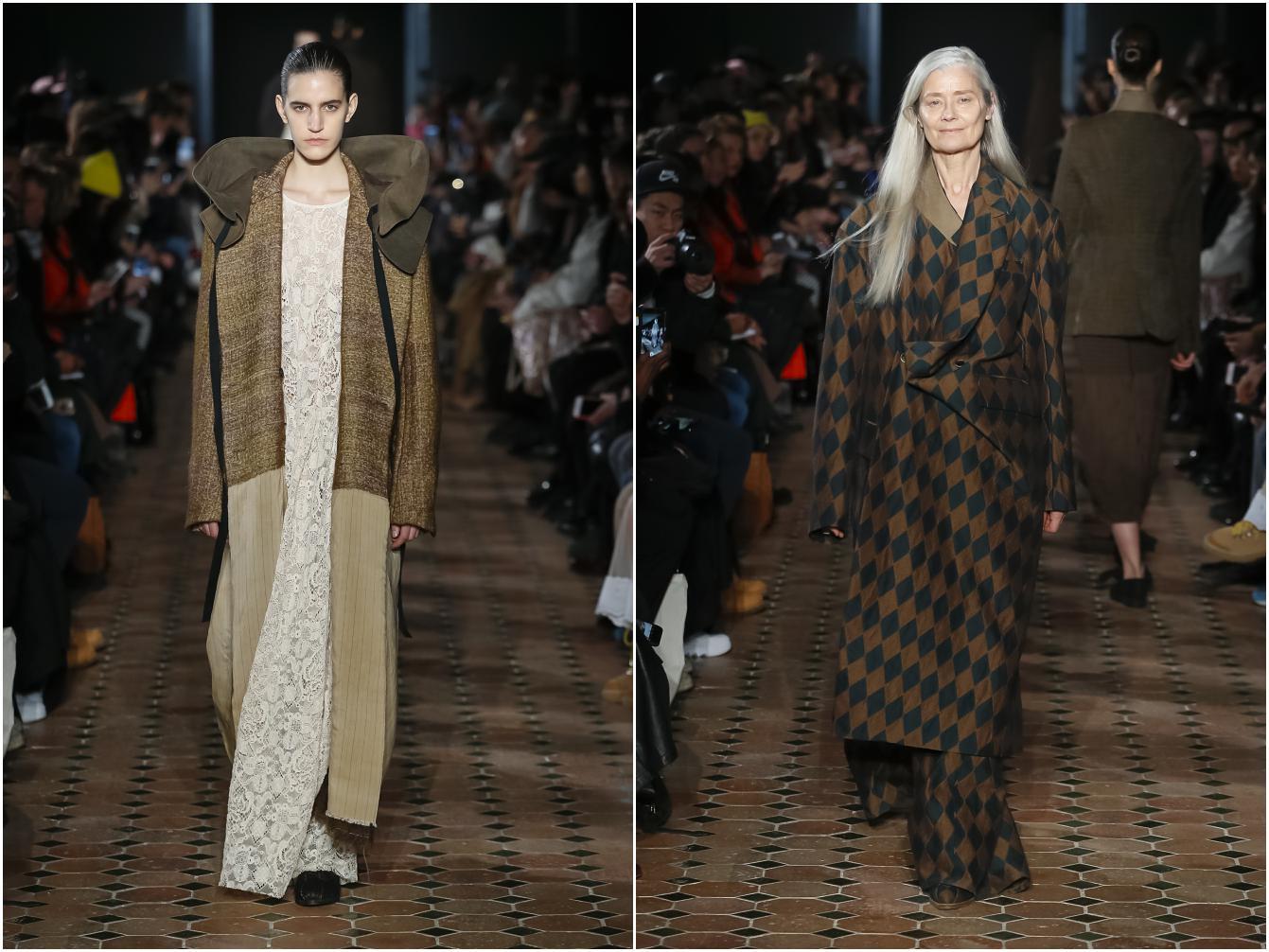 From Milan to Paris
Traditional Chinese medicine pays close attention to the nuanced details of diagnosis. The development process of a brand from the product, operation, promotion to sales is also extremely subtle.
Ms. Wang understands that the brand strategy is not self-explanatory to many people, especially in the China market. She never stops thinking about making it crystal clear. She explained, "I feel that the brand is still a small child, rather than a grown-up. It must be raised slowly. It's not a matter of making it mature overnight, but little by little, to make small adjustment and connect all the dots."
In February 2017, Ms. Wang led the brand to conduct another relocation, which is also the most significant change of the brand: UMA WANG would release each season's new product from Milan Fashion Week to Paris Fashion Week. At this time, seven years had passed for Ms. Wang, now 39 years old, since her first spring and summer fashion week in Milan.
The move to Paris Fashion Week for her and the brand undoubtedly means a new challenge. "Because Paris Fashion Week represents the highest international level, it will inflict a lot of pressure on me and the team. During these shows in Paris, we fear so much that the brand is not good enough and that the entire production process always exceeds its budget," She added.
In addition to emotional factors, Ms. Wang has to consider more on brand promotion. From the convenience of the customer to shows and global media publicity, these have become the decisive factors in her relocation to Paris.
"In fact, it is not like how many people rumored that I am not happy with Milan Fashion Week. Milan Fashion Week gave me a lot of support at the beginning. I chose to go to Milan Fashion Week initially because I have significant connection with Italy. Fabrics, production and public relations are all in Italy. Both the Italian fashion associations and the entire industry chain gave me great support," Ms. Wang said.
Today, UMA WANG, with a unit price of 5,000 yuan to 20,000 yuan and customer groups from 20 to 80 years old, has more than 100 sales outlets around the world. Ms. Wang plans to open brick-and-mortar stores in key cities such as Paris, Milan and New York.
"Some people want to make a world-class brand in just a few years. This is impossible. Many things are slowly growing up, and the transformation needs years of accumulation in a subtle way," she added.
More interview details with Uma Wang
Luxe.Co: Regarding your brand name UMA WANG. What is the meaning of Uma?
Wang: Uma is the name I chose before I went to the UK. I chose this name because I like India, a place I am looking forward to. Uma (bright, beautiful) is the god of Shiva, one of the three great gods of India, the alias of the snow mountain goddess Parvati, which is the mother god of the indigenous people of India.
Luxe.Co: How do you view current fashion brands?
Wang: I think that the power of street brands can't be ignored. You see that all big brands are making quick adjustments. Indeed, many details of the street fashion have demonstrated designers' great efforts and can touch me deeply. Many of the design balances tradition with modern elements. I may even design collections related to the street fashion.
Luxe.Co: How do you think about the recent changes in many luxury brands, such as Gucci?
Wang: I think it's a good move. I especially like Alessandro Michele, the creative director of Gucci. I think he is the most advanced designer who can incorporate the brand symbol into real products. His design subverts many traditional things, but he can subvert it just fine. At the same time, his design is also conveying some messages that are not fleeting and culturally rooted.
Luxe.Co: More and more young people in China start building brands at very early ages. What is your opinion on that?
Wang: I think every choice is determined by timing and personality. I chose to do so because my family's economic situation wasn't good enough. In addition, people like me who was born in the 70s want to learn more practical things. But now the education, knowledge, and vision of new generations are better than ours. They have seen the world and now come back, with good education. I don't think this is impossible.
I feel that it has finally been our turn for so many years. The world is watching what Chinese designers are doing. Why don't we grasp this opportunity, whether it is failure or success? These experiences may make them grow faster.
Luxe.Co: Have you considered expanding to categories such as home?
Wang: It's always my dream to design home products, but I haven't found a suitable opportunity and factory yet. This has always been within my plan. I want to do some lifestyle products besides clothing.
Luxe.Co: As you mentioned that you are very good at writing, have you thought about publishing a book?
Wang: Not for now, but next year is the 10th anniversary of the brand, and I want to do something. I might want to make a retrospective exhibition, to select two pieces from each collection in the past ten years, as a review of the brand history.
Luxe.Co: How do you think that Chinese investors' attention in Chinese independent designers and brands?
Wang: I am very optimistic, but I hope that investors are not being way too anxious. They need to be patient and support designers no matter what. If investors request a designer to open 50 stores in two years, the designer might get terrified. Investors should consider many aspects, not just thinking about opening stores. I think everyone needs to slow down.
---
Photos: Uma Wang
Chinese Reporter: Elisa Wang
English Editor: Aviva Li
---
Marketing and Business Cooperation, please email to contact@hualizhi.com