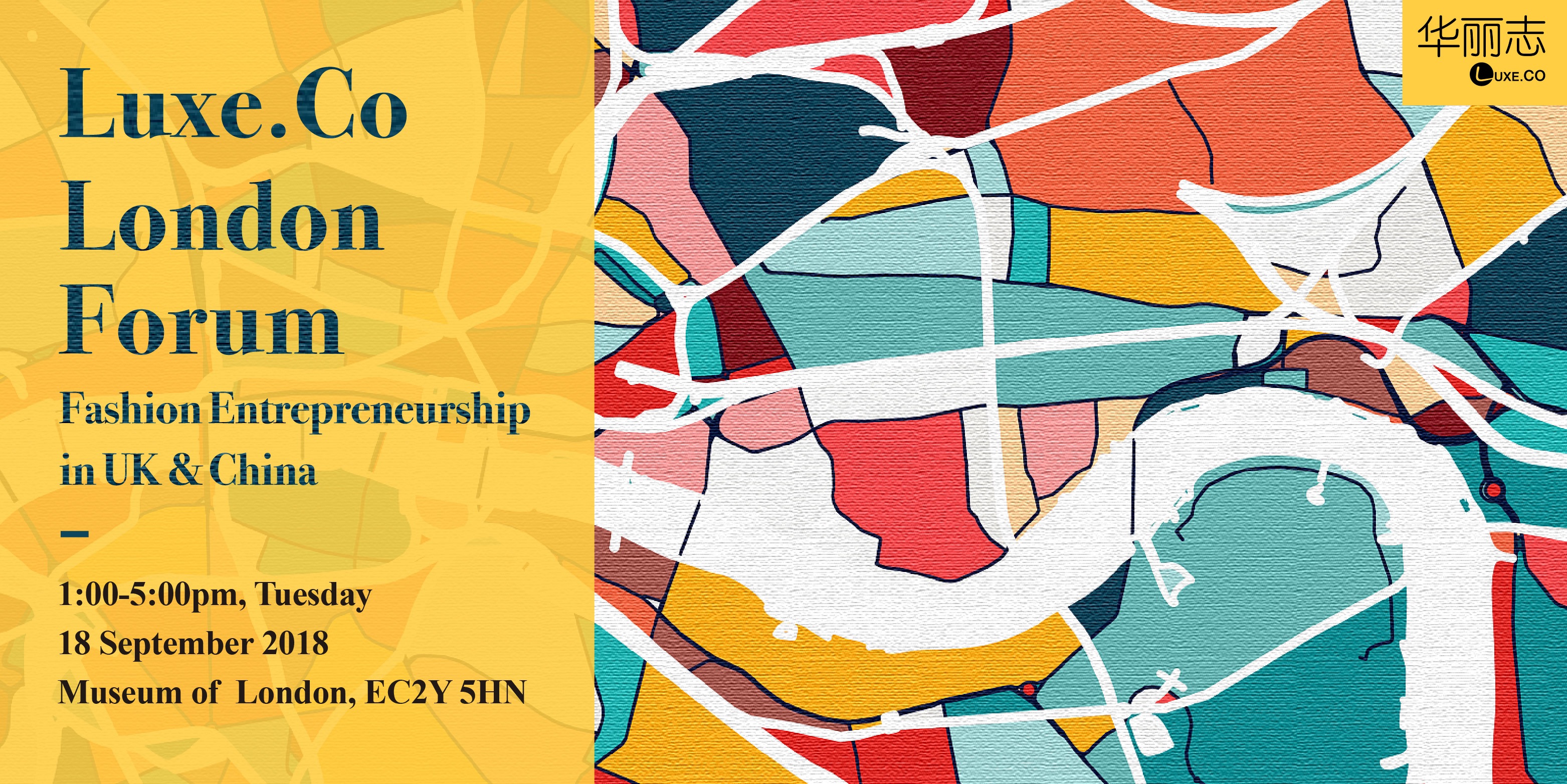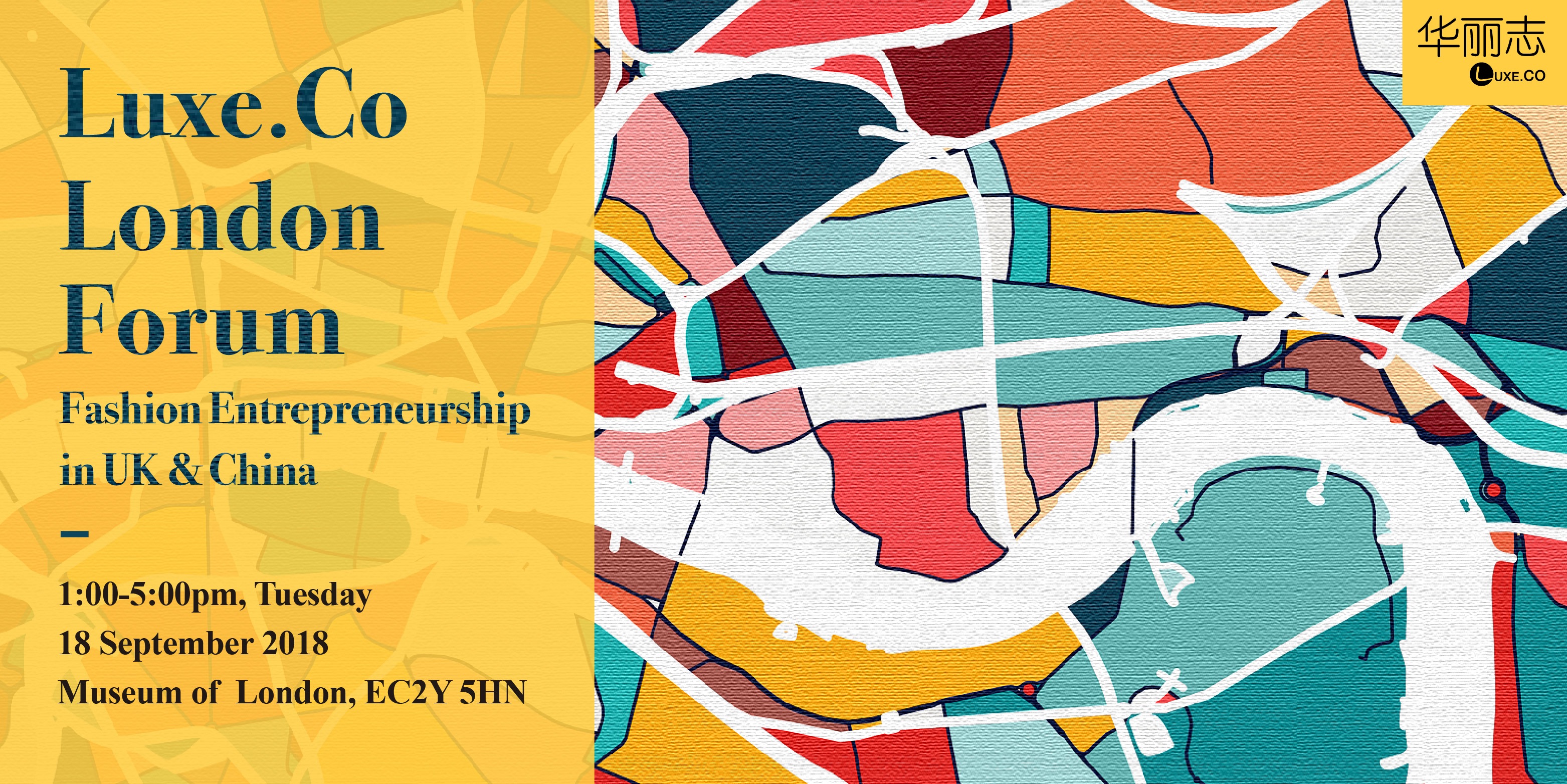 LUXE.CO LONDON FORUM
Fashion Entrepreneurship and Innovation in UK & China
Luxe.Co London Forum will be held on Tuesday 18 September 2018, with the key theme "Fashion Entrepreneurship and Innovation". This groundbreaking event connects entrepreneurs, designers, investors and innovators of fashion industry from both UK and China, to discuss some most relevant topics on the future of the industry.
---
AGENDA
18 September 2018, Tuesday
13:00-17:00pm BST
13:00-13:30
Sign-In
13:30-13:45
Opening Speech
13:45-14:30
Luxe.Co Report Presentation
Chinese Fashion Consumers Survey 2018
14:30-14:40
Tea-Break
14:40-15:20
Panel
Building Fashion Brand: Entrepreneurial spirit and practice
15:20-16:00
Panel
Fashion Tech: How to empower the industry
16:00-16:20
Panel
Fashion Incubator & Accelerator: Role in growing entrepreneurial ecosystems
16:20-16:40
Panel
Sustainable Fashion: Bridge gap between the advocate and the mass
16:40-17:00
Wrap-Up
---
GUEST SPEAKERS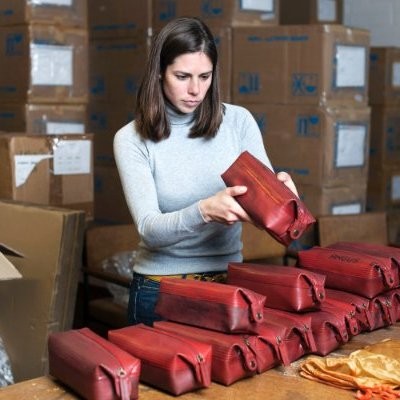 Kresse Wesling, Co-Founder of Elvis & Kresse
Kresse is a multi-award winning environmental entrepreneur and Young Global Leader with a background in venture capital and significant start-up experience. After first meeting with the London Fire Brigade in 2005, Kresse launched Elvis & Kresse, which turns industrial waste into innovative lifestyle products and returns 50% of profits to charities related to the waste. Elvis & Kresse's first line is made from decommissioned fire hose, 50% of the profits from this line are donated to the Fire Fighters Charity. The company now collects 12 different waste streams, has several charitable partnerships and is involved with collaborations across industries, including most recently a five year partnership with the Burberry Foundation.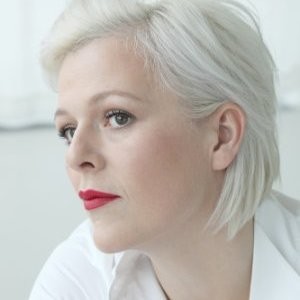 Sarah Rotheram, CEO of Miller Harris London
Miller Harris Perfumer London breathes colour and life into the classic perfumer's art, with couture fragrances that combine Parisian elegance with London's eclectic street styles. Before joining Miller Harris, Sarah Rotheram was the Chief Executive Officer at Aspinal of London (2014-1017) and the Chief Executive Officer at Penhaligon's London and L'Artisan Parfumuer (2007-2014).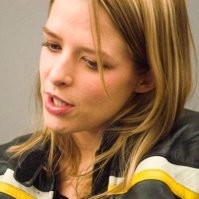 Sarah McVittie, Co-Founder of Dressipi
Sarah McVittie is an experienced Co-Founder with a demonstrated history of working in the consumer services industry. She is currently the co-founder and co-CEO of Dressipi (with Donna Kelly), an innovative fashion discovery and online styling service helping customers to find clothes that match their 'digital fashion fingerprint'​.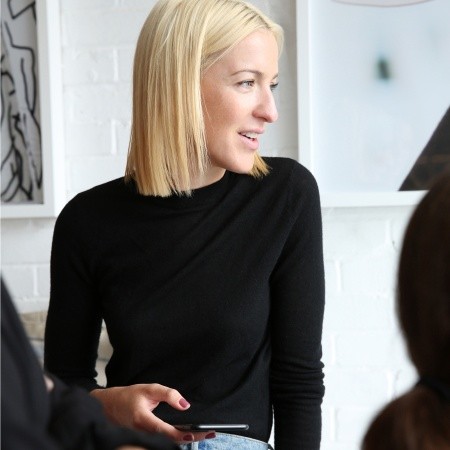 Sophie Hill, Founder & CEO of Threads
Threads Styling is a chat-based commerce business, reinventing luxury goods commerce for the Social first generation. It's one of Future Fifty & Tech Track 100 Company – UK fastest growing tech companies. At the forefront of a revolution in chat commerce, Threads is scaling fast, with technology very much at the heart of its next phase of growth.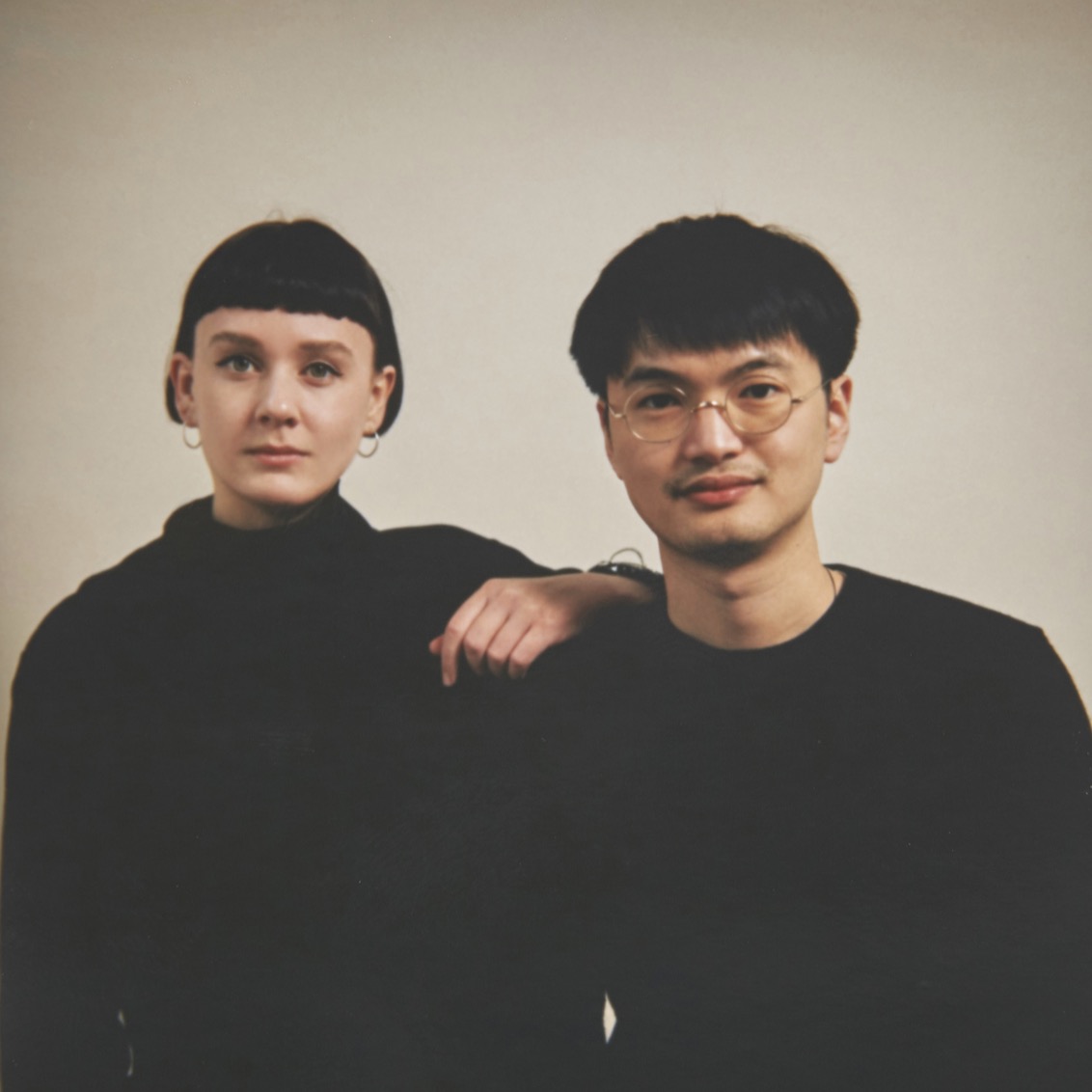 Tommy Zhong, Creative Director of Tommy Zhong
Jennifer Nelson, Commercial Director of Tommy Zhong
TOMMY ZHONG brand is jointly owned and operated by Tommy Zhong and Jenny Nelson. The brandfocus is on creating original, modern, ageless and versatile tailored pieces. Superior attention to detail at the Atelier delivers quality that is self evident in the fabric, structure and design.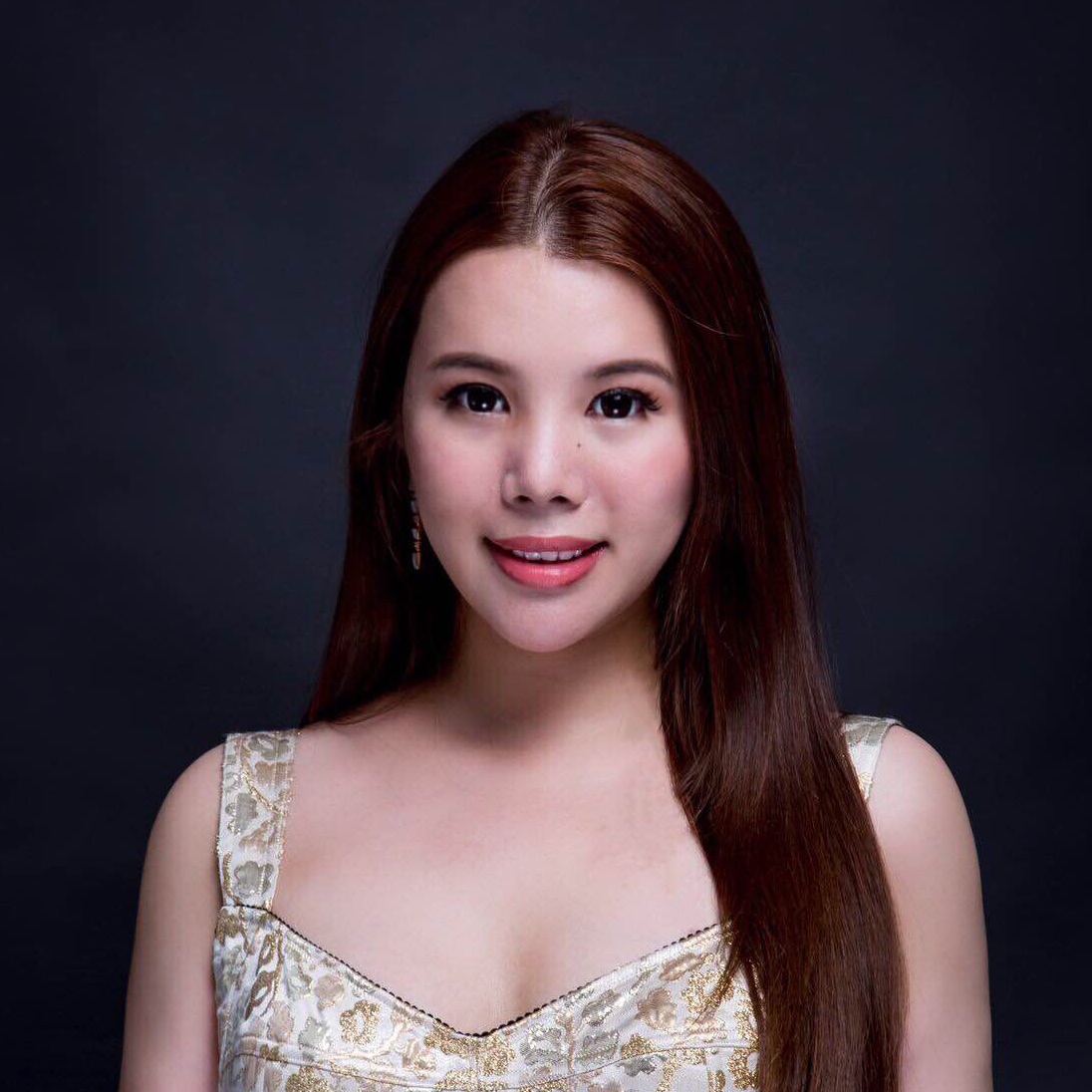 Wendy Yu, CEO of Yu Capital
Wendy Yu is a prominent investor, philanthropist and patron of the Arts. In 2015, Wendy Yu founded investment funding company Yu Capital to support high potential, high growth technology, fashion and lifestyle enterprises that have the potential to become market leaders. The company's most recent investments include British fashion brand Mary Katrantzou. Other angel investments include Fashion Concierge, a personal shopping app dedicated to sourcing the most sought-after fashion items, and Bottletop, sustainable accessories brand.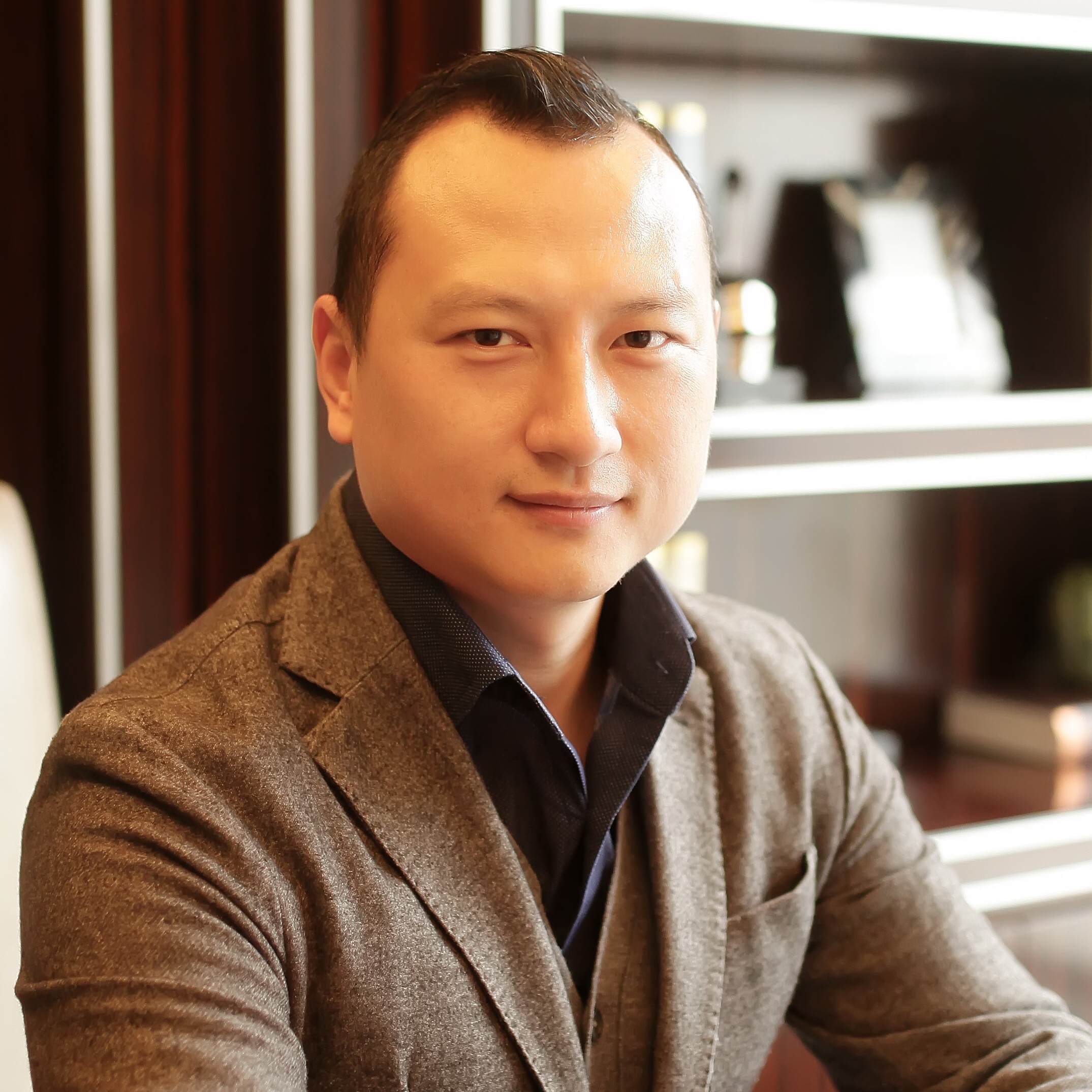 Yan Chen, Managing Director of Fosun Intelligent Retail Group
Yan Chen has over 20-year experience in brand management and investment. He was one of founding members in Sephora China. Before joining Fosun, he closed several investments of skincare and cosmetics, such as Marubi in China, Clio in Korea, Dr. Wu in Taiwan, and Bliss in U.S.. Besides, he was responsible for the investments in Europe brands: Pepe Jeans in British and G Zanotti in Italy.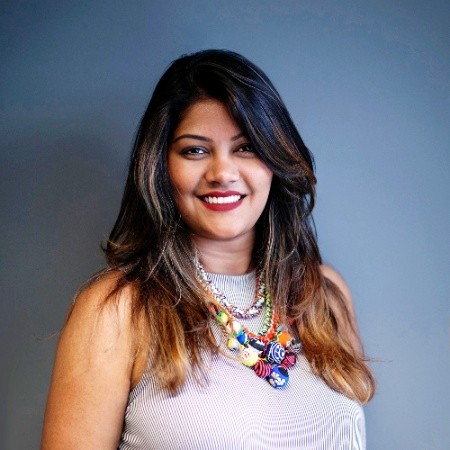 Ishwari Thopte, Manager of CFE Investment Program & Fashion Tech Project
The Centre for Fashion Enterprise (CFE) is London's pioneering strategic business development initiative that incubates, supports and develops leading emerging designer labels in the luxury and high end fashion sectors, including Erdem, Peter Pilotto, Mary Katrantzou and many more. Ishwari is a passionate fashion tech community builder and brand communication strategist with 10+ years of experience working with luxury fashion and tech startups, non-profits, SME's as well as high street and premium lifestyle brands.
more guest speakers to be confirmed …
"CHINESE FASHION CONSUMER REPORT 2018"
The "Chinese Fashion Consumer Report 2018", an annual proprietary report sponsored by PEACEBIRD, a China leading urban fashion brand will be first presented during the forum.
Since 2015, the Report annually provides the latest and most comprehensive understanding of the behaviors and preferences of fashion consumers in China. The survey underlying the report is conducted over the Internet with questionnaires and interviews, using controlled node distribution. A total of 2,716 valid samples have been collected, mainly from the first and second-tier cities of China, plus a certain percentage of oversea Chinese – 83.98% of which were born after the year of 1985.

---
TO REGISTER
General Admission Fee: £25 per person
Ticket link here
*如您希望通过人民币支付,请在微信添加"华丽小助手"(搜索 hualitea 或扫描下方二维码)进行转账,我们会为您预留席位。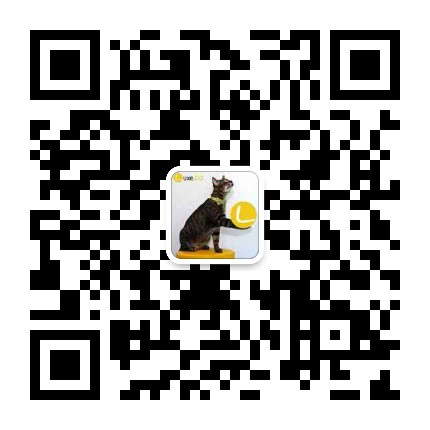 ---
 LOCATION
Museum of London
150 London Wall, London EC2Y 5HN

The Museum of London documents the history of the English capital city from prehistoric to modern times. The museum is located on London Wall, close to the Barbican Centre as part of the striking Barbican complex of buildings created in the 1960s and 1970s as an innovative approach to re-development within a bomb-damaged area of the City of London.
---
ABOUT LUXE.CO
Luxe.Co is China's leading business media for luxury, fashion and lifestyle, with a particular focus on the intersection of fashion, finance and technology. Over the past five years, Luxe.Co has been firmly established as the most trustworthy media brand and go-to source for millions of entrepreneurs, investors, professionals, opinion leaders and high-end consumers with the latest and well-curated news and analysis on the brand development, venture investment, merger & acquisition and technological innovations of global luxury, fashion and lifestyle brands. Also, Luxe.Co app and website constitute a very user-friendly database for in-depth brand knowledge, fashion finance transactions and industry research resources.
Leveraging on the profound industry knowledge, professional research team, extensive industry and finance network, Luxe.Co also provides in-depth research and consulting services to global brands who are entering China or hoping to accelerate growth in this most promising market, helps them to fine-tune China strategy and identifies best local partners.

*Luxe.Co reserves the right of final explanation of this event
Retrospect of Luxe.Co Forum (click link)
Email: contact@hualizhi.com