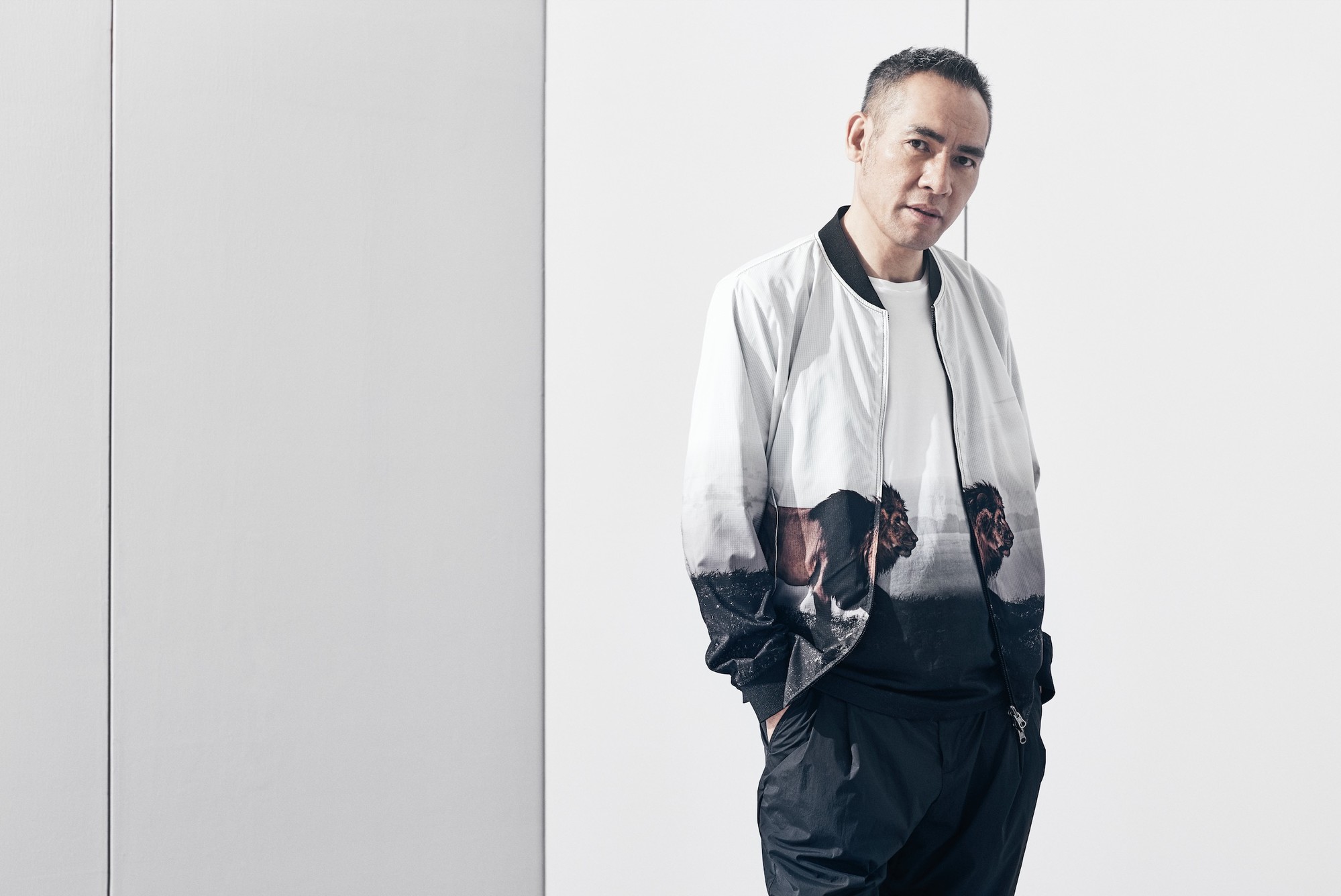 In February 2018, Anzheng's oldest high-end brand Juzui presented its 'MADE BY JUZUI' themed show, Three Sewing Machines, in the Milan Fashion Week finale.
In an exclusive interview with the founder and president of Anzheng Fashion Group, Anzheng Zheng, Luxe.CO spoke to him about the company's development and his thoughts about the current fashion industry.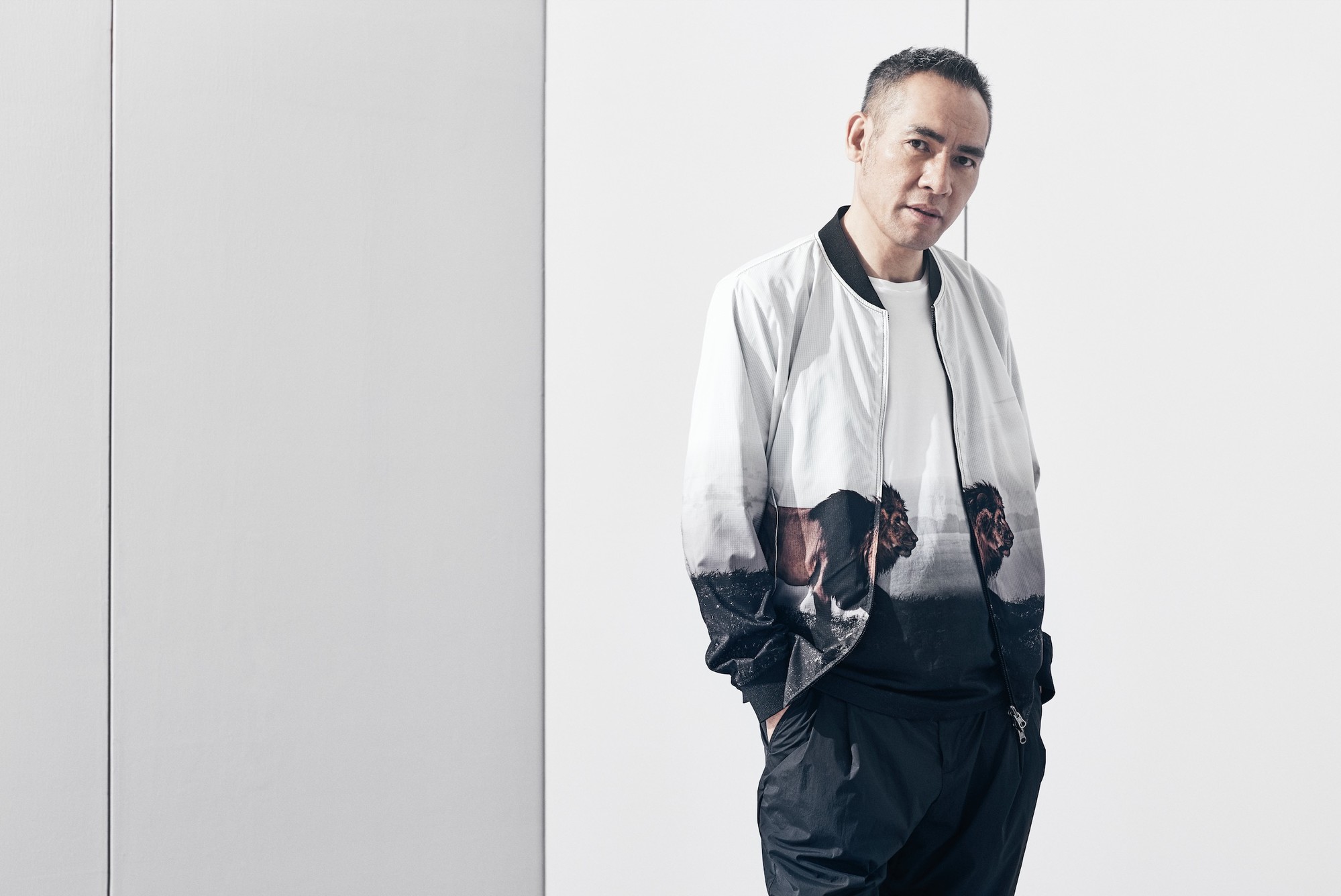 Above: founder and president of Anzheng Fashion Group, Anzheng Zheng
Some 32 years ago, Anzheng Zheng's family started their own business with just three sewing machines. In 2001, with the founding of the Juzui brand, the company began working on brand development. Now, Anzheng Fashion Group is a fashion empire engaged in research and development, production and brand management, with six brands: JZ, IMM, Anzheng, Michelle Moissac, FIONACHEN and ANNAKRO.
In the Luxe.CO interview, Anzheng Zheng states, 'we will have a clearer vision of our plans for going global after the Milan show'.
Anzheng Fashion Group was successfully listed in 2017, since when Anzheng Zheng has been working on becoming global. Following various study trips to Europe, the Americas, Japan and Korea, he came to the conclusion that there are three keys to globalisation: globalisation of products, globalisation of talents and globalisation of brands.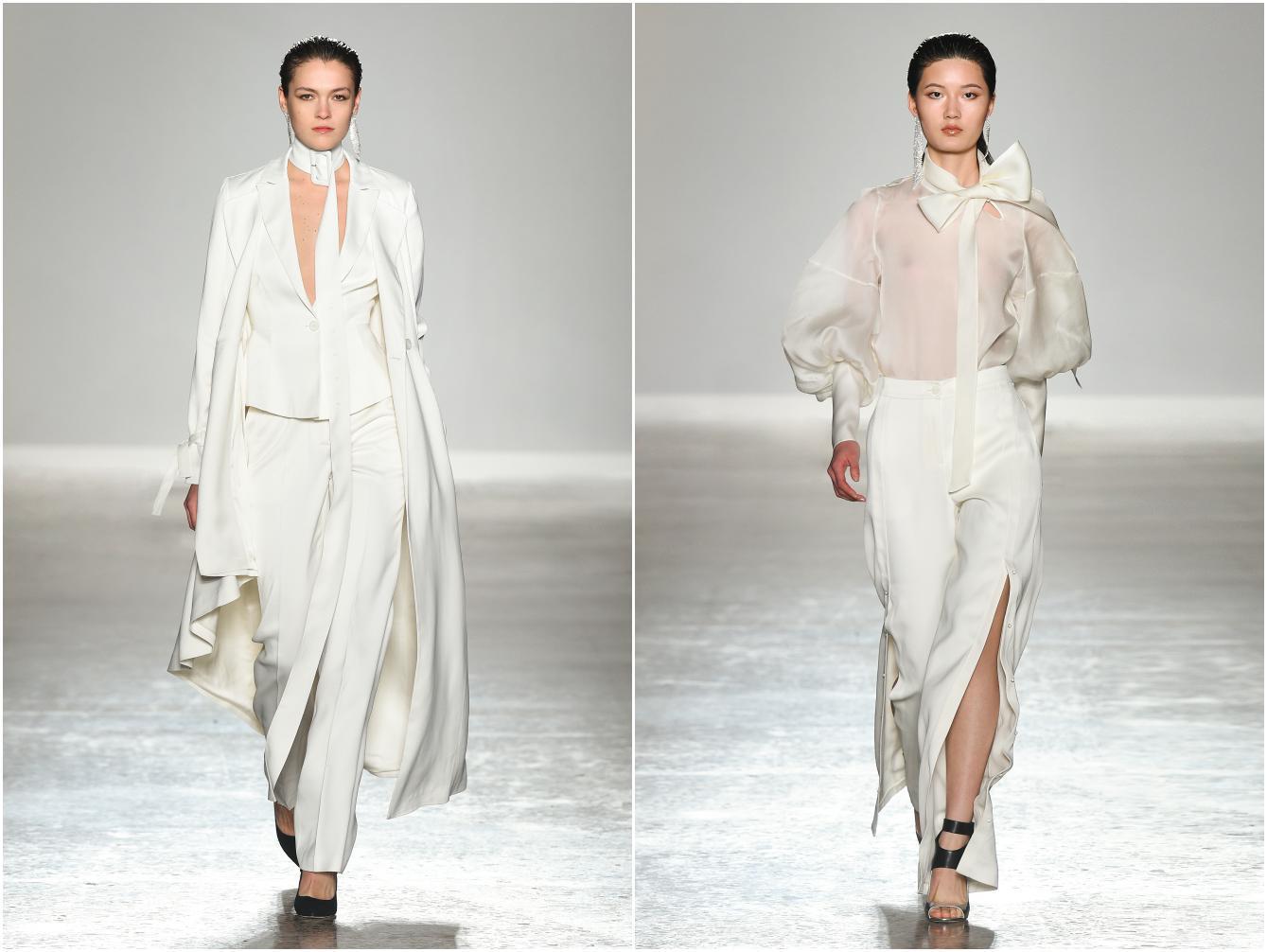 A global competitive edge for products can lead to a company's faster growth
Juzui is the group's first womenswear brand, and contributes to almost half of the group's overall turnover. It was a deliberate decision to make Juzui the first brand to debut on the international stage. As the supply chain, fabrics and design are highly developed in Italy, Milan Fashion Week was chosen for the brand's first overseas launch. Anzheng Zheng explains that this was 'in order to speed up the brand's global entrance and sales in overseas markets'.
With regard to going global, Anzheng Zheng says, 'The Chinese market is tremendous. Many companies build their scale to a satisfactory degree in China before expanding overseas, which is also why we have been working on expanding in China all these years. Yet I think nowadays it is essential to think global, and go beyond the shores early. That way, companies could raise their competitiveness faster'.
Being proactive in launching Juzui's collection on the global stage and promoting sales worldwide is Anzheng Fashion Group's key measure to raise their products' international competitive edge.
Anzheng Zheng says, 'the domestic and overseas competitions are inherently different. If your products have a competitive edge in the global marketplace, then your company can achieve rapid growth'. After visits to several countries, Zheng surmised that the centre of the fashion industry movements lies in Paris and Milan. Hence, the group will set up a research and development centre in Europe.
Global talents drive group growth
On the Anzheng Fashion Group's official website, their group vision begins with 'to grow itself into a world-leading fashion industry group'. Zheng tells Luxe.CO that the group realigned its corporate value and mission a few years ago.
On 14 February, Anzheng Fashion Group Co Ltd was listed on the Shanghai Stock Exchange (Anzheng Fashion, stock code: 603839). 'As a listed company, we must carefully plan our global strategy, while moving faster than other firms'. When discussing Chinese fashion companies entering the global market, Zheng shares his earnest expectations for Anzheng Fashion: that Anzheng Fashion Group could grow into a fashion company well-respected in Paris and Milan in the next three to five years.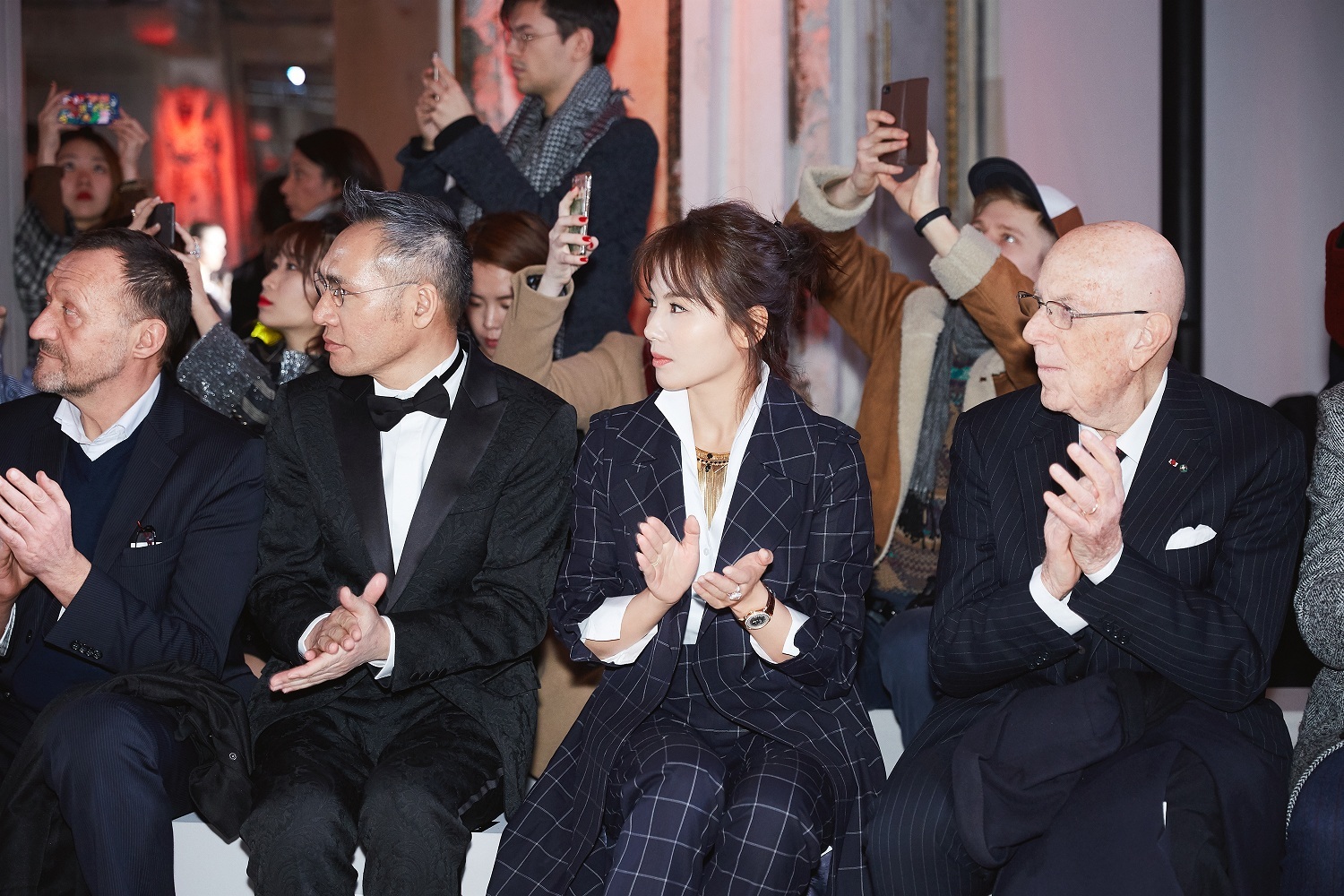 Above: Anzheng Fashion Group President Anzheng Zheng (second from left) with celebrity Liu Tao (third from left), and Honorary Chairman of CNMI Mario Boselli (first on right) at the 'Made By Juizui' show in Milan Fashion Week.
Over the years, Anzheng Fashion has invited many global talents on board, such as the group's creative director Françoise Onillon, a Chavellier of the Order of Arts and Letters (who is experienced in working with international luxury brands), top fashion designer Sammy Chang (as Juzui brand creative director) and Japanese designer Yoshio Kubo (as the creative director of Anzheng menswear).
Anzheng Zheng says that working with global talents comes down to 'compatibility'. For fashion companies, professionals from abroad – such as Europe and Japan – are overall more skilled than those in China, so there is no need to be over-concerned about their expertise. 'We had brought foreign professionals on board over a decade ago, and we know it takes time to navigate. When working with designers from overseas, my advice is to first see whether the designer is compatible with the brand identity and DNA, and then whether his or her personality will offer a smooth cooperation'.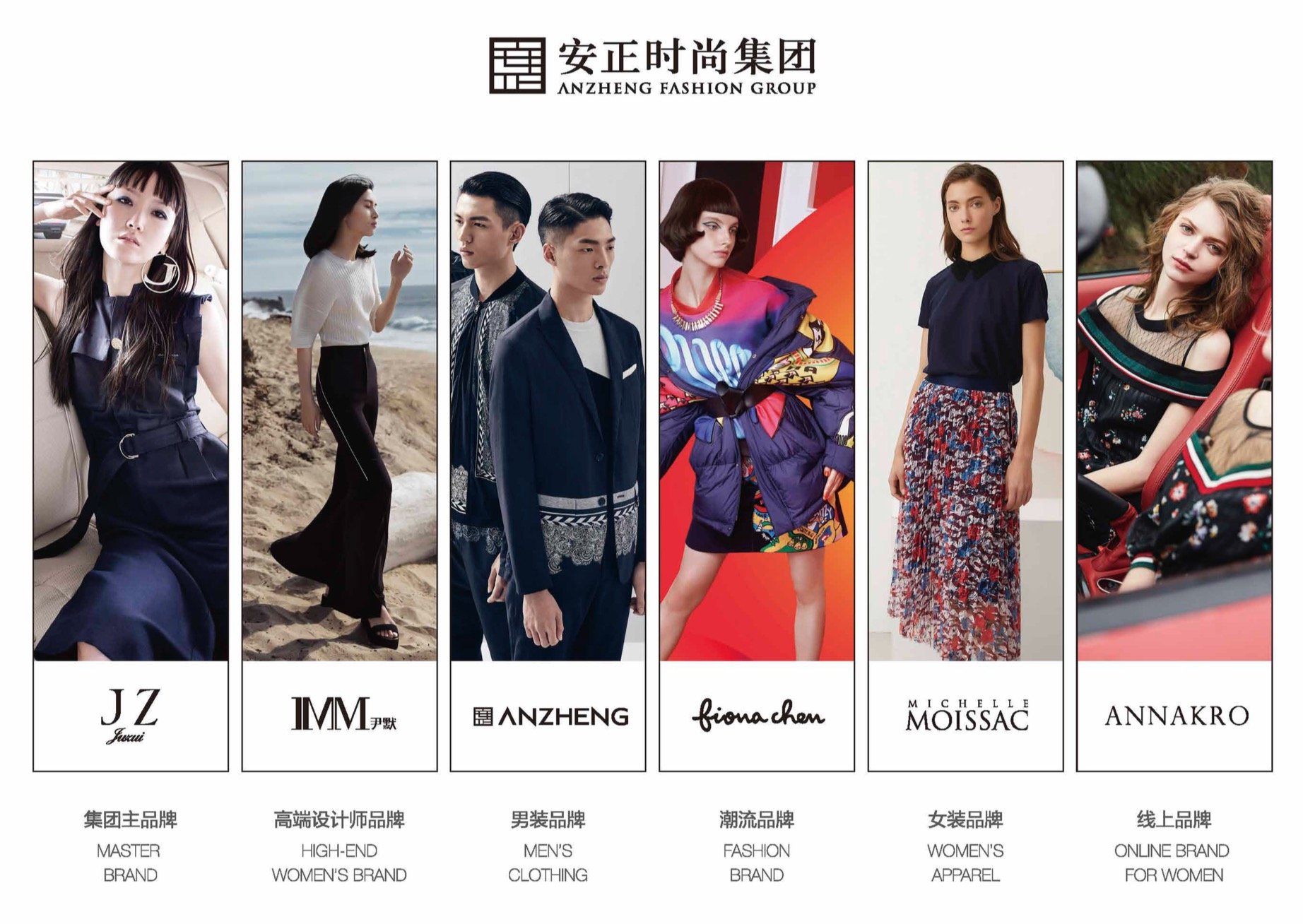 Endogenous growth plus cautious diversification
The Anzheng Fashion 2017 annual report states that 2018 is a year for investing in a strategic layout. The company's main focus is on improving the corporate brand matrix and expanding the product categories.
The group's current six brands differ from each other with regard to positioning, style and target consumers. It is crucial to grasp the tempo, aim for the right timing and make firm decisions when it comes to diversified growth. Anzheng Zheng believes that 'to become the world's leading fashion group, we cannot limit our products to apparel. We have now increased our investment in accessories, and plan to prepare for research and development via cooperation such as joint ventures. When the time is right, we will enter other fields including jewellery, accessories and makeup, to provide a holistic one-stop shopping experience for consumers'.
This February, Anzheng Fashion announced the establishment of Jinrun Fashion with Runxiang. The two companies will co-manage overseas apparel brands.
By leveraging partners' capabilities and resources in the long-term management of global brands, Anzheng Zheng explains, the joint venture will contribute to the future growth of the group. For instance, the joint venture's boutique could provide information to the group about the latest global fashion trends. It could also complement the group's apparel brands, for instance helping to enter the accessories field by becoming a distributor, and then moving forward from the brand's standpoint.
The annual report also reveals the continual growth in the brands' billing. The target audience for existing brands ranges from 20 to 50 years of age, which means that tremendous potential remains for development. Several brands could also experiment with expanding into other products. For example, at the Spring/Summer 2017 Fashion Show for the group's young designer brand FIONA CHEN, matching family outfits that included children's apparel were showcased.
Anzheng Zheng says, 'the group has not yet initiated large-scale acquisitions and mergers, as we are still prudent about acquiring new brands. In recent years we have been relying on internal growth, and if current growth continues, we plan to realise the globalisation of all current brands in the next three to five years'.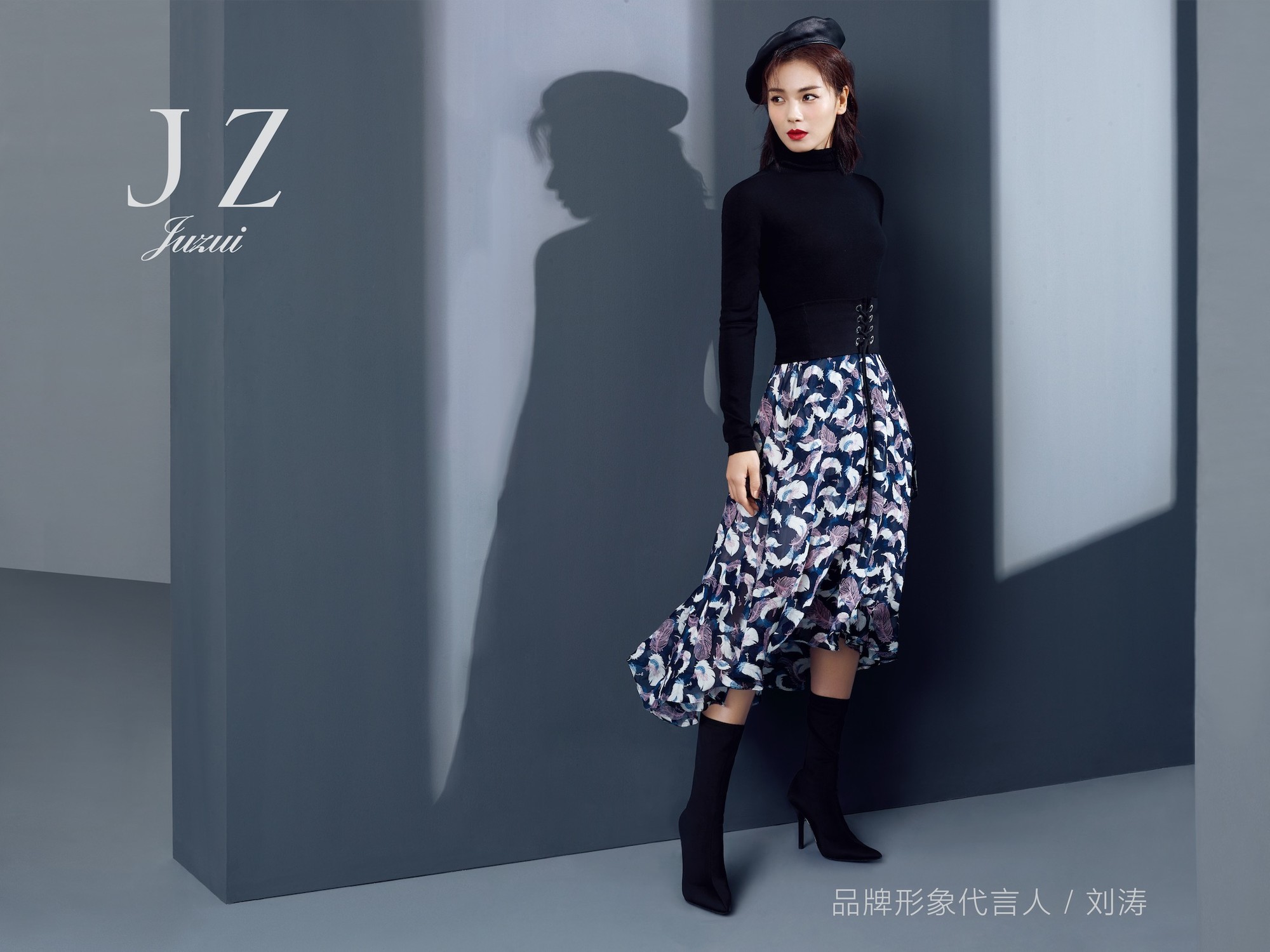 Inject oriental essence, revive Chinese brands on the global stage
Recently, the actress Liu Tao officially became the first brand ambassador of the group's leading brand, Juzui. 'Liu Tao's image fits well with Juzui', Zheng says, 'she is confident and strong'.
The demand from the Chinese mass market has been spiralling upwards. With a mid to high-end ladies' fashion positioning, Juzui, has seen a continual rise in its in-store sales. From the Milan Fashion Week to the first brand ambassador, Juzui is going through a crucial branding upgrade. Anzheng Zheng also noted their plans to increase investment in branding, as 'the most important for a mid to high-end brand is to build its own brand feature.
'Aside from MICHELLE MOISSAC, our brands have been emphasising the oriental essence, and trying to be in touch with Eastern cultures in terms of style and image. We hope that after a series of rearrangements and refinements, our corporate culture will become concentrated, and that wherever we expand, the oriental essence in our brands will differentiate us from European brands. It's especially important to present the Eastern aspects of brands after going global'. With regard to the group's brand value, Anzheng Zheng shares with us that the rise of Chinese brands cannot take place without the confidence of entrepreneurs. That must also be his initial motivation behind starting up in China's fashion industry.
Zheng once explained to the media the origin of Anzheng menswear: 'Almost all the clothes I wear are my own brand. I hope that my brand can be respected, and that consumers will recognise that our products are a good buy, as well as our brand values and contribution to society. A brand must be honest and truthful, thus when registering the trademark for Anzheng menswear, I wanted consumers to know immediately on seeing the name that it is a Chinese brand. Even the logo is square-shaped like a Chinese seal. I wanted to make something that belongs to my culture'.
On how fashion brands could achieve long-term development through innovation, Anzheng Zheng shares with Luxe.CO:
'I think the key is to achieve periodic growth regularly. This growth is not brought about by simple methods such as changing designers or management, but via closely following global trends, enhancing corporate structure, and building globalised branding'.
Zheng believes that a company's long-term future growth depends on the core factor of internal control mechanisms, which he has been giving thought to and has been studying. 'Anzheng Fashion's future brand development relies on internal control mechanisms and management, while at the same time promoting global thinking, verifying brand values and development plans, and understanding consumer needs'.