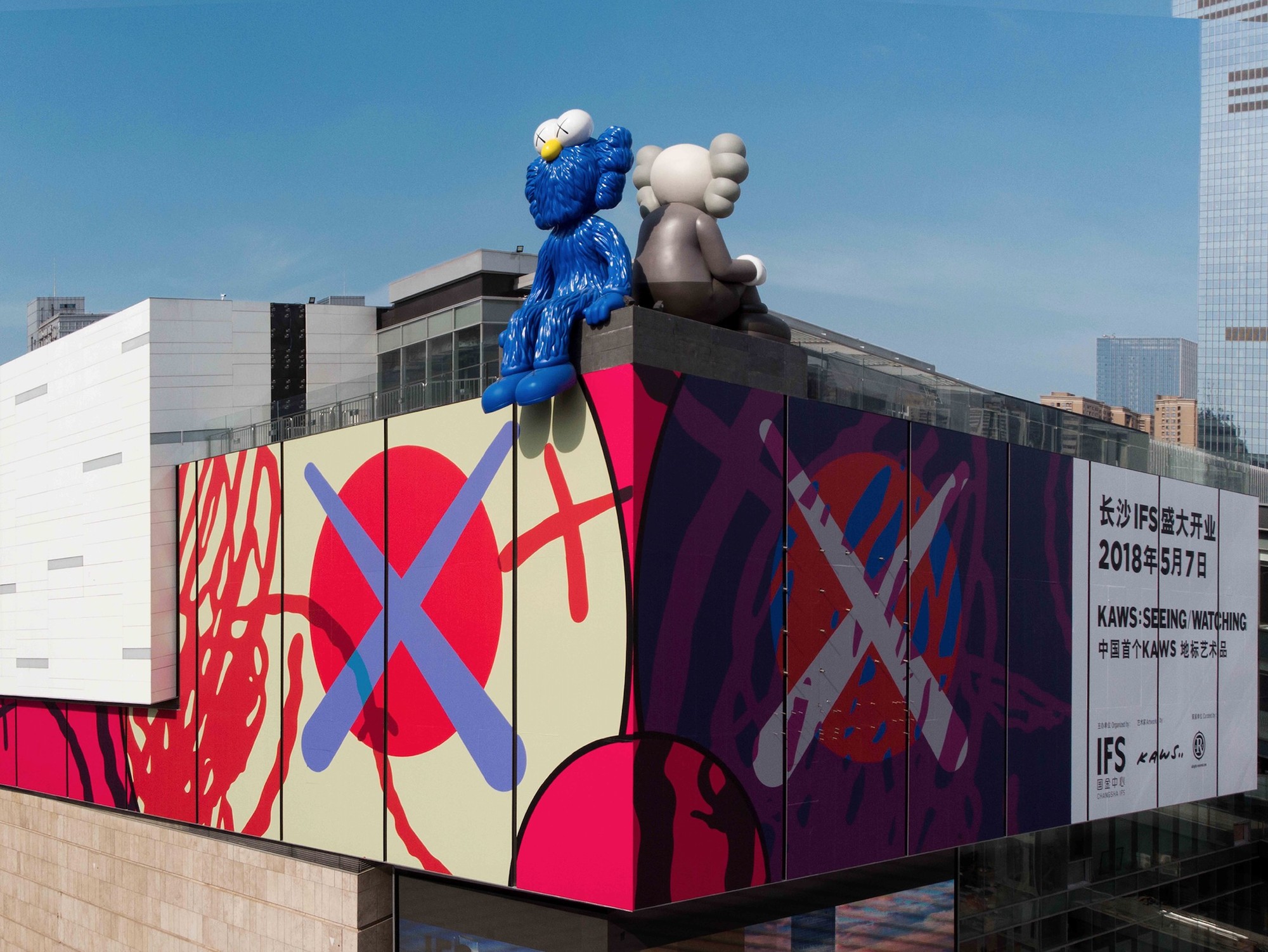 Seven years ago, a land acquisition transaction was paid extensive attention by the commercial real estate industry: The Wharf Holdings from Hong Kong bid for a piece of land in the central business district of Changsha at the price of 5.6 billion RMB, and will build its first IFS in central China.
About The Wharf Holdings
The Wharf Holdings was founded in 1886, and is known for its ability to create 'shopping paradise'. Hong Kong's Harbour City and Times Square are the company's masterpieces. After entering Mainland China, The Wharf (Holdings) focused on creating a new flagship commercial real estate brand, IFS. IFS Chengdu, which opened in 2014, has been the top performer for four years running. In 2017, its sales exceeded 5 billion RMB.
On 7 May, Changsha IFS was opened in a blaze of publicity. It is the biggest investment made by The Wharf Holdings, as well as the tallest building and the largest area owned by the company. It was a Monday, but the new IFS was packed with customers, which suggests an attraction hard to reach by other retailers in tier-1 cities.
The fierce competition among commercial real estate developers is about the abilities of site bidding, branding and marketing. The Wharf (Holdings) not only has substantial abilities in these aspects, but also has a secret weapon: exploring the possibility of combining art and retailing. On the opening day of Changsha IFS, an art promotion event in collaboration with the artist KAWS, brought customers a memorable cultural experience. This provided a high level of interaction, while increasing footfall and creating a virtuous cycle of emotional connection and desire for purchasing.
During our interview, the Vice Chair of The Wharf Holdings, Yufang Li, told us: 'there are a lot of real estate developers in China that have a massive amount of money, but our advantage is that we can adopt a lot of creative ways to promote and present people something tasteful'.
After Chengdu, it's Changsha?
Of all the tier-1 cities in China, Chengdu is the favourite for luxury fashion developers. After the 'gold rush' in Chengdu, everyone is trying to find the next Chinese city with the potential for luxury retail. After The Wharf Holdings made its biggest investment – which was worth more than 20 billion RMB – in Changsha, there is another option on the list.
The Wharf Holdings prefers 'new tier-1' cities, which are experiencing a lifestyle upgrade. Before Changsha, the company chose to locate four other IFS in Chongqing, Chengdu, Suzhou (mainly residential buildings) and Wuxi (mainly office buildings). IFS Chengdu was a major success, the revenue from which has grown rapidly every year.
Similar to Chengdu, people in Changsha also have a lifestyle rich in entertainment, enjoy spicy food and enjoy a relaxing and fun life. The house prices here are even cheaper. In 2017, the GDP of Changsha exceeded a trillion, and the government encourages consumption. Before IFS Changsha, there was no department store providing a wide selection of international luxury brands.
Recalling her thoughts when visiting Changsha for the first time eight years ago, Ms Li still remembers how surprised she felt: 'Walking down those streets, I saw so many small eateries selling barbecued meat. The owners even danced when doing business. That's how I know how much people in Changsha enjoy their everyday life. Changsha is called "the capital of entertainment", and people love to entertain themselves. This could be influenced by Hunan Television. When there is entertainment, there are business opportunities. People in Changsha like to spend money, but they have no big department stores to visit. That's how we found this opportunity.
'There are a lot of similarities between Changsha and Chengdu. For example, people in both these cities enjoy a fun lifestyle. In the long term, as well as the location, management and operation are strong; the investment will be paid back. I believe that IFS Changsha will also be a success'. Ms Li is confident.
According to the 2017 financial report of The Wharf Holdings, its net profit in 2017 surpassed 12 billion Hong Kong dollars, of which 68 per cent was from Hong Kong and 32 per cent from Mainland China. The core earnings of the company had grown by 36 per cent, 10 per cent of which was from real estate investment in Mainland China.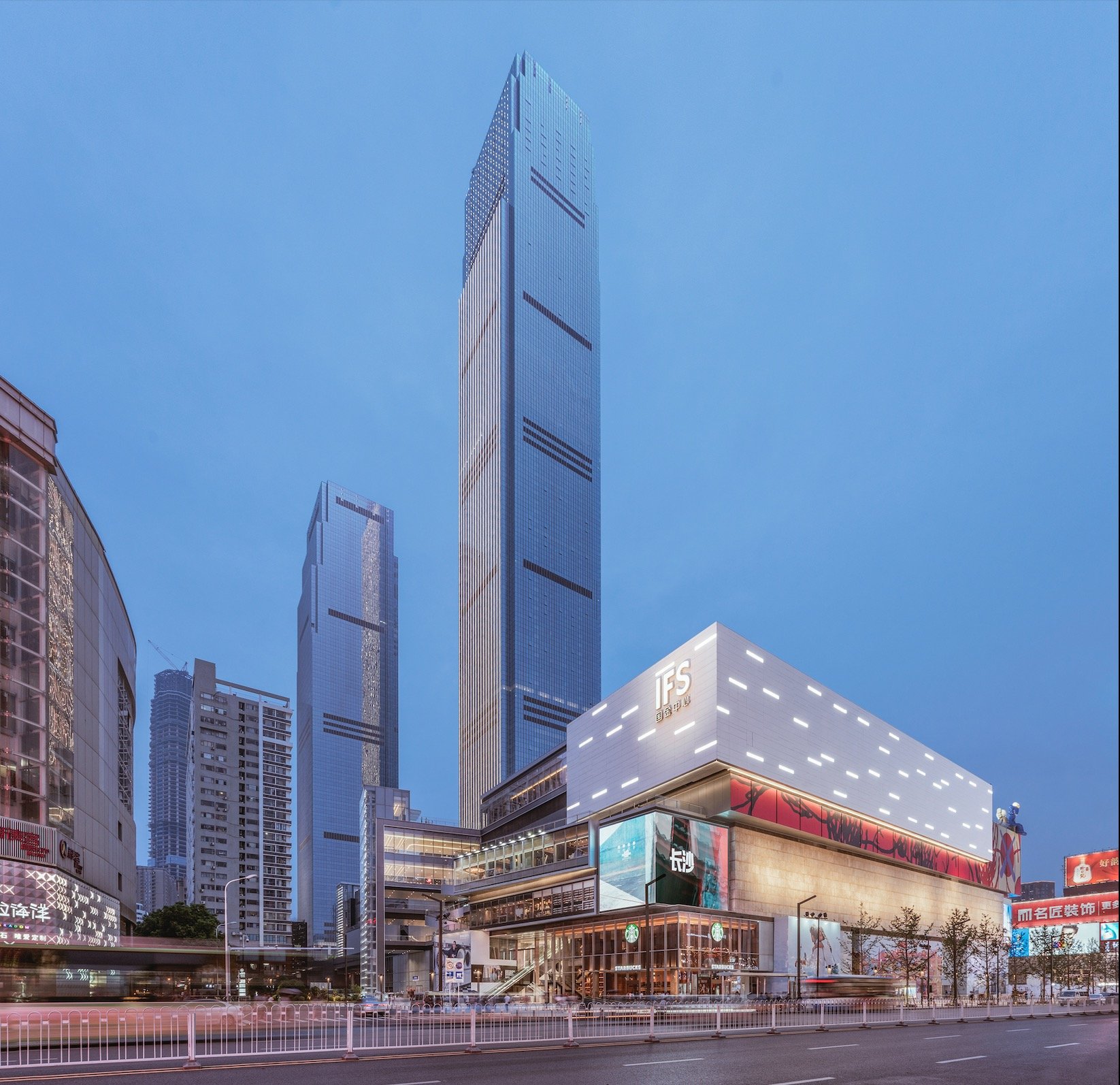 Hermes comes to Changsha for the first time
Among the 400 brands IFS is introducing to Changsha, 70 are coming to Hunan for the first time and 20 are coming to Central China for the first time, which includes the top luxury brand Hermes.
Ms Li thinks that these top brands have set their focus on the purchasing power of people in Changsha.
'I think it's partly because of the fact that the house prices in Changsha are relatively stable, which leaves people with a higher disposable income. Also, people here spend a larger portion of their income on luxury products compared with other cities in the same tier'.
In the interview, Ms Li told us that the brand recruitment for IFS Changsha was very smooth.
'Based on the many years of experience of The Wharf Holdings, we have established a great relationship with numerous well-known brands. International brands attach great importance to the credibility of the operators. During our daily communications with the brands, our team makes notes about their preferences so that we can cater to their needs. That's how we always reach a collaboration with them naturally'.
As a high-end commercial multifunctional building, IFS Changsha will not separate brands at different price points, but will separate luxury brands and affordable luxury brands with a make-up products area.
'Because all the brands want more footfall', Ms Li said. 'Although we are not a department store, we have the same mind set. We'd like people with different levels of purchasing power to have the same great shopping experience'.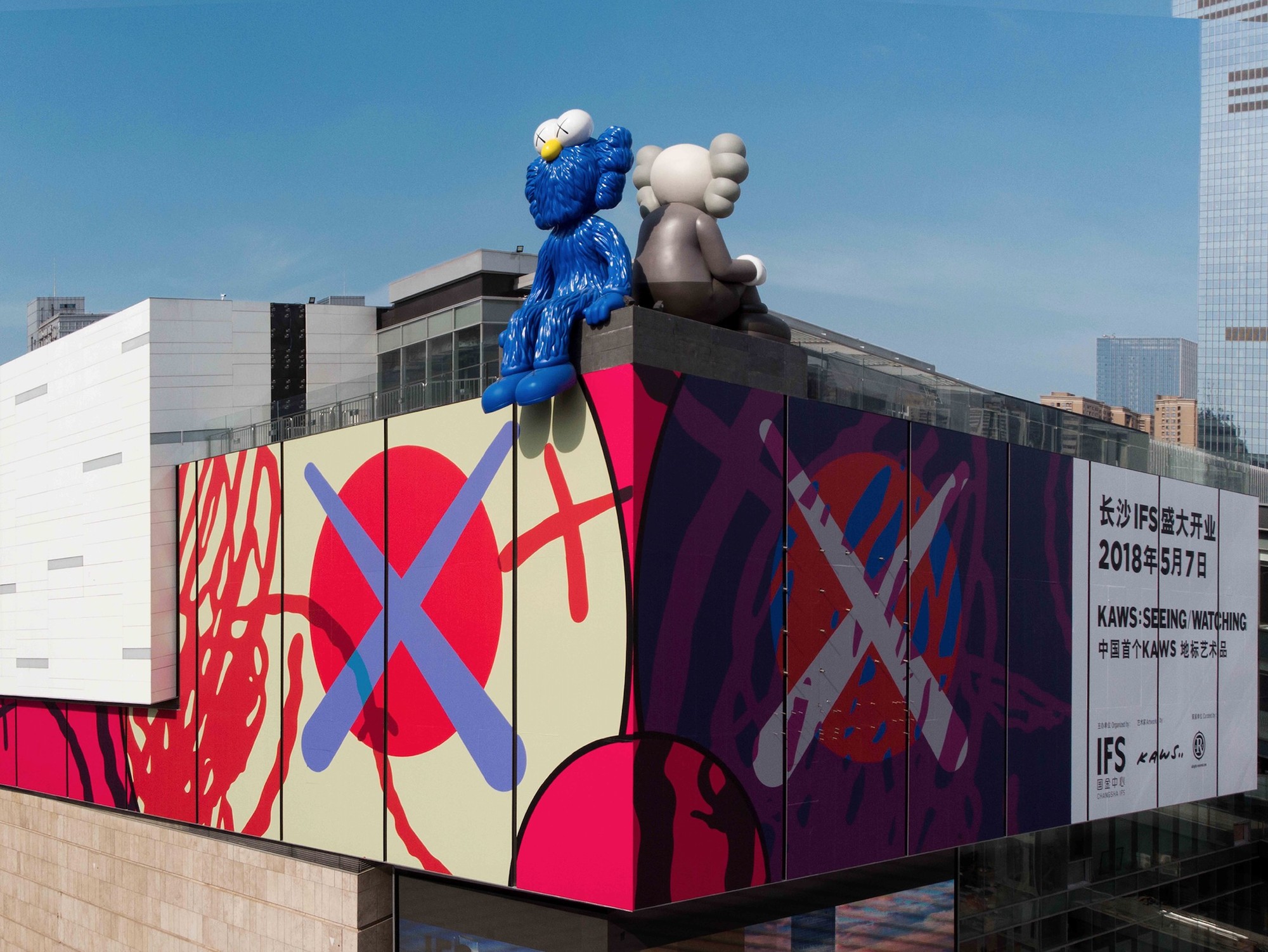 Creating another art landmark: collaborating with the artist KAWS
A special skill of The Wharf Holdings is to combine art with business, and create a unique image for each shopping destination. For example, the art installation I AM HERE, on the building of Chengdu IFS, features a panda climbing the wall. This is a work by the artist Lawrence Argent, and has become one of the must-go places for people visiting Chengdu.
Of course, you have to understand people to touch their heart. Ms Li took the panda installation as an example. 'See global, think local. We used a different way to promote this panda, which was more trendy. The charity perspective also attracted many celebrities, which was very effective'.
This time, for the launch of IFS Changsha, we have collaborated with an art curation organisation, AllRightsReserved, and have invited the artist KAWS to create his first giant bronze sculpture in Greater China: SEEING/WATCHING. The sculpture is a combination of KAWS' two representative works, COMPANION and BFF, and will be located in the sculpture garden on the seventh floor of IFS Changsha.
This is not the first collaboration between KAWS and The Wharf Holdings. 'Eight years ago, an associate had introduced us to KAWS, who wasn't that well-known at the time. He was a graffiti artist based in New York, whose work was admired by a lot of famous entertainers. We worked together for the first time to build the fibreglass sculpture in Harbour City. We also curated an exhibition for him in Times Square, Shanghai. Afterwards, he became more and more famous. That's how we had the idea of having him create a piece of art for IFS Changsha that is different from anything else you'll see in a department store'.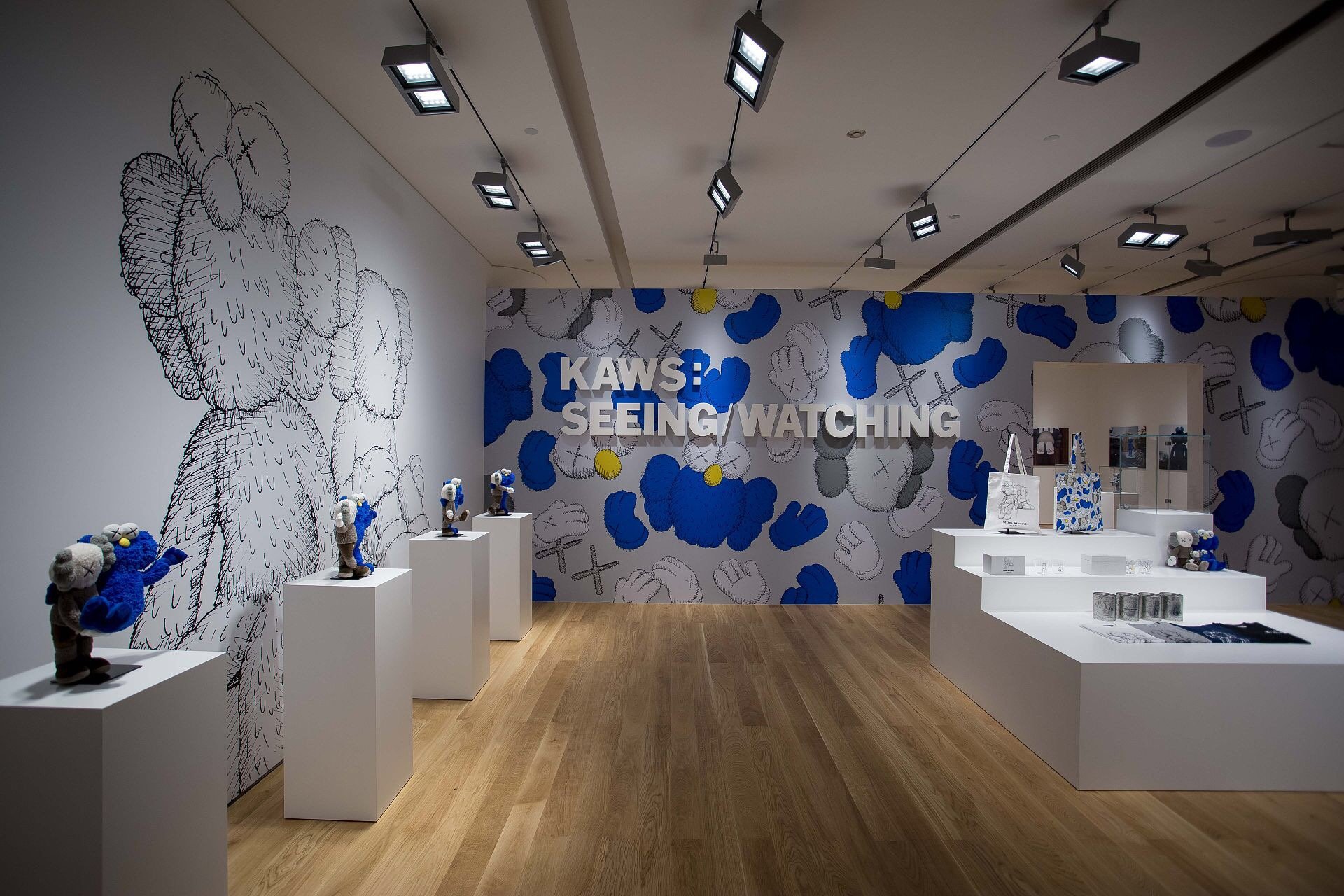 The innovative marketing of The Wharf Holdings
The Wharf Holdings sees the promotion of culture and art as a social responsibility and explores the possibility of combining art with business. According to Ms Li, The Wharf Holdings was the first commercial real estate company to hold interactive promotional events, starting more than 20 years ago.
IFS Changsha launched the WeChat iShop platform, which is a mobile shopping platform that sells elaborate products authorised by internationally well-known artists. The goal of this platform is to provide high-quality officially authorised products from artists, as well as providing a good online shopping experience, rather than just to promote IFS Changsha or gather followers.
For many years, The Wharf Holdings have been innovating their ways of promotion and enhancing the shopping experience for their customers, which had been recognised by the industry.
Talking about the future trend for commercial real estate, Ms Li stresses the two key words, 'intellectualisation' and 'Youthisation'. She stated: 'China's IT industry has been developing at a fast pace. To cater to the younger generation of consumers, department stores will use more information technology in their design and make themselves "smarter". "Youthisation" is also another unstoppable trend. This doesn't just mean the actual age of the consumers, but their mindset. That's why department stores are starting to introduce trendy brands, targeted at younger customers'.
About The Wharf Holdings
Founded in 1886 as the seventeenth firm to be incorporated in Hong Kong, The Wharf Holdings is a premier company with a long history and has Hong Kong as its base. The core businesses of the company, Harbour City and Times Square in Hong Kong, contribute 10 per cent of Hong Kong's total retail revenue. With total assets of around 450 billion Hong Kong dollars, the company's business also covers logistics, hotels, telecommunications, media, entertainment and public transport. The Wharf Holdings is also investing in a number of commercial real estate projects in Mainland China. Apart from Time Square in Chongqing, Dalian, Shanghai and Wuhan, it is endeavouring to develop its flagship commercial real estate brand, IFS, which has been launched in Chengdu, Chongqing, Changsha, Suzhou and Wuxi.
About KAWS
KAWS is a globally well-known artist, from Brooklyn, New York. In 2017, his works were auctioned for 6.20 million dollars in total, putting him in thirty-fifth place on the chart of global artists. On 9 March 2017, his 3-metre tall sculpture, made from FRP resin and rubber coatings, was auctioned for around 6 million RMB, which broke the artist's record and started a global trend for collecting his works of art.