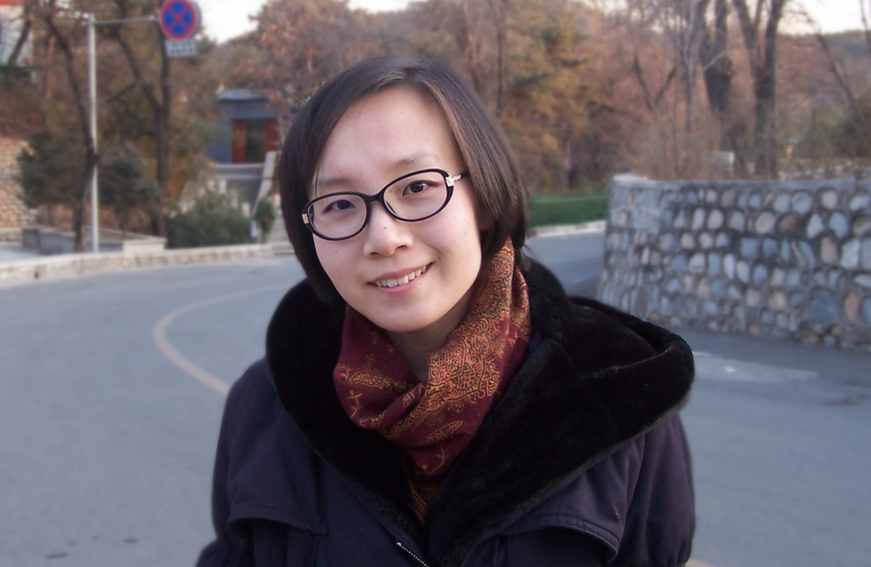 Ms. Chen Zhan has over 10 years of experiences in the media and the art industry. She has held senior positions at China International Gallery Exposition, Today Art Museum, and Schoeni Art Gallery previously.
Ms. Zhan established the integrated art-resource platform SMART ART in 2014. Collaborating with outstanding artists, galleries and museums in China and around the world, she provides an open platform and works with commercial real estate developers to promote art display in public space.
In 2016, Ms. Zhan established "Zao Shi", aiming to reinterpret traditional culture by integrating the forces of art and designers, while helping craftsmen  create products which preserve traditional culture and adapt to current market demands, in order to achieve sustainable development.
This issue pf "Luxe.Co Talks" invited Ms. Chen Zhan to tell us how to build a top integrated art-resource platform, to promote contemporary art in commercial space with innovation, and to present and rejuvenate traditional culture with contemporary visual art in the commercial market.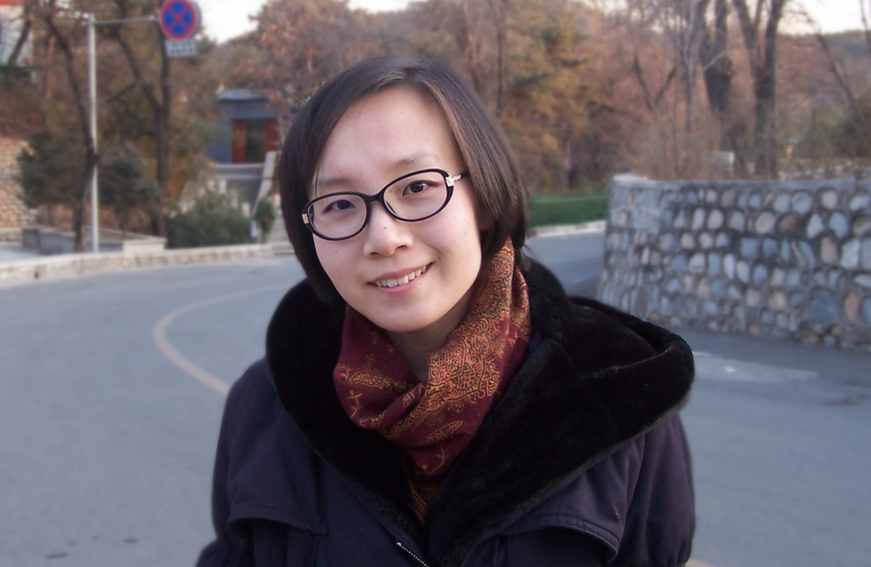 Photo above: Ms. Chen Zhan, founder of SMART ART and Zao Shi
Contemporary art entering the space of commercial real estate
The creation of SMART ART is, in part, originated from Ms. Zhan's visit to one of exhibitions of Schoeni Art Gallery in Beijing in 2012, which has a big impact on her career and pursuit in art.
Schoeni Art Gallery set up a temporary exhibition space at Parkview Green in Beijing in 2012, before the shopping center was officially opened. This was the first time for Schoeni Art Gallery to host an exhibition in public space. Schoeni Art Gallery was also one of the first batch art institutions to carry out this experimentation. Art exhibitions are usually held at galleries, and more for professional audiences. Ms. Zhan explained her new discoveries from this trial.
Although it was the first time to hold an exhibition in public space, the flow of normal audiences was far more than expected. The audiences' knowledge and understanding of the art also exceeded expectations;
The cooperation between Parkview Green and Schoeni Art Gallery was also the first experimentation in commercial space. The main contributor was Mr. Jianhua Huang, who was the late founder Parkview Green. His love for art inspired him to display his personal collections at public space and so on. The trail  has played a big role in promoting public art in Beijing and even the entire commercial real estate sector in China.
This also had a big impact on Ms. Zhan. She wished to come out of the original framework of the art system and to listen to more voices from outside and public audiences other than galleries and collectors.
Ms. Zhan and her architect friends set up SMART ART in 2014. Through collaborating with outstanding artists, galleries, museums in China and around the world, SMART ART provides public art activities and products, including art leasing, public art festivals and art derivative product customization and so on, aiming to promote the application and popularization of contemporary art and design in public space.
"Public art needs to understand, integrate and innovate art, real-estate, and mass media and so on," said Ms. Zhan. "In addition to passionate vision and experimentation, one has to face many difficulties and details in the implementation process. We were lucky and survived. " In the past few years, SMART ART has provided art and design consultancy services to a number of art real estate projects, and participated in the creation of "Art Our Life", the art and design activity brand, and hosted the first "Art Our Life" festival successfully, which was a key project in Beijing International Design Week in 2015.
Nevertheless, Ms. Zhan thought that 80% of the information which she wished to convey to the public through public art, was not delivered in the past two years. Part of the reason was due to the reality. "Aesthetic is a very personal matter. In the process of our cooperation with real estate developers, our views and angles were not exactly the same. Therefore, I also need to understand and adjust constantly." said Ms. Zhan.

Photo: SMART ART participated in art real estate projects

Above: The "Art Our Life" festival at Wanda Plaza in 2015
Contemporary art reinterpreting traditional handicraft techniques
Ms. Zhan participated in a few intangible cultural heritage projects on traditional handcraft technique innovation, which were advocated by Ministry of Culture at the end of 2016. Through these projects, she got to know and understand this area, which was not familiar to her previously. In these projects, she assisted in introducing a number of designers to collaborate with intangible cultural heritage projects and to recreate traditional culture. For example, two Millennial designers Peng You and Xue Tan, who graduated from Central Saint Martins, designed Bang Ding rainbow shoes and screens, inspired by Tibetan women and Tibetan symbolic decoration Bang Ding. This provided more imagination potential for the re-innovation of traditional handicraft techniques.
Many of the designers involved in these projects are Millennial generation. "When we talked about the intangible culture heritage, we always worried that the young generation may not understand. Actually, I found that they were very interested. The problem was there were not many channels of contact." said Ms. Zhan. After the project, she found that there were still a lot to discover behind intangible culture heritage. In her view, this is the link between traditional handcraft techniques and modern life and culture, which can be presented in the form of art and design.

Above: the re-innovation project of Zao Shi x Xinjiang intangible culture heritage
Compared to SMART ART, these traditional innovation projects inspired Ms. Zhan to create a more focused and dedicated platform to connect traditional culture and the modern world. Therefore Ms. Zhan established "Zao Shi" in 2016. After more than a year of exploration, "Zao Shi" will present a series of exhibitions and events in Beijing, Shanghai and Milan in 2018. These include the large exhibition of the traditional handicraft techniques and culture of Miao ethnic group from the perspectives of art and science, as well as "China Garden", a contemporary art project to re-innovate tradition, aiming to create an international multi-culture dialogue. These projects will give the general public a brand-new perspective to view Chinese history and culture.
There are thousands of traditional handicraft techniques in China. In this huge treasure library, there are many worth developing and presenting. "Zao Shi" will focus on the contemporary shift of traditional culture. "We think that artists are most likely to break through from their original boundaries while working on intangible culture heritage projects." said Ms. Zhan.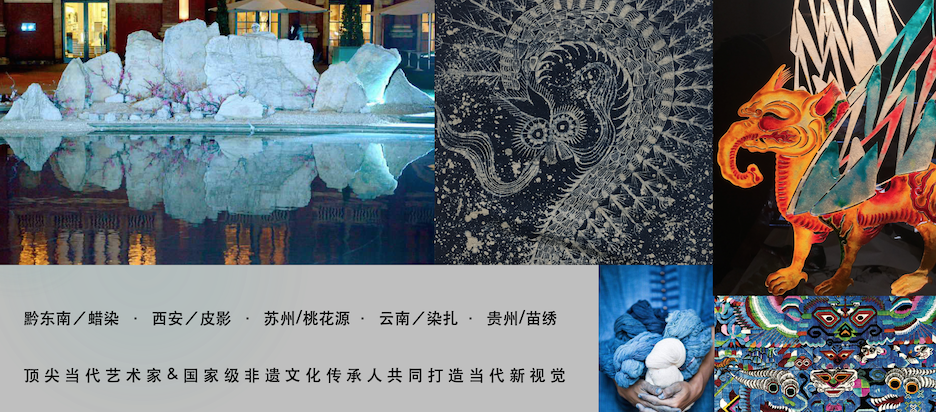 Above: Presenting shadow-arts, batik, embroidery, stone carvings and other Chinese intangible cultural heritage with a more contemporary life and visual approach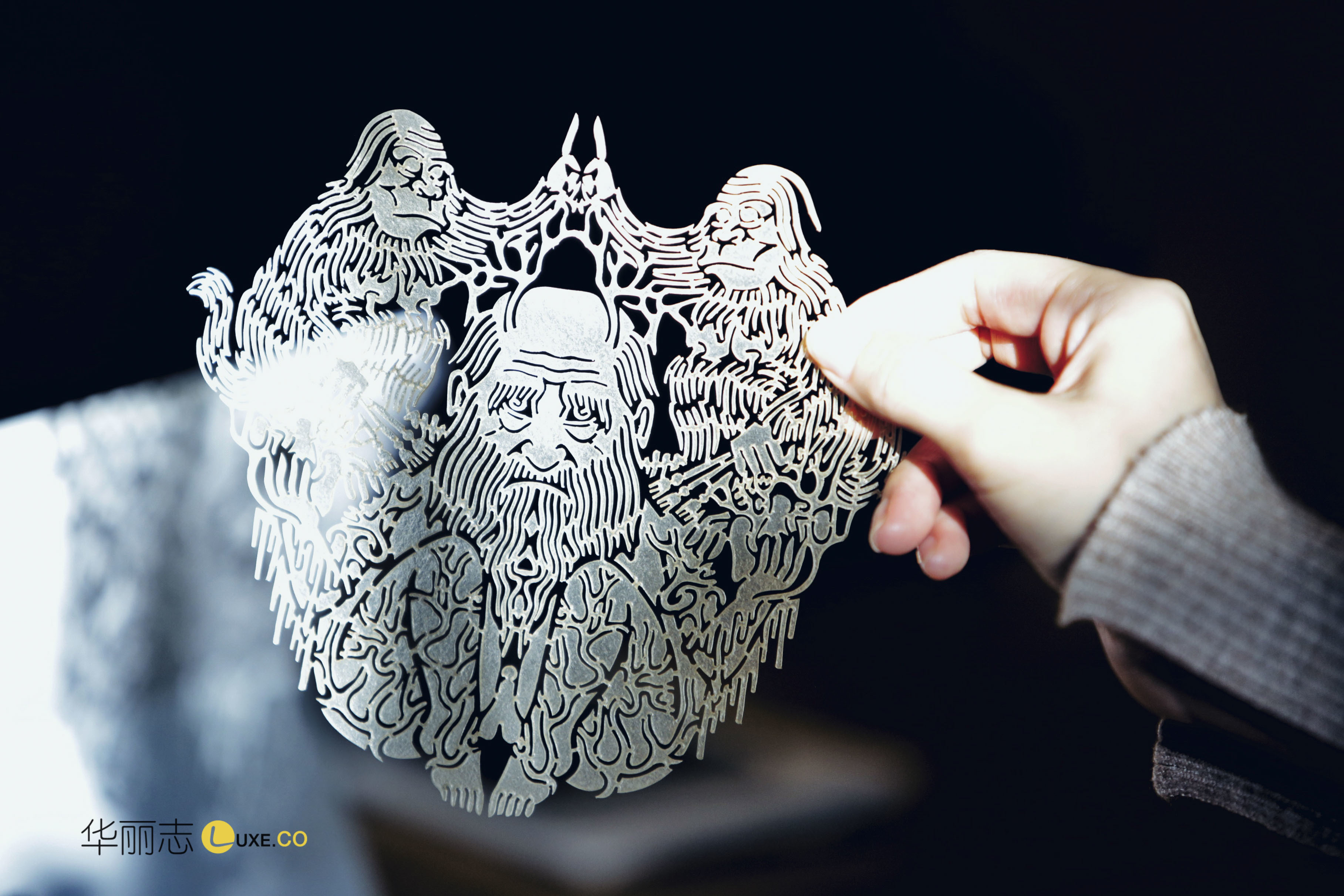 Above: Presenting traditional handcraft works at "Luxe.Co Talks"
Contemporary art and commercial world
In the second part of "Luxe.Co Talks", the audience had a wonderful conversation with Ms. Zhan. Part of the dialogue is summarized below.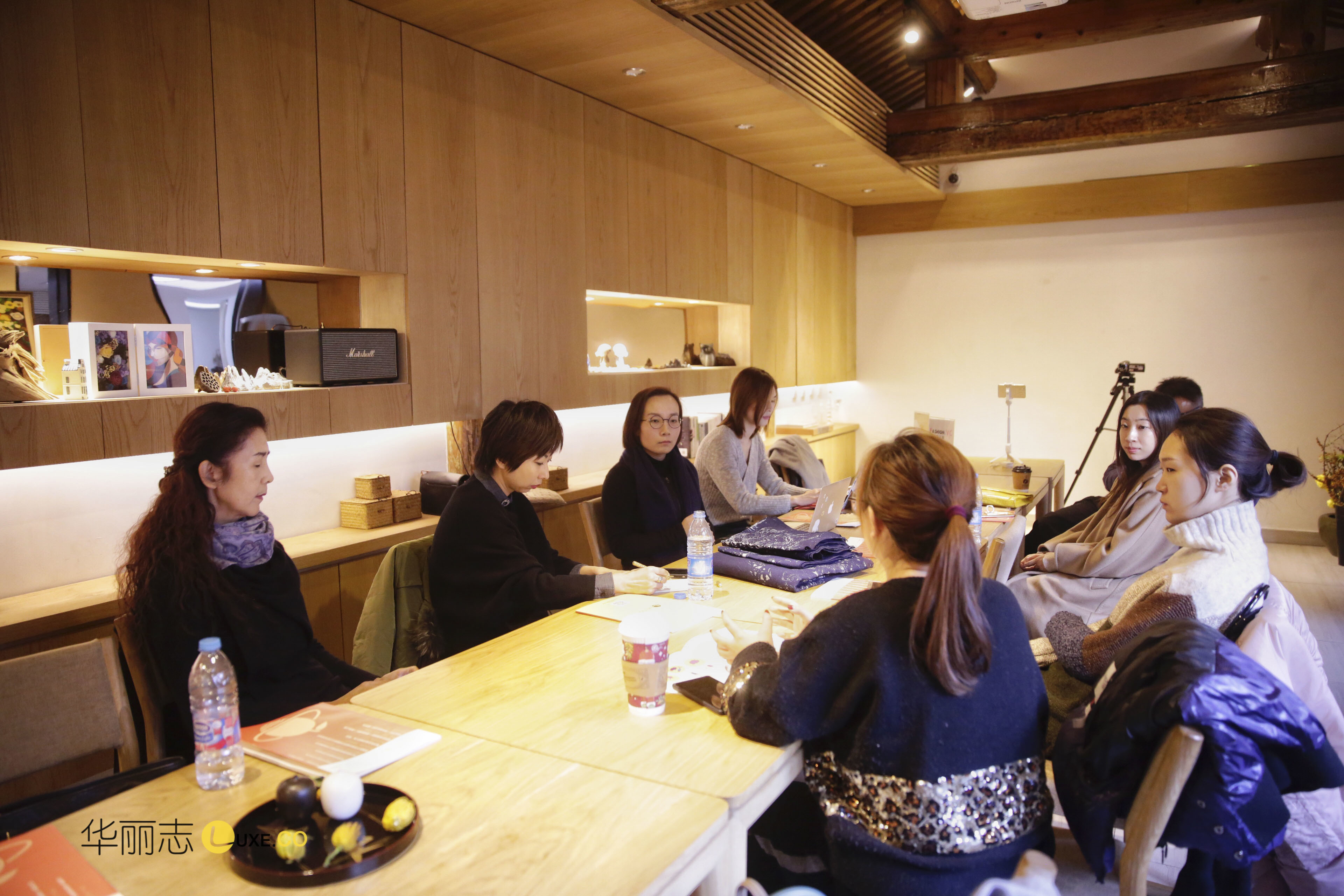 At present in the art derivative market, the recognition level and market channel are relatively narrow. There are certain gaps in the level of acceptance. How do you overcome this practical issue?
Zhan: I have to try hard to overcome this problem. The general public need more promotion and understanding for contemporary art. In my opinion, public space (including real estate companies and so on) will definitely be long-term cooperation target for contemporary art. We will pay more attention to traffic in public space and take reference from exiting new-retail models (such as Parkview Green and K11). We will try expressing the message we want to convey through a new language, while fitting the pattern of public space.
When contemporary art enters commercial real estate and shopping centers, how to attract more traffic?
Zhan: Today there are many outstanding developers trying and exploring. They are doing very well. We have talked to the real controller in the real estate field. First of all, you must connect and resonate with the young generation today. Secondly, the overall design needs to have good interaction with property developers.
Let's take the Monet exhibition held at K11 Shanghai three years ago, as an example. The series of figures behind the exhibition are astonishing. It was reported that there were 400,000 people visiting the exhibition, which drove the sales of the shopping center to increase by 20%. The derivative product income amounted to 39.6 million yuan. In our mind previously, exhibition is to invest with a sentiment. But the Monet exhibition did a good job attracting the general public overall. The business operation did well too and attracted many other real estate developers to host art IP exhibitions. Monet exhibition was outstanding from the perspectives of the exhibition itself and its public influence.
Is there a high entry barrier for contemporary art into commercial real estate?
Zhan: This depends largely on the person in control. For example, the owners of K11 and Parkview Green are both art enthusiasts. Mr. Zhigang Zheng, the owner of K11 has been experimenting with exhibitions. He has good relationships with many young artists, and works with many international art resources, including Centre Pompidou. In this kind of commercial complex, from the top owner level, they are fond of art. The general public can feel their distinctive temperament. In addition, this also need other staff's implicit understanding of real estate and the art, in order to progress together.
About "Luxe.Co Talks"
At the afternoon tea hour of each Friday, Luxe.Co arranges "Luxe.Co Talks", inviting one guest speaker, who is innovative opinion leader in the fields of fashion, culture, design and lifestyle, as well as seven Luxe.Co elite readers. Each with a brilliant question, they will join an in-depth and high-quality themed communication with our guest speakers.
Photos provided by the guest speaker and Luxe.Co
丨 Chinese Editor: Ruoyu Zhu