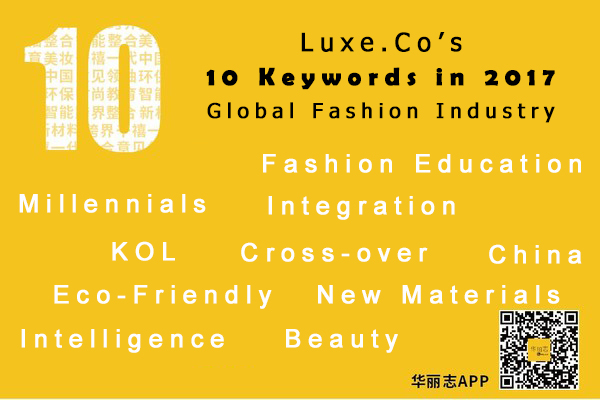 While the intelligence of mankind being constantly elevated, the key elements in the field of fashion business, i.e., people, brand, capital and product, have also encountered unprecedented challenges and transformation in their operation models and boundaries. In addition to presenting the key development and milestones of global fashion business in the past year, Luxe.Co also concluded 10 keywords for 2017 in the global fashion industry.
Keywords about People: Millennials, KOL, Fashion Education
Keywords about Brand: Enterprise, Cross-over, Integration
Keywords about Capital: Beauty, China
Keywords about Product: Eco-friendly, Intelligence, New Materials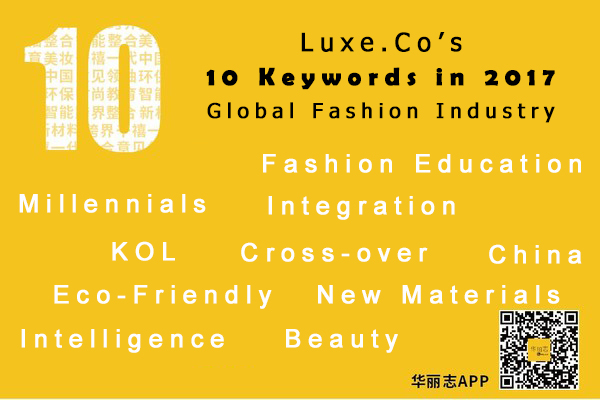 Key Word #1: Millennials
In the past year, millennials have been the focus of global fashion retail and lifestyle sectors. Young people, led by millennials, have strong request for self-expression and distinctive aesthetic appeal, and are keen to share publicly through social media. Their lifestyle and consumption behavior have constantly pushed further the cognitive boundaries of the brand, and had increasingly strong influence on brands' operation strategy, communication approach, product design, and market positioning.
Note: Millennials (the millennium generation), especially those born between 1984 and 2000, are also known as Generation Y. They grew up together with the internet age and have become the major force in fashion consumption currently.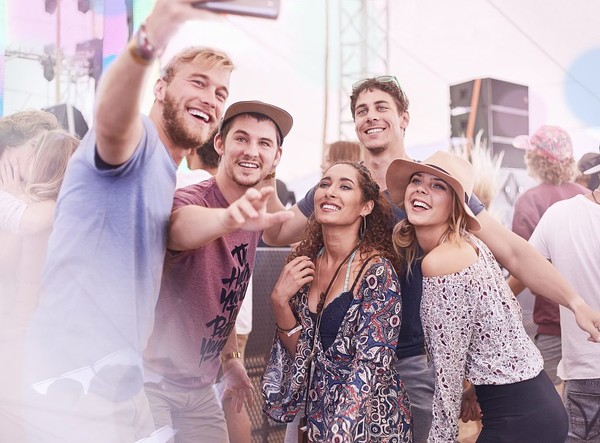 Keyword #2: KOL
Key opinion leaders (KOLs) continue emerging among the young generation. They are favored by brands and consumers. Some of them even become a special group gaining extensive attention and funds matching celebrities. How to facilitate this group is the focus of all the brands.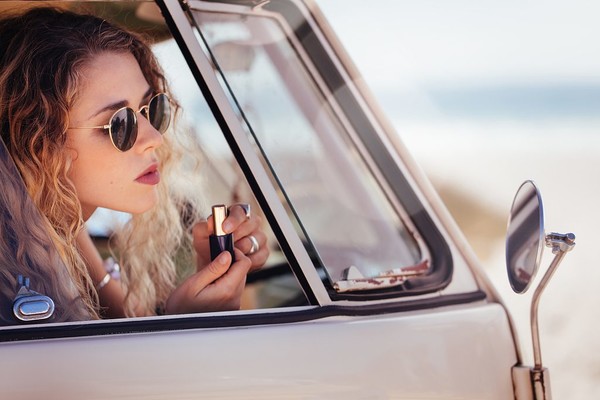 Keyword #3: Fashion Education
Led by millennials, the young generation, have gained all kinds of information and practiced trial-and-error in a fast pace. However, in order to become the main forces in the fashion industry, they are still in need of time and systematic guidance from experienced practitioners. Fashion education is one of the keywords in 2017, and also one of the contributors for Luxe.Co launching the world's first fashion business and entrepreneurship school in May 2017, Orange Bay University.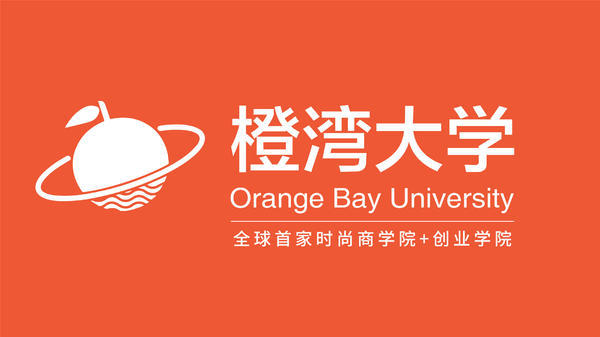 Keyword #4: Cross-over
While the way and the efficiency of people's access to information being transformed, the process of brand recognition, loyalty and ignorance has speeded up. In order to enhance brands' presence and reach consumers minds, brands have to constantly break through their brand image and boundaries. There have been many exciting cross-over collaborations in 2017. For example, the collaboration between the French classic luxury brand Louis Vuitton and the American streetwear brand Supreme attracted countless attention and discussion.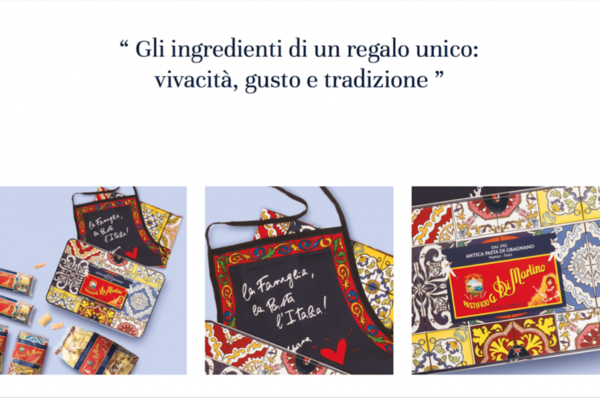 (Image above: Dolce & Gabbana collaborated with Italian pasta maker Pastificio di Martino and launched limited edition pasta and apron sets)
Keyword #5: Integration(M&A)
HSBC mentioned in their report in earlier 2017 that the performance of luxury brands presented two extreme states, "excellent performance" and "struggling". With the highest valuation in a decade, massive cash flows, low interest rates and a shift in the luxury business model (from new stores to organic growth), there will be more and more mergers and acquisitions cases in the future.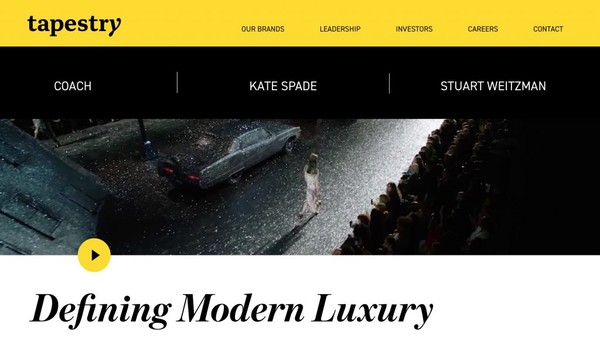 Keyword #6: Beauty
The statistics of Capitalmind showed that there were nearly two mergers and acquisitions cases occurring every week in the global beauty industry in 2017. The tracking report of Luxe.Co shows that the world's leading companies in the global beauty industry, L' Oréal, Estée Lauder, Coty, Shiseido, Henkel, and especially Unilever are all very active trading parties. Through acquiring emerging beauty brands, they expect to boost sales growth, gain innovative forces, and expand market shares among the new generation of consumers.
Keyword #7: China
While China's consumer market continuing growing and mature, China has become the most important and potential market in the global fashion industry. Many international fashion brands have increased their investment in the Chinese market. On the other hand, Chinese capital and industrial funds have frequently invested and acquired premium brands and assets overseas. We believe that this trend will continue and accelerate in the future. As well, many Chinese local fashion and beauty companies have vigorously recruited global design and management talents to accelerate companies' modernization and internationalization process.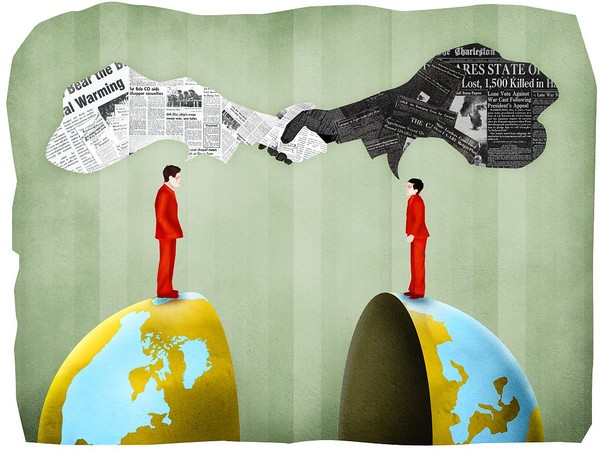 Keyword #8: Eco-friendly
While mankind is rapidly consuming the resources of the Earth, the sense of crisis also forces us to pay more attention to environmental protection and social responsibility. This topic cannot be ignored in the global fashion industry over the past year. Through Luxe.Co's fashion consumption questionnaire in 2017, we are pleased to see that 28.7% of middle-to-high-end consumers surveyed, favor fashion brands with a focus on environmental protection and social responsibility.
With the development of AI application, intelligent manufacturing, and high-tech materials in the past year, we have witnessed how technology had improved our life quality. Fashion will become more friendly and brilliant as well driven by technology forces.
During Shanghai Fashion Week, the Operation Director of Sustainable Development of Kering Group, Michael Beutler spoke to Luxe.Co. Sustainable development is not a choice for luxury brands, it is a necessary action, said Beutler. Many luxury brands have started joining the camp of artificial fur products since 2017. Gucci announced in October 2017 that they will go fur-free, which helped draw more attention of the public to this issue.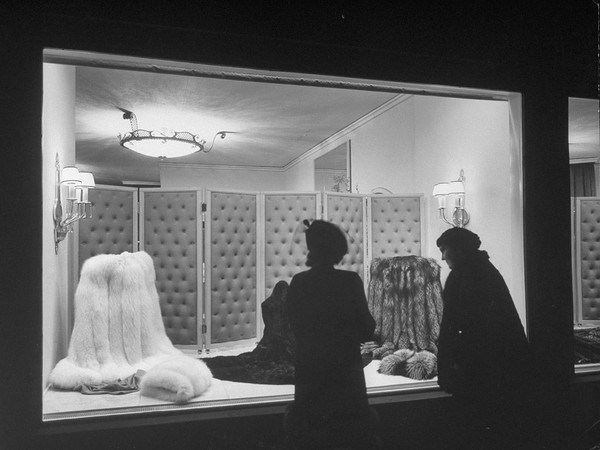 Keyword #9: New materials
Technology has fundamentally changed the manufacturing of raw materials. Multi-function high-tech synthetic materials save more natural resources and bring the same comfort. In early 2017, the French luxury group Kering Group launched a "Plug and Play–Fashion for the Good" entrepreneurial accelerator, providing support specifically for those start-up innovative textile companies. With the Italian plastic bag brand "O Bag" as a leading example, there will be more and more new fashion brands emerging with innovative materials and eco-friendly concept.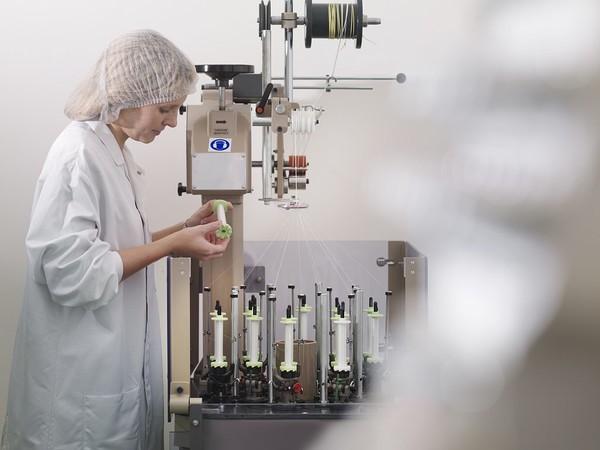 Keyword #10: Intelligence (AI)
Compared to the relatively immature and simple intelligent applications in 2016, artificial intelligence has been better integrated into our daily life in a subtle way in 2017. In addition to extensive application in the household and hotel industry, the global fashion retail sector has also been embracing AI technology. The start-up technology company Heuritech, focuses on applying artificial intelligence to capture fashion trends, and has won the first Innovation Award set up by LVMH in 2017.
Among many cases of fashion retail and AI, Stitch Fix, known as "the technology unicorn of the fashion industry", provides monthly purchase e-commerce services and is one of the most prominent case. This innovative company has 75 data scientists. Its subsidiary fashion brand Hybrid Designs has started applying AI to assist in the process of fashion design. Luxe.Co has provided multiple reports on this company. In November 2017, Stitch Fix went listed at Nasdaq stock exchange.
In 2018, Luxe.Co will continue presenting professional, objective, timely, comprehensive and first-hand fashion business information and industry analysis to global readers. Please visit En.Luxe.Co for real-time trend in global and specially China fashion business .
| Image Source: Previous reports by Luxe.Co
| Editor: Lezhi