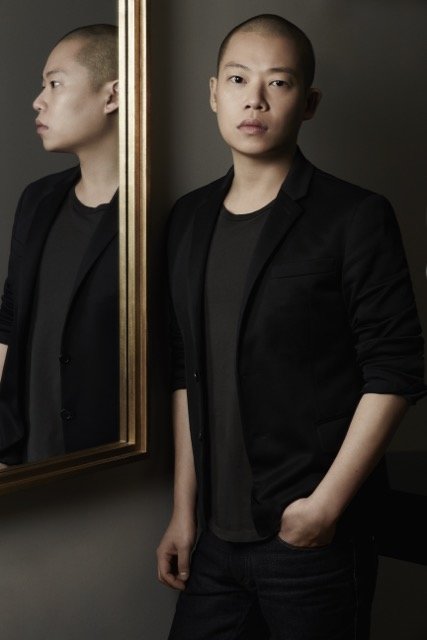 Jason Wu (Jigang Wu), the famous Canadian Chinese fashion designer, has had the brand "Jason Wu" for more than ten years. He is best known for designing the dresses of the former First Lady of the U.S., Michelle Obama, on several occasions, including those worn during the first and second inauguration of the former President Barack Obama and his final speech as President.
These opportunities provided Jason Wu extensive attention across the world. The brand has made every effort to develop rapidly in the past eight years. As the flagship store, Jason Wu's first store was opened at the prominent luxury department store, Saks fifth Avenue, in New York last year. In the same year he launched the diffusion line, Grey Jason Wu. He collaborated with Parlux and Swarovski, and released Jason Wu perfume and accessories products in 2017. He has also had his footprint all around the world. Jason was appointed as the Art Director of the German veteran brand Hugo Boss womenswear in 2013. He also designed the Asian market capsule collection for the Italian sports brand, Fila in 2016. As well he has developed various collaborated with Target, the Woolmark Company, Nest Candles, Caudalie, Lancôme, Melissa Shoes, Cadillac, Pantone, Brizo and so on.
Jason Wu came to Shanghai recently and had an exclusive interview with Luxe.Co, sharing his experience and insights in creating and developing brands, cross-over collaboration and personal development, as well as the future planning of the brand.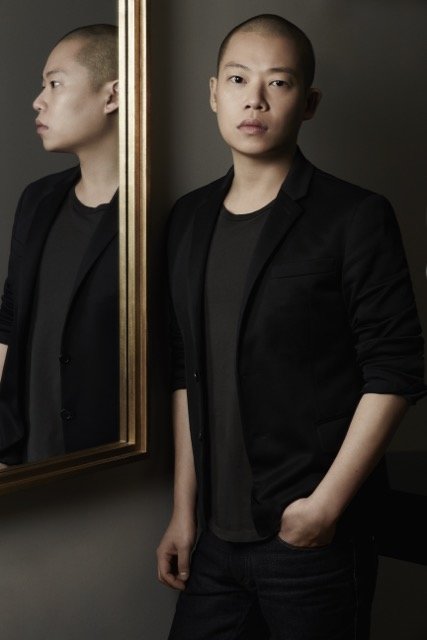 Luxe.Co: What brought you to Shanghai this time?
Jason Wu:I came to Shanghai because I have been the brand ambassador of St Regis Hotel for over 5 years. I have launched many locations with them, including Florence, Mexico, Miami and so on. I was invited to Shanghai by St Regis this time to attend their biggest hotel opening ceremony in China.
On top of that, I was in Singapore last week as the special guest of Singapore Fashion Week, and had the first Jason Wu fashion show in Asia. As well, I just released the joint jewelry collection collaborated with Swarovski globally. Asia is one of our strongest markets. I am here in Asia for events with press and customers in Singapore and Shanghai.
Luxe.Co: How is your brand collaboration initiated? How do you inject the DNA of the brand Jason Wu to other brands and product categories?
Wu: I believe if you are a designer and you have an aesthetic, you can translate that to everything design-oriented. I love collaborations because it helps me learn more about products otherwise I would not have experience to make. So I have had experience in making products from jewelry, furniture to fragrance. I have collaborated with Fila for three years and with Hugo Boss for four years. I like these experiences because each experience inspires the next. Being in fashion, you have to be constantly exposed to new things.
The Jason Wu's DNA is sophistication, refinement, femininity, and American luxury feeling. I think those are the qualities that I bring to everything.
As to the creative process, I have to understand the brand first, I have to know everything from their history to what they are doing now, and what they have done in the past, so that I would bring something unique to the table. For me, it is always important to visit their site of manufacture, because I need to understand how their product is made and the technical part. To experience the material is very important. Especially when it comes to things like homes and athletic-wear. They have different functions than designing ready-to-wear that I do.
Luxe.Co: What about your collaboration with Fila China?
Wu: It's interesting because I have never done athletic clothes before. That was my first experience. Fila has obviously been known for their specialty in athletic-wear. What I brought to the collaboration is more from the fashion point of view. It's about adapting to the current trend of wearing athletic clothing as just regular clothing – Athleisure as we call it. It is the fastest growing segment.
My collaboration with Fila has been very good. It started with a two-season deal and now it's been the 3rd year.
Luxe.Co: What customer groups are you designing for? And Grey Jason Wu?
Wu: These two lines have different positioning. Jason Wu is very much dressier. It's something people buy for special events, even the day clothes have some polish to it. It's very refined with very fine material and beautiful craftsmanship. The customer understands the quality and she's buying as an investment piece for life, not a seasonal item.
Whereas Grey Jason Wu addresses the same customer in one hand but it dresses them in a more casual weekend vibe and also just day-to-day clothes. So it's at a lower price point. But on the other side, because of the price point and its casualness, it's also opening the brand up to a much larger audience in general. It's been one year since the brand was launched and we are now here in Asia talking to potential partners about how to expand Grey here, because we see great potential here in Asia.
I often take cues from my girlfriends, and see how they dress and style. They usually inspire me. People like Diane Kruger, who I just started doing collaboration with, and also Kate Bosworth, they constantly inspire me.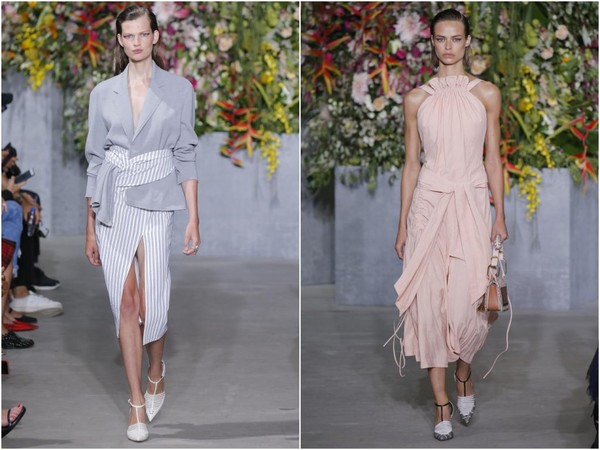 (Above:Jason Wu SS18)
Luxe.Co: How does your multi-cultural background influence your brand DNA and design?
Wu: I was born in Taiwan, moved to Vancouver for a long time, went to US for boarding school and after that went to France for one-year exchange before move to New York 16 years ago.
The world is a flat place now. It's not so regionalized. I bring a little bit of all my past culture experiences and my travels as part of the DNA. I am a Chinese descendant, but my work is more international. It's not as an obvious Chinese inspiration, I'd like to think of it as multi-cultural. I do think that is the way of the world I know.
Luxe.Co: It has been ten years since 2007 when Jason Wu was established. It is not easy to run a business. What did you learn the most in the past ten years?
Wu: I have learned the most that I don't know everything. When I was younger, I thought I knew everything. When I started working, I quickly realized that that was not true. It's important you know you don't know everything, cause it's important to always be learning. Today is a new world and tomorrow is another new world. So I think being quick at adapting, being responding and being very open minded is the key to the future. And that's what I have learned the most.
Luxe.Co: InterLuxe has invested in Jason Wu in 2014. How has your role evolved after the investment?
Wu: It continues to be the same. Now I have more business partners to help me with structuring the business in a way so that it could grow to the next level. For the first 8 years of the business, I was doing everything. It was great to a certain degree as I learned a lot. But I think for me to concentrate on bigger collaborations, bigger creative endeavors and brand expansions, it requires a lot of my time. So it's great to have partners that can handle a lot of logistics and business side of things that are absolutely important to a business. It's good to have a partner that can really help.
Luxe.Co: Is there any change on the creative side since the investment? Any confliction between creatives and business?
I am pretty free to do what I want to do. But I think there's definitely more of a business structure for me to follow, which I think is important. Because I think with every creative idea, you need to come with some sort of structure to make the business make sense. That's one of the most important things.
Balancing creatives and business is always a struggle. They don't have the same point of view in certain aspects. I have always been a pragmatic designer. I like to design wearable clothes, instead of conceptual clothes. My head is quite on the business side as well. So I understand the balance between the two, but I really enjoy spending more time designing now, that I have more structure in the business.
Luxe.Co: What is your plan to take Jason Wu to the next level?
Wu: Asia. I am not the first person to say that and I am probably one of the later persons to say that. But I think right now is a good time. Five to six years ago, everyone wanted to come to Asia. But I think right now the market has really matured and gone through its growing pains. Its same to Jason Wu. My company was at a different place five years ago. There's no way to expand until your home / your core company is well organized. We plan to bring all brands and projects to the Asian market, not limited to Grey Jason Wu.
On the priority side, China is one of the main markets to develop. There are greater opportunities in China. Also, I am Chinese and I have a pretty good understanding of the culture. It's my background.
Luxe.Co: What's your thoughts on the China market and Chinese consumers?
Wu: I think what's changed is the consumer today. She is not necessarily about one brand and one price point. She mixes and she is much more curated in her selection. She may not always have a total look. She could mix a designer brand with a high street brand. She's very well-traveled, and very well-spoken and she has a very international point of view. That's the new generation and they are interested in much more lifestyle-oriented things than just fashion as itself.
Luxe.Co: Apart from work, what do you enjoy the most?
Wu: I like to cook, eat and travel. I like cooking and going for grocery shopping. That's the most relaxing thing for me. I am always traveling, always on the plane, and always in restaurants. I prefer to have friends over on weekends.
About Jason Wu
Jason Wu was born on September 27th, 1982 in Taiwan. He emigrated with his family to Vancouver, Canada when he was 9 years old. Later he went to the U.S. and entered Parsons School of Design, New York, but dropped out six months before graduation. He did internship with the famous designer brand Narciso Rodriguez for two seasons. In 2007, He established the brand Jason Wu after his own name.
On January 20th, 2009, Michelle Obama, the former First Lady in the U.S., was dressed in a white chiffon long dress designed by Jason Wu to attend the inauguration of her husband, Barack Obama. This helped Jason Wu gain extensive attention in the fashion industry.
In 2014, the fashion-brand-focused American investment fund, InterLuxe Holdings acquired a controlling stake in the brand Jason Wu. The investment fund was founded by Gary Wassner, the renowned fashion angel investor and the chairman of Hilldun Corporation.
With the support from InterLuxe, Jason Wu start expanding new product categories and launching the diffusion line, Grey Jason Wu. The brand also launched its first perfume series this February.
At present, Jason Wu is responsible for designing for four brands / product lines, including:
Jason Wu
Grey Jason Wu
German luxury brand Hugo Boss womenswear
Italian sports brand Fila (Asian market capsule collection for both menswear and womenswear)
丨Source of Image:Jason Wu
丨Chinese Editor: Fan Jiang