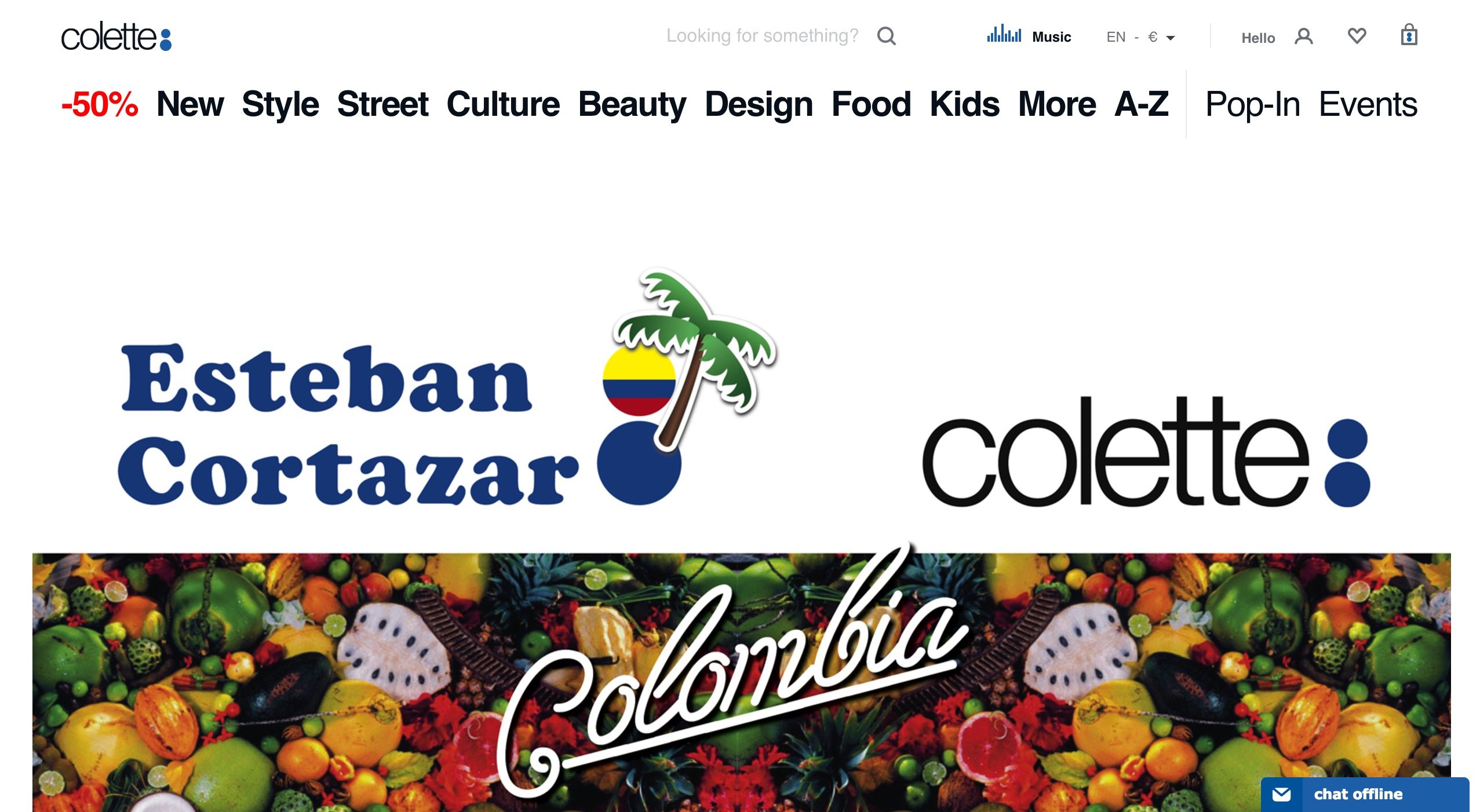 Recently, the Parisian multi-brand boutique Colette announced its closure, while 10 Corso Como in Milan revealed that it was facing operational difficulties. The bad news came one bit at a time from these landmark multi-brand stores, which are regarded as the 'spiritual homes' of global fashion lovers. One can't help but ask the question: with the growing competition in sales from online and offline channels, are these stores, with their strong and unique personalities, losing their appeal?
Luxe.CO has studied four of the most representative European multi-brand stores, including Colette and 10 Corso Como. From their operational data and current status, it's clear that innovation in the fashion retail industry is an endless process. The only way to sustain success in the evolving industry is to outdo oneself with continued innovation in all aspects, while at the same time retaining the unique features of the brand and catering to market demands.
10 Corso Como
Founder: Carla Sozzani
Founded: 1990, Milan, Italy
On 13 July, the founders of the Italian brand Twin Set, Tiziano Sgarbi and Simona Barbieri, a husband-and-wife team, bought the building where the Italian multi-brand fashion and lifestyle store 10 Corso Como is located for €30 million. This shift in ownership, from the Rusconi famiy, represented the fifth time that this building has changed hands.
Although Dieci srl owns the right to operate 10 Corso Como Milan, it does not own the brand itself, or the galleries, bookshops and restaurant that operate under the brand's name. Dieci srl's CEO, Donato Maino, said: 'As part of a common real-estate deal, the contract negotiation regarding rental is in process. Neither now nor in the future will anything change to affect the integrity of 10 Corso Como.'
The building's new owner, Tiziano Sgarbi, also noted: 'We have no intention of changing the current layout. We just want to add a modern touch to the place. We hope to retain 10 Corso Como, but we will renew the plans for and management of the restaurant, bar, bookshop and hotel.'
In 2013, 10 Corso Como entered the Chinese market and opened a store in Shanghai. In 2014, a second store was opened in SKP, a shopping mall in Beijing. However, the Beijing store has recently closed, leaving just the coffee shop open.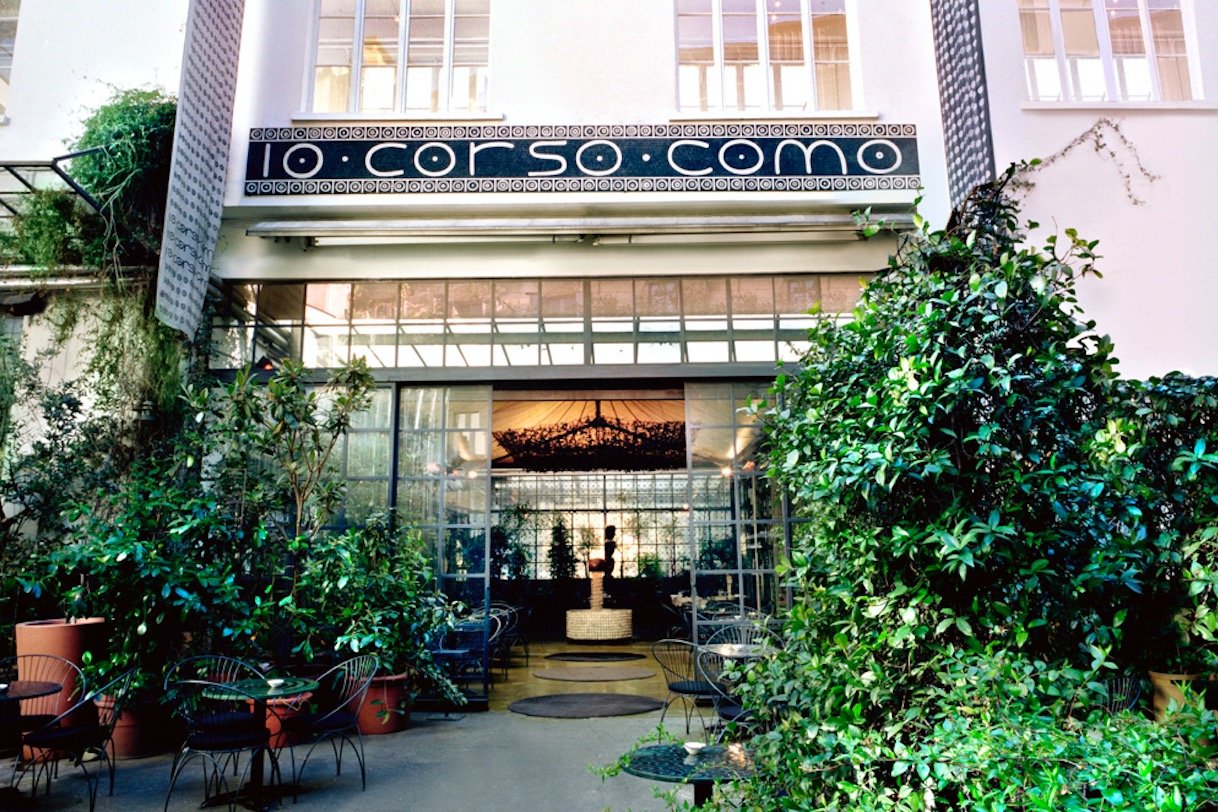 Image above: 10 Corso Como
As early as 2011, founder Carla Sozzani had said that the company had had financial issues and suggested that, 'Operating here has always been hard.' In 2015, there were rumours that 10 Corso Como owed Equitalia €4.67 million in overdue taxes. Equitalia decided that the company did not have the ability to pay and demanded that the court declared the company bankrupt. In 2016, 10 Corso Como made a loss of €293,400 and had debts of €13 million.
The founder of 10 Corso Como is Carla Sozzani, a leading figure in the fashion industry, who, in 1987, founded and was editor-in-chief of ELLE Italia. In 1988, she founded the publishing company Carla Sozzani Editore, which focused on publishing books in photography, fashion and design. In 1990, she opened her own gallery and bookstore, Galleria Carla Sozzani, located at no.10 Corso Como in Milan, which later became the current multi-brand boutique, 10 Corso Como. The company incorporates elements of art, fashion, music, design and food, and is divided into multiple areas. Together with its coffee shop, bookshop, various fashion and design products, and other venues that reflect the modern lifestyle, 10 Corso Como provides customers and visitors with opportunities to network and communicate across different cultural brands, to exchange ideas and to share experiences.
Colette
Founder: Colette Roussaux
Founded: 1997, Paris, France
On 12 July, the renowned Parisian multi-brand boutique Colette announced its closure. Subject to ongoing negotiations, its store space will be taken over by Saint Laurent.
Since the terrorist attack in December 2015, Paris has experienced an acute decline in the number of tourists, which has had a clear negative effect on Colette's sales. With the number of foreign tourists dropping and customers' expenditure reducing, Colette had only been able to maintain its operation thanks to the relatively stable custom of local consumers. However, the negative impact of the changing tourism climate has been particularly serious for the company. Fortunately, Colette's online sales have been growing.
Because of the curating effort that goes into deciding on its merchandise, Colette charges higher prices than those set by the products' own brand stores. This has also affected Colette's sales. In 2016, Colette's annual revenue was €28 million.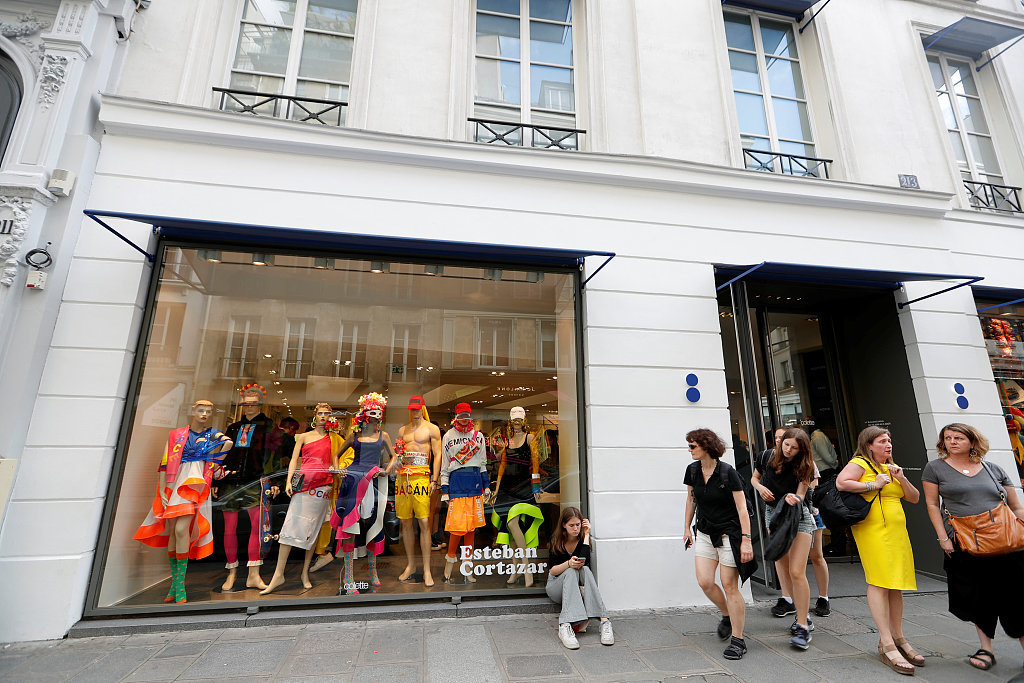 Image above: Colette
In 1997, Colette Roussaux and her daughter, Sarah Andelman, purchased the store on the first floor of 213 Rue Saint-Honoré, and began to sell novelty items that they had collected from around the world. Celebrating its 20th anniversary this year, Colette has never opened any branches, sticking with its unique store in Paris. This three-storey boutique is filled with various products from clothing, high-tech gadgets and art to cosmetics, stationery and more, and features limited-edition designs custom-made for Colette by various brands.
Within this 700-square-metre shop, Colette hoped to redefine the concept of retail. The creative window displays are another of Colette's attractions. Designed by Roussaux, the display is updated every two weeks. Andelman's role, on the other hand, is to constantly search for the next stars in fashion by travelling around the world and introducing fresh new work by up-and-coming designers. Colette was one of the multi-brand boutiques that introduced Proenza Schouler, Mary Katrantzou, Rodarte and other emerging fashion brands to the world.
Dover Street Market
Founders: Rei Kawakubo and Adrian Joffe
Founded: London, UK
In contrast to Colette and 10 Corso Como, news from the multi-brand retailer Dover Street Market, which has consistently opened new locations, is more cheering. After its plan to open a new store in Singapore, DSM Singapore, the company announced its intention to open yet another new location of over 900 square metres in size in the art district of central Los Angles in March 2018. Dover Street Market's 2014 total sales totalled £13.2 million according to public data.
One of Dover Street Market's developmental strategies is to form exclusive partnerships with brands. On 9 July, a pop-up shop in collaboration with Fendi opened, selling limited editions of menswear, footwear, handbags and accessories.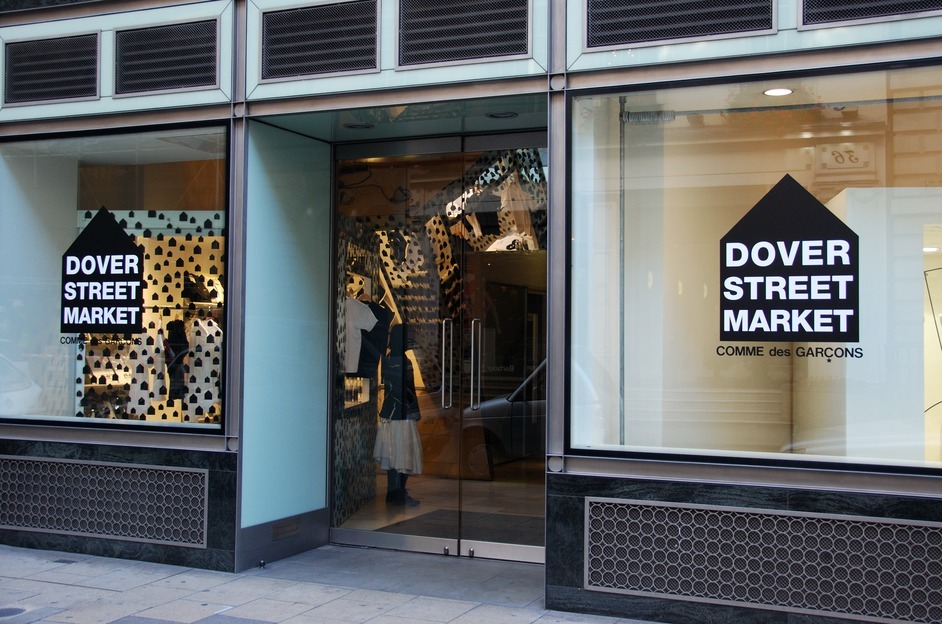 Japanese fashion designer Rei Kawakubo is not only the founder of Dover Street Market, but is also behind the brand COMME des GARÇONS. Born in 1942 in Tokyo, and educated at Keio University's art school, Kawakubo opened the first Dover Street Market store in London in 2004 with her husband Adrian Joffe (COMME des GARÇONS's global CEO). The store is located in a six-floor Georgian building with a new façade inspired by London's Kensington market, whichh aims to reflect the dramatic contrast between the mass market and high fashion.
Luisaviaroma
Founders: Luisa Jacuin and Lido Panconesi (the current CEO, Andrea Panconesi, is the grandson of the founders)
Founded: 1930, Florence, Italy
Renowned Italian luxury boutique Luisaviaroma was founded in 1930 and is the oldest and largest of the four multi-brand stores studied by Luxe.co, with its 2016 annual revenue reaching €130 million.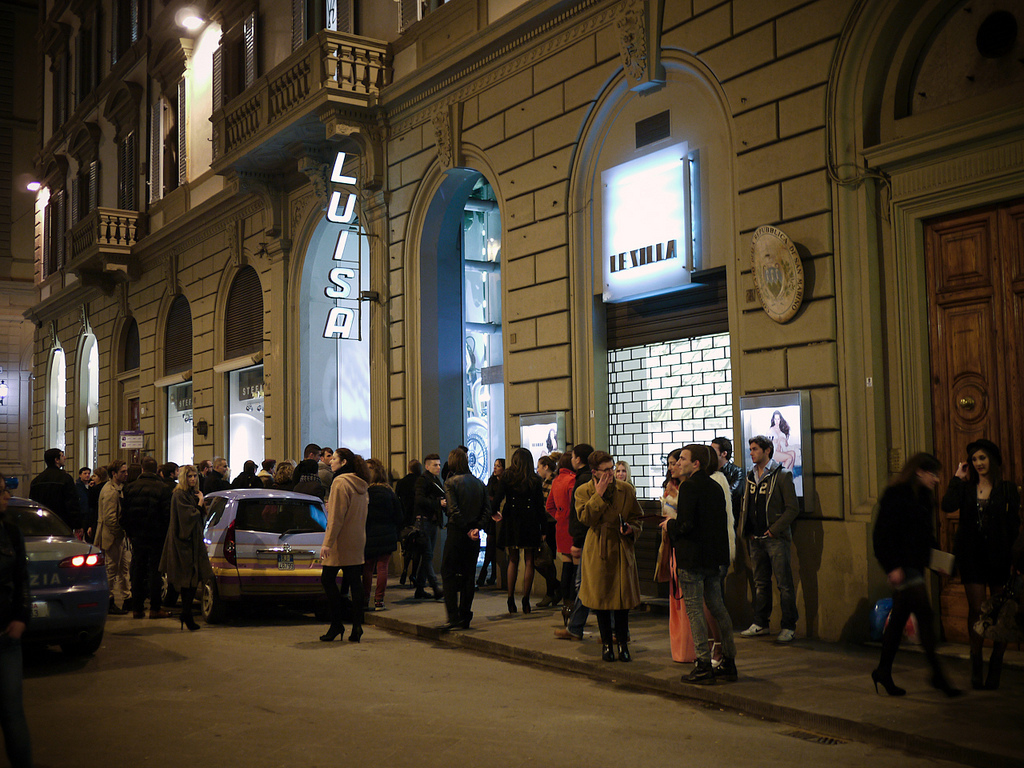 In 1930, the couple Luisa Jacuin and Lido Panconesi opened a boutique hat shop on Via Roma in central Florence. Since then, Luisaviaroma has gradually expanded its operation to incorporate high-end clothing.
In the 1960s, Andrea Panconesi, the current CEO of Luisaviaroma and grandson of Luisa Jacuin and Lido Panconesi, met Japanese designer Kenzo during a Paris Fashion Week and decided to bring Kenzo into Luisaviaroma, making it the first store in Europe to sell Kenzo's work. In 1999, the forward-thinking Andrea Panconesi decided to try out online retail, making Luisaviaroma one of the first online shopping outlets for luxury goods. All of the products sold online were packed in the store's warehouse in Florence and delivered to over 200 countries via international express delivery.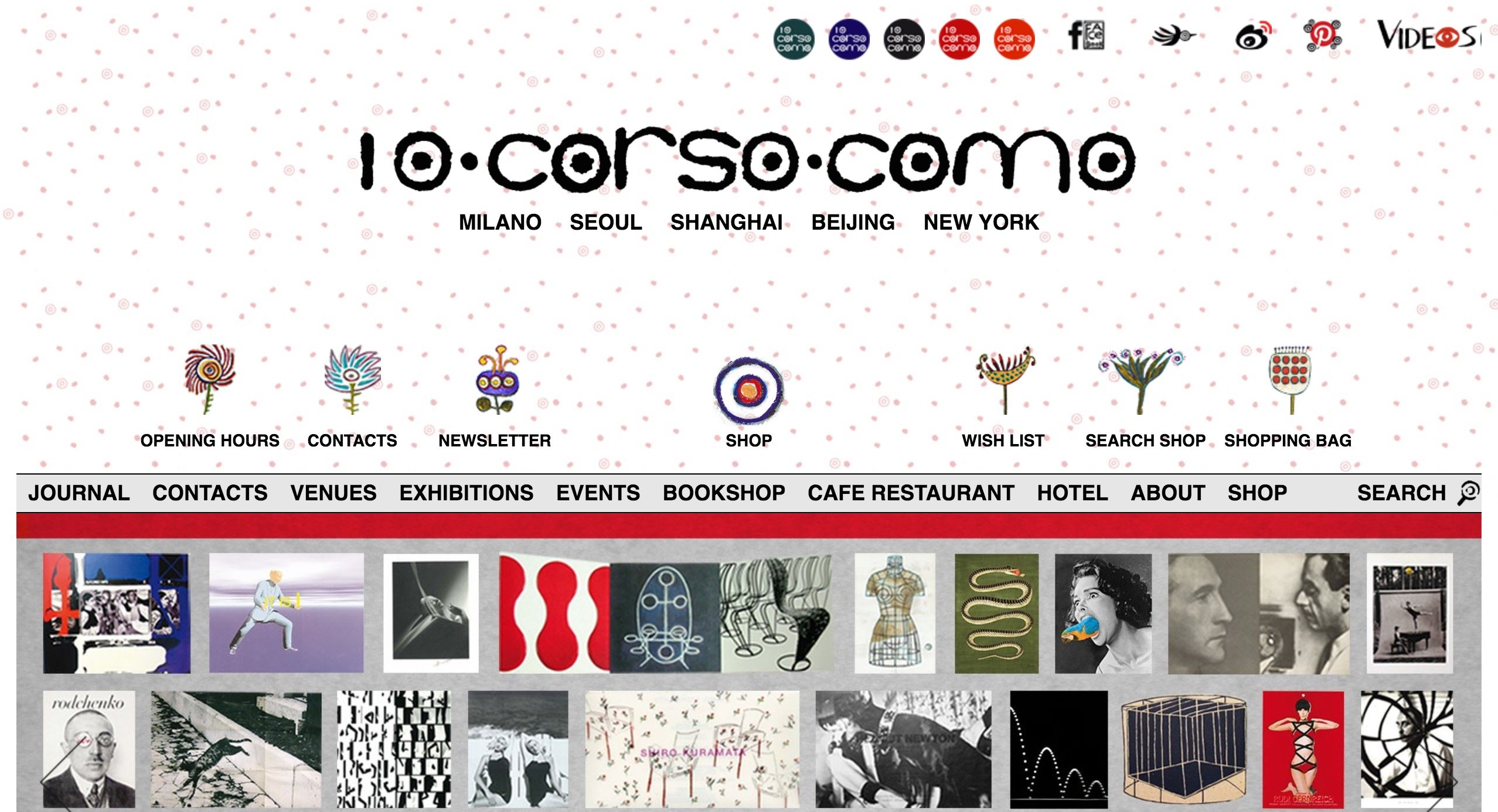 Image above: Official website of 10 Corso Como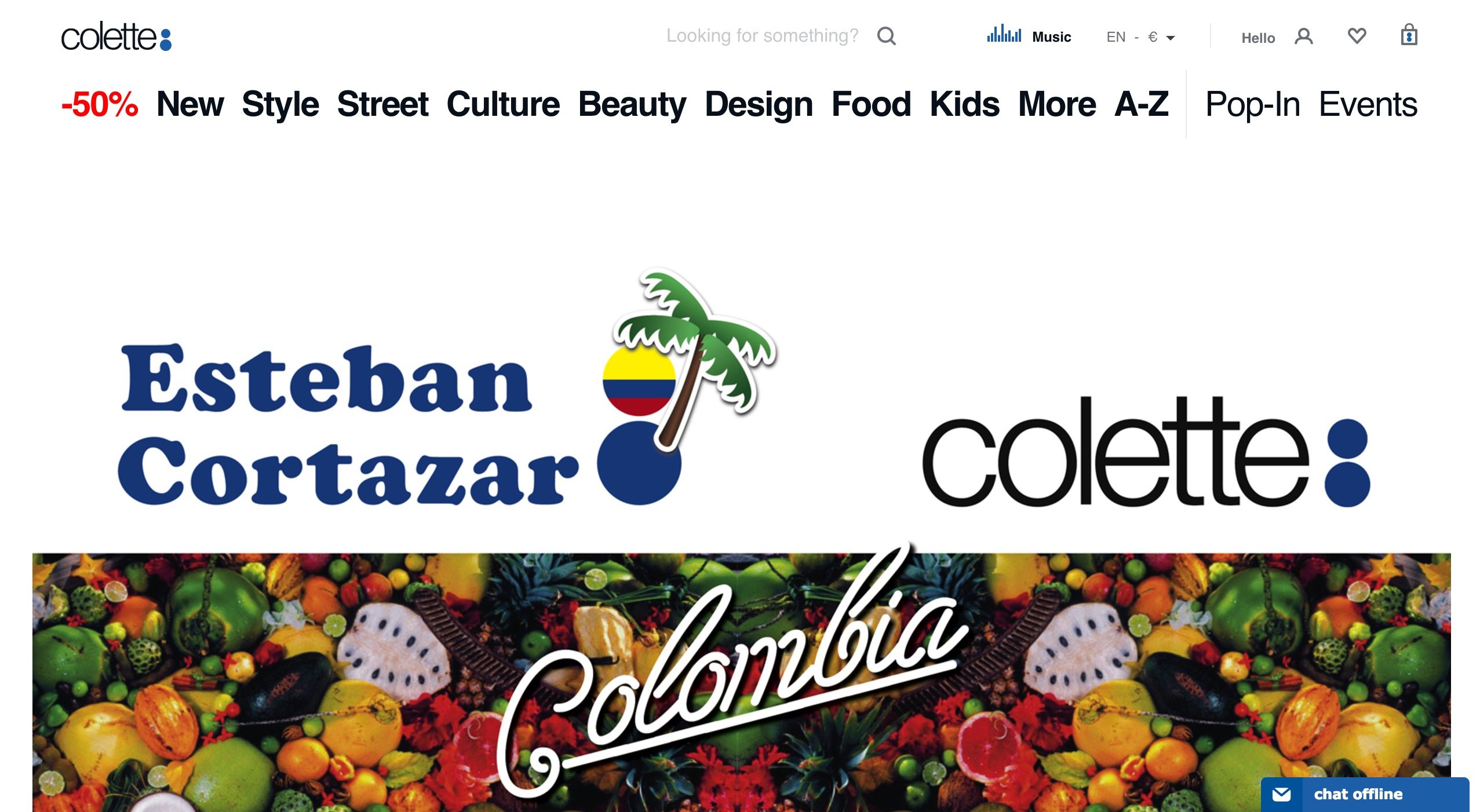 Image above: Official website of Colette

Image above: Official website of Dover Street Market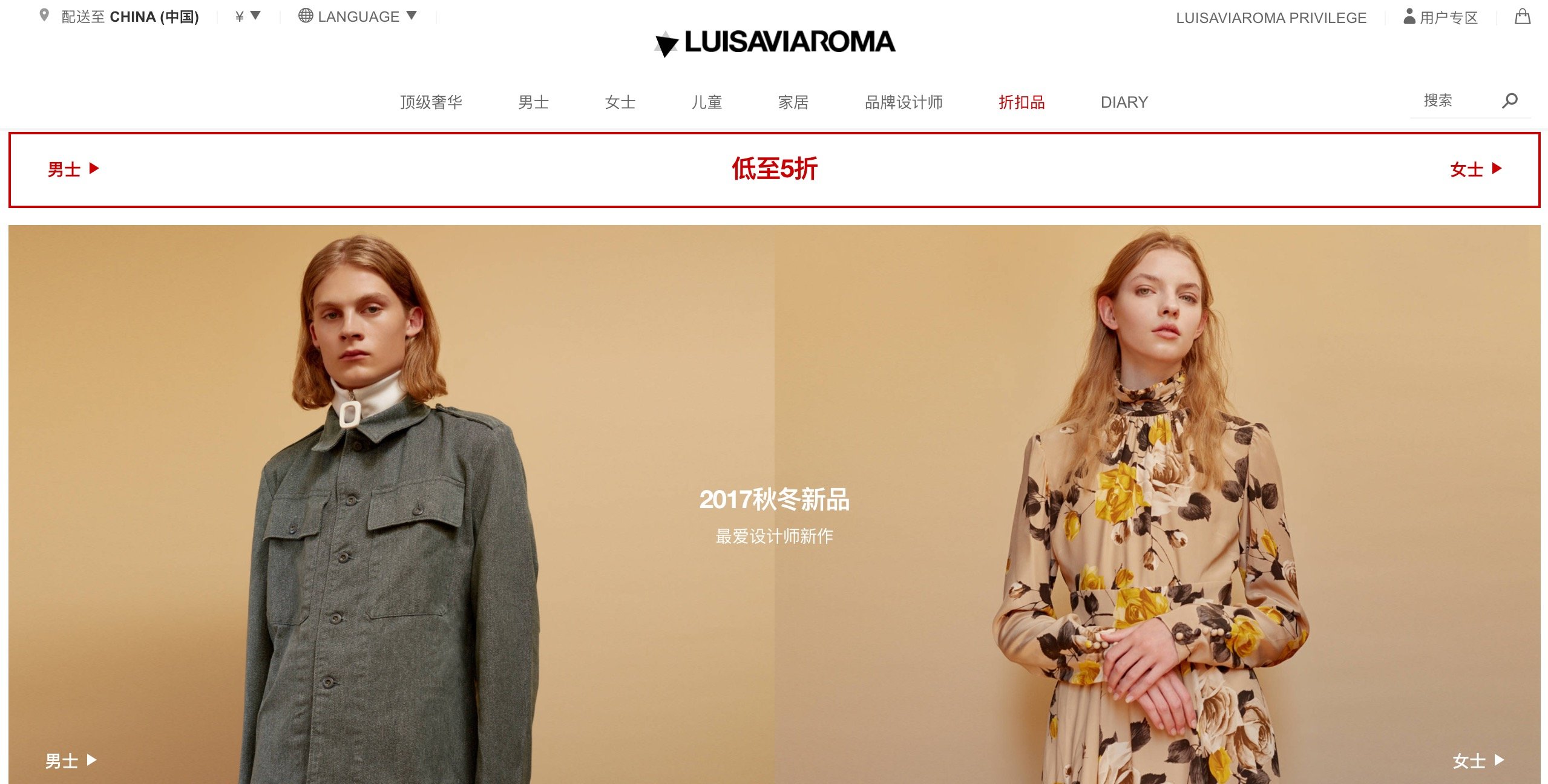 Image above: Official website of Luisavisroma
The four multi-brand stores, namely, Colette,10 Corso Como, Dover Street Market and Luisaviaroma, are all globally renowned. However, behind their public images, they are all facing the following three challenges:
1) Pressure from the high cost of rent from operating in premium locations
Large multi-brand stores are frequently located in premium locations. With their large floor areas, the increasingly high cost of rent is putting the operators under heavy pressure.
10 Corso Como has six stores globally (including a New York location that's about to open. Apart from the Milan store, most are co-run with local partners). The original store in Milan occupies an area of more than 1,200 square metres. The store is not only a local landmark but also a major attraction, benefiting the entire commercial area.
Colette has only one store, located in the Rue Saint-Honoré in the first arrondissement of Paris, occupying an area of about 740 square metres. Compared to the Champs-Élysées, the street is relatively narrow. But under the influence of Colette, the street has gradually grown to become one of the most important fashion streets in the world. Like the nearby Avenue Montaigne, the entire street is full of high-fashion outlets. Almost every single major fashion brand has a presence here. In addition, high-end galleries and auction houses abound on the street.
Dover Street Market owns five stores globally (including the Singaporean location scheduled to open soon). Its original location consists of six floors (five floors above ground and one basement level) in London's luxury shopping area, Mayfair's Dover Street – a total area of 1,200 square metres. In 2016, DSM moved its London location to Haymarket, which is not far from Dover Street. The new location had been Burberry's location since 1912 and is three times as big as the old location, with four floors above ground and one basement level.
Luisaviaroma owns two stores, which are both in Italy. Its flagship store is located in the centre of Florence, next to the famous Cathedral of SantaMaria del Fiore.
According to the 'Global Prime Retail Rents July 2017′ report, which was published recently by real-estate service and investment organization CBRE Group, Inc, even with the increasingly harsh global retail market environment in which the rent of top commercial districts dropped by 0.1% on the previous year, the Champs-Élysées still ranks fourth on the list of the most expensive commercial districts in the world, with an average rent of US$1,315 per square foot. In the first quarter, the European, Middle Eastern and African (EMEA) markets experienced rent increases of 4.3%. With an increase as high as 39.1%, London topped all cities in terms of the speed of the increase of rent in business districts.
2) The impact caused by the online retail boom
The rise of e-commerce has completely transformed the global retail market; its impact has expanded from the sale of standard merchandise to that of non-standard merchandise such as fashion products and even luxury goods.
In the not-too-distant past, new designers relied on multi-brand stores such Colette to display their work, receive recognition and build their reputations in the industry. But now, more and more up-and-coming designers have started to partner up with e-commerce platforms, such as Mytheresa and L'Exception, targeting high-end consumers and focusing on designer brands. Such partnerships can achieve publicity among, and market feedback and recognition from a wider audience. At the same time, online multi-brand stores, such as Farfetch, Net-A-Porter and Matchesfashion, are fast becoming popular globally, with their influence constantly growing as more and more fashion consumers switch to buying from online outlets.
Though all four of the above multi-brand stores operate online stores, their activeness online varies. The most active store, Luisaviaroma, received total revenue of €130 million in 2016, 95% of which was from online sales, a sign of its successful digital transformation.
The number of monthly visits to each of the stores' websites and their global rankings are:
10 Corso Como:about 12,000 visits, ranked 462,249 globally
Colette:Monthly visitor numbers unavailable, ranked 54,073 globally
Dover Street Market: about 1,041,000 visits, ranked 16,670 globally
Luisaviaroma: about 1,615,000 visits, ranked 9,169 globally
The online success of Luisaviaroma is due to the forward-thinking outlook of the current CEO and his insights into the Internet era. Back in 1999, when e-commerce was still a novelty overlooked by most players in the fashion industry, Andrea Panconesi had already sensed the potential value of the online channel and decided to develop the company's online retail business.
The combination of online and offline channels is not merely about their integration, but also about complementary shopping experiences. How will the future consumer consume fashion and luxury? When online multi-label store Farfetch acquired multi-brand chain Browns back in 2015, the founder and CEO of Farfetch, José Neves, commented that online and offline must offer a perfect combination of physical experience and powerful but subtle technology.
3) Difficulties in looking for the perfect successor
The founders of the four above-mentioned multi-brand stores hold relatively strong reputations and credibility and are their stores' best endorsements. The design of these stores often reflects their strong personalities as well. The future of these stores relies on capable successors and evolving operational structures to ensure long-lasting success.
As for the founders, 10 Corso Como's Carla Sozzani is 70 years old this year, while Dover Street Market's Rei Kawakubo is 75. The current CEO of Luisaviaroma is in his 70s too. While announcing the store closure, Colette's founder Colette Roussaux, who is also in her 70s, announced her plan to retire. There's no plan to sell Colette, but her daughter, the current creative director and purchasing manager, Sarah Andelman, has shown no sign of stepping into her mother's shoes.
Colette Roussaux remains the biggest shareholder of Colette and hasn't considered outside investment. The same is true of Luisaviaroma. While Luisaviaroma may be the world's only privately owned online luxury store, in an interview, CEO Andrea Panconesi suggested that keeping Luisaviaroma as a family business is what makes the store completely different from its competitors, which are influenced by outside capital. Luisaviaroma remains 100% family owned, which is why the company is able to maintain its pioneering position in the fashion industry and its unique features.